The Smith & Wesson Model 66 357 Magnum Stainless Combat Revolver
Russ Chastain 07.01.20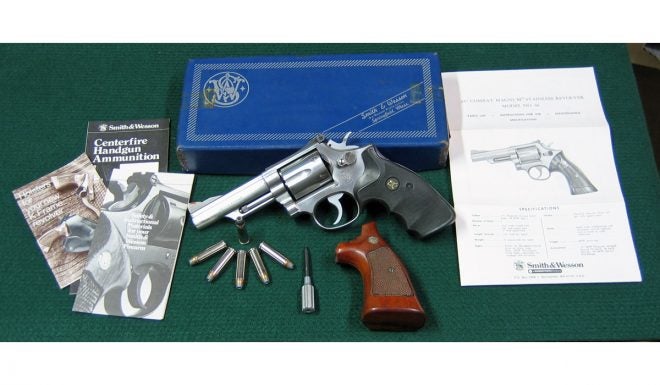 With an original life span of 1970-2004, the Smith & Wesson Model 66 357 Magnum Stainless Combat Revolver was essentially a Model 19 in stainless steel. The blued steel Model 19 had already proven itself as a slick, attractive, reliable, accurate double action six-shot revolver and the 66 put all of that goodness into a stainless steel package.
While the 66 was being made, S&W made a number of engineering changes, designated by adding a dash and a number after the model number marking on the revolver's frame. Two Model 66 revolvers are pictured in this article; a Model 66-1 with 4″ barrel and a Model 66-2 with 2.5″ barrel. The last 66s made before they were discontinued in 2004 were marked "66-6."
The Model 66 was so good that after about ten years' absence, S&W brought it back as the 66-8 in 2014 and it now retails for a whopping $854 (MSRP).
According to my research, this 66-1 was made in 1981 and the 66-2 was made in 1985, but the 66-1 was not purchased new until 1987. Not long afterward, my father acquired it and christened it Snuffy Smith, after the long-running comic strip character.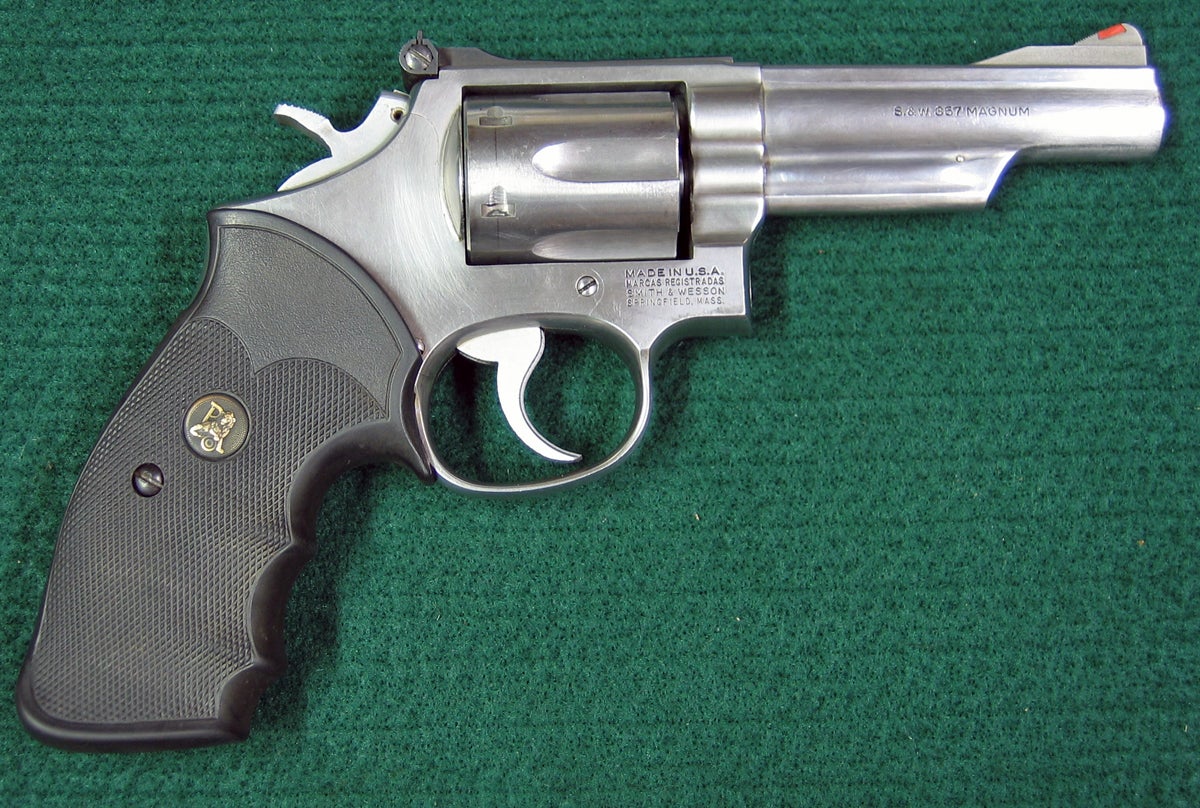 S&W designates its frame sizes by letter, and the Model 66 is made on a K frame. The 66 was made in both square butt and round butt, and both are seen in these photos; naturally, the round butt version is more concealable when carried.
Aside from the 2.5- and 4-inch barrels, the factory also offered 3- and 6-inch barrel lengths over the years.
Interestingly, these two revolvers are alike in many ways, but the stumpy 66-2 has a smooth trigger, while the 66-1 has vertical grooves on the face of its trigger. I'd have to call both "standard," as the optional target trigger was 0.4″ wide and grooved.
While we're talking about differences between standard and target models, both of these guns have standard 3/8″ wide hammer spurs with generous checkering; the target hammer has a half-inch-wide spur.
Both revolvers are marked "S.& W.357 MAGNUM" on the right side of the barrel, with the following on the bottom-right portion of the frame's right side:
MADE IN USA
MARCAS REGISTRADAS
SMITH & WESSON
SPRINGFIELD, MASS.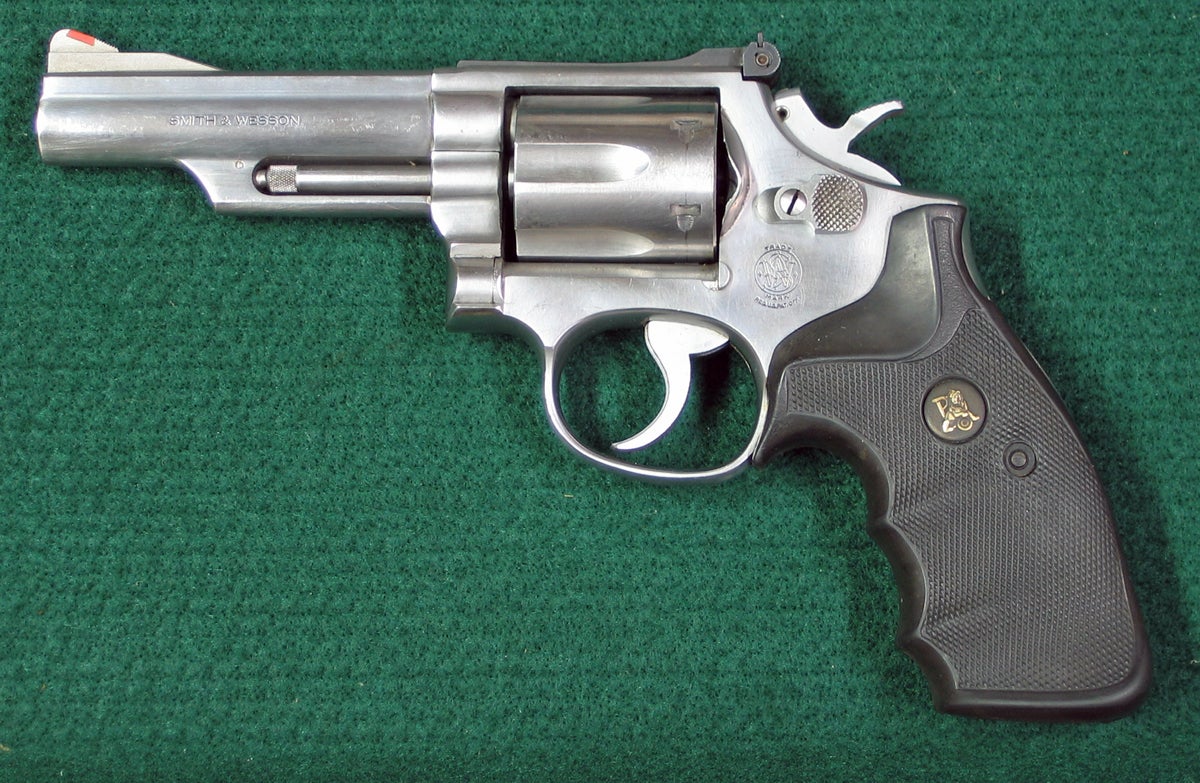 The Pachmayr finger-groove grips on this 66-1 are superb, with an excellent fit in my hand. For that reason, I purchased Pachmayr finger-groove grips when I bought a Model 19 years ago, but I was disappointed; they are of a different design and don't fill the hand as well as these.
As mentioned, the Model 66 is tough and reliable and does its job well. Being a 357 magnum, it will also safely fire 38 special ammunition, including extra-hot 38 ammo designated "plus-p" (+P) and "plus-p-plus" (+P+).
It should go without saying that you should never attempt to fire 357 ammo in a 38 Special firearm… but I'm saying it anyhow.
Markings on the left side include "SMITH & WESSON" on the side of the barrel and the S&W trademark logo on the frame below the cylinder latch.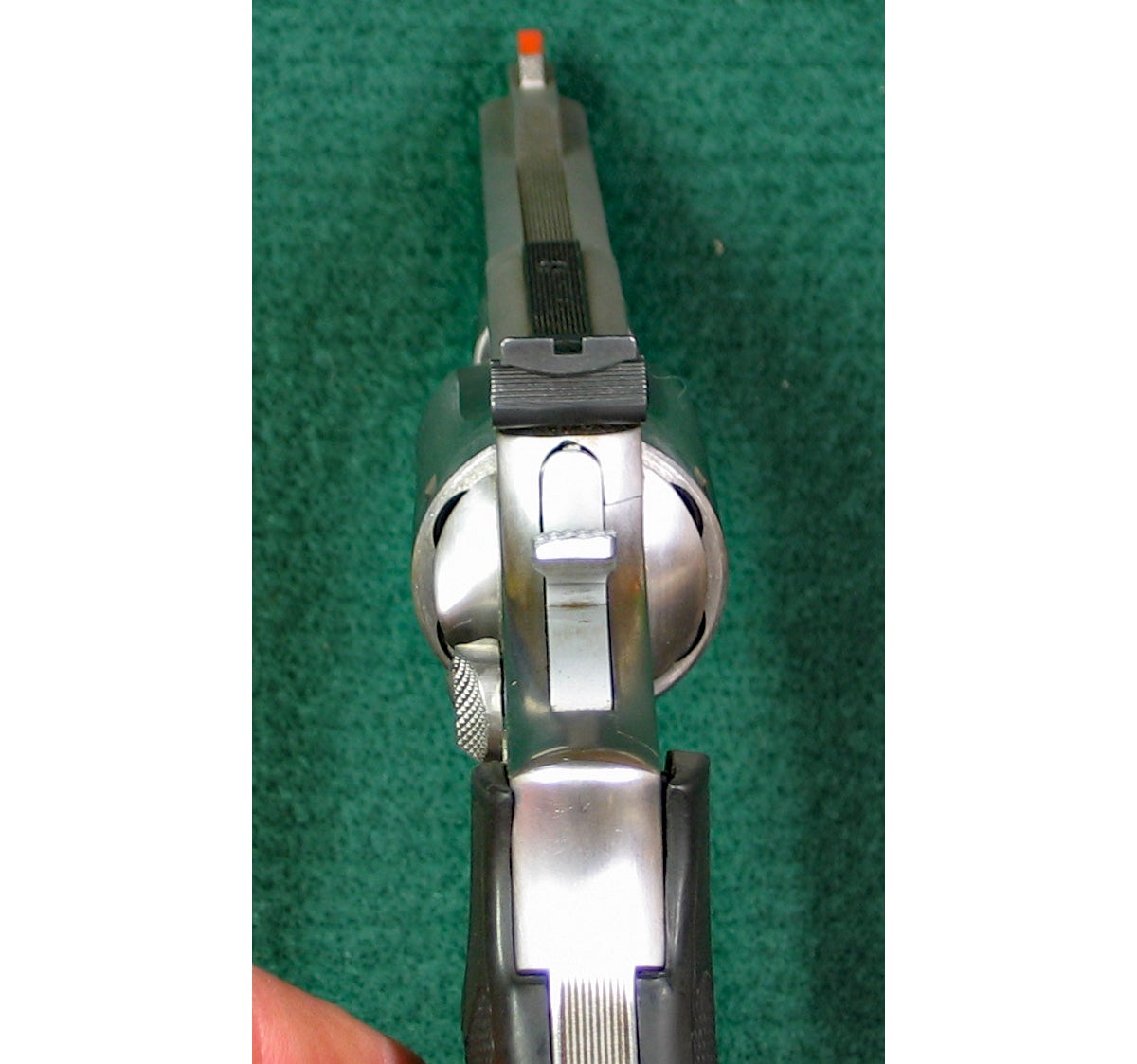 The front sight is quite good, a wide sturdy ramp sight built integral to the barrel and including an orange plastic insert for visibility. About the only improvement I'd make would be to make the insert white.
The blued steel rear sight is fully adjustable for windage and elevation, and both of these revolvers have blued sights, although some were made with stainless sights. It's also notable that the 66-1 doesn't have the white outline (WO) rear sight, but the 66-2 does.
The front & rear straps of the model 66 grip frame are typically grooved, and these are no exceptions.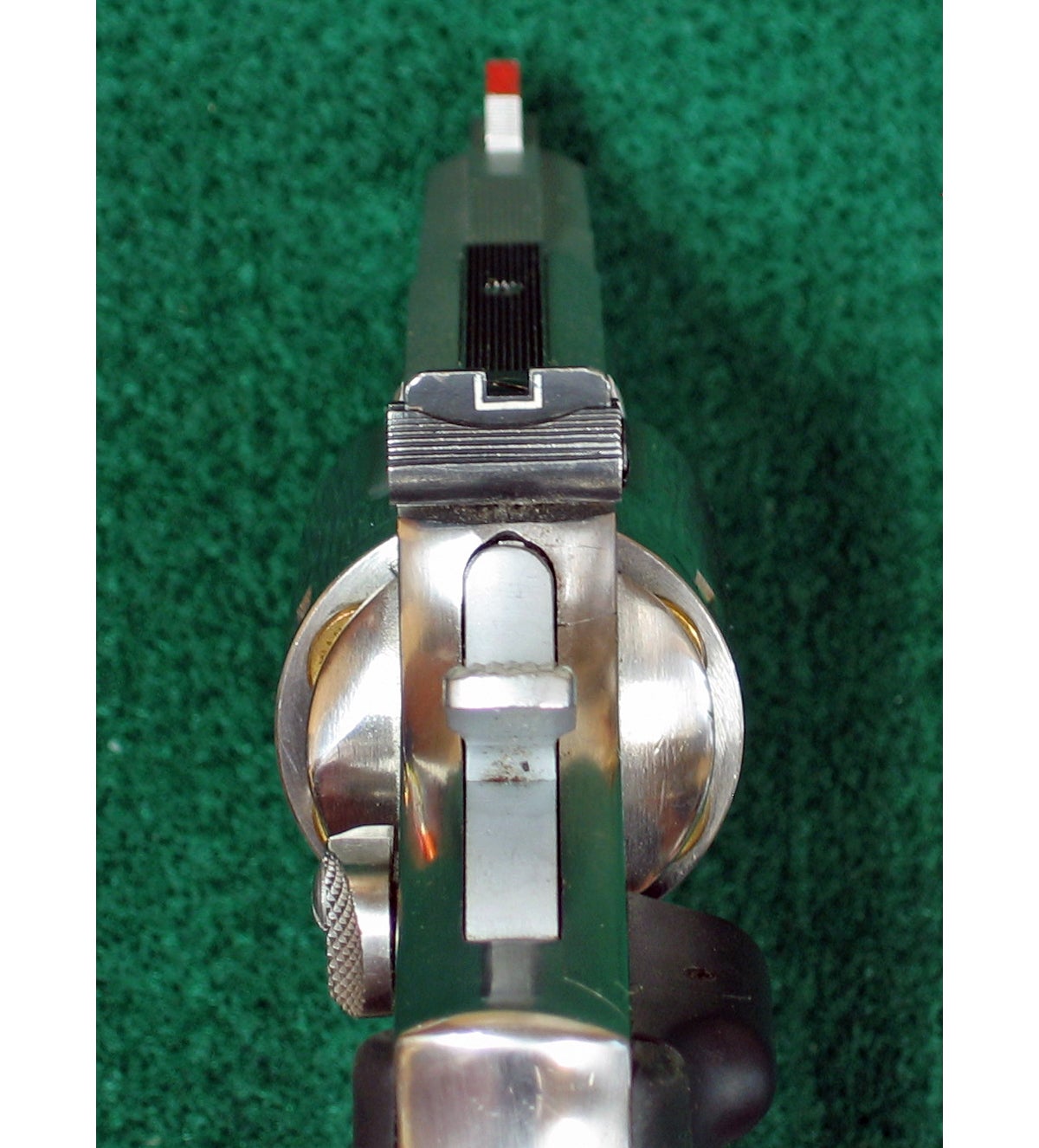 Both of these revolvers are accurate and have great triggers — but the snub-nose 66-2 has the better one. Its single action (SA) pull breaks between 2.5 and 3 pounds, while the equally-crisp 66-1 breaks at 3.75-4 pounds.
Both have good double action (DA) trigger pulls, which are even more consistent through the pull than a Colt Python I was able to use for comparison. I will add, though, that my Dan Wesson 44 has them all beat when it comes to DA.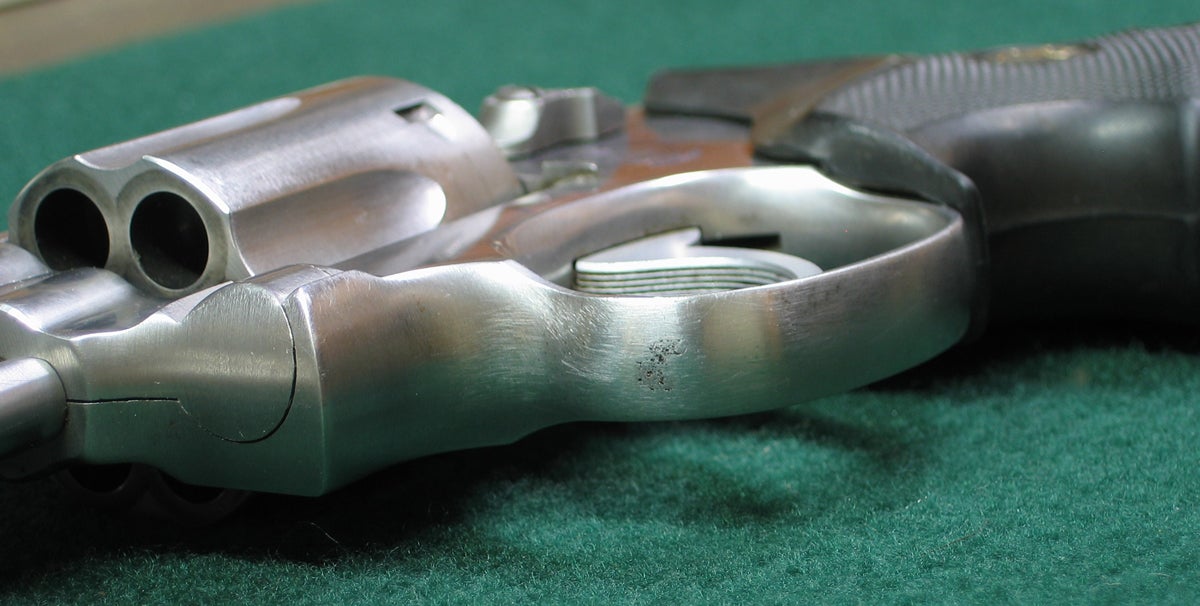 Some folks will tell you stainless steel won't rust; they'd be wrong. As you can see by these deep rust pits, oxidation is certainly possible under certain circumstances.
In this case the culprit was a leather holster in which my father stored the revolver. Leather is not a good material for firearm storage, due to its tendency to absorb moisture and due to the sometimes-corrosive chemicals used in processing the leather itself. Once Dad discovered the damage, it had gotten pretty bad.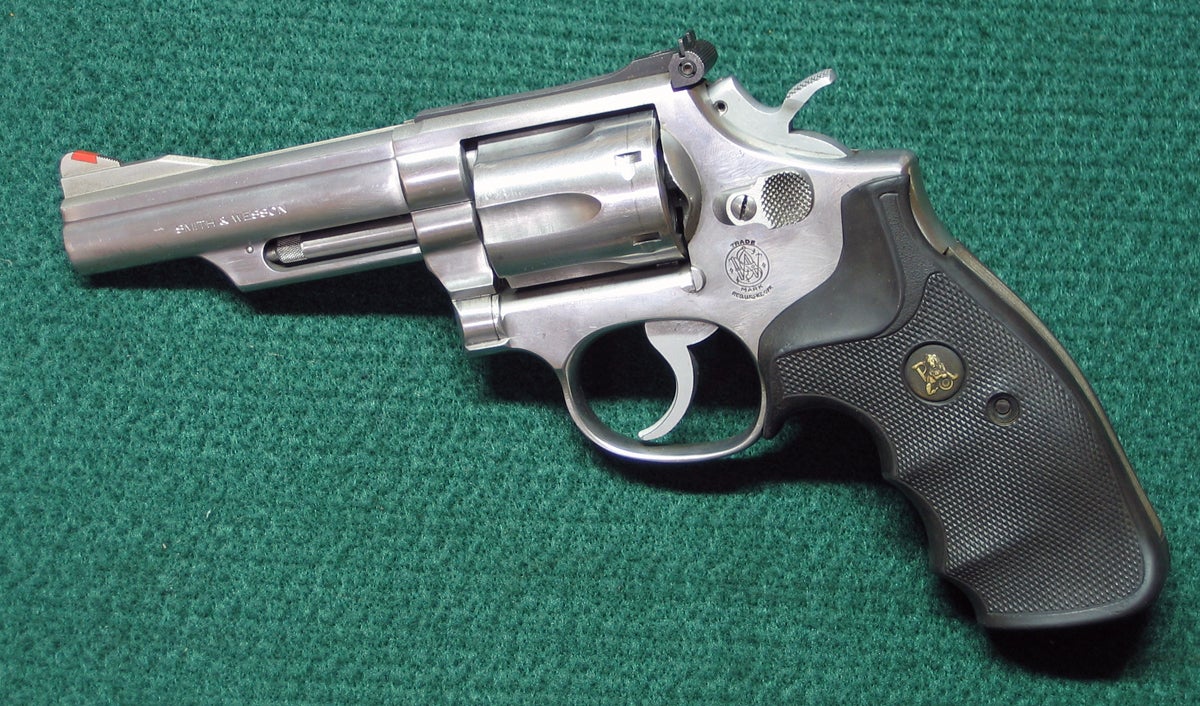 The advantage of stainless steel is that while this gun is marred by the rust pits, they don't detract from the gun's attractiveness nearly as much as the same rust damage would do to a blued steel firearm — and it if had been blued instead of stainless, the damage would have been even worse.
Another plus is that rub wear (such as wear from being carried in a holster) usually won't damage the finish, and dings or other minor flaws can often be polished out. To do so on a blued gun would cause even more damage to the finish.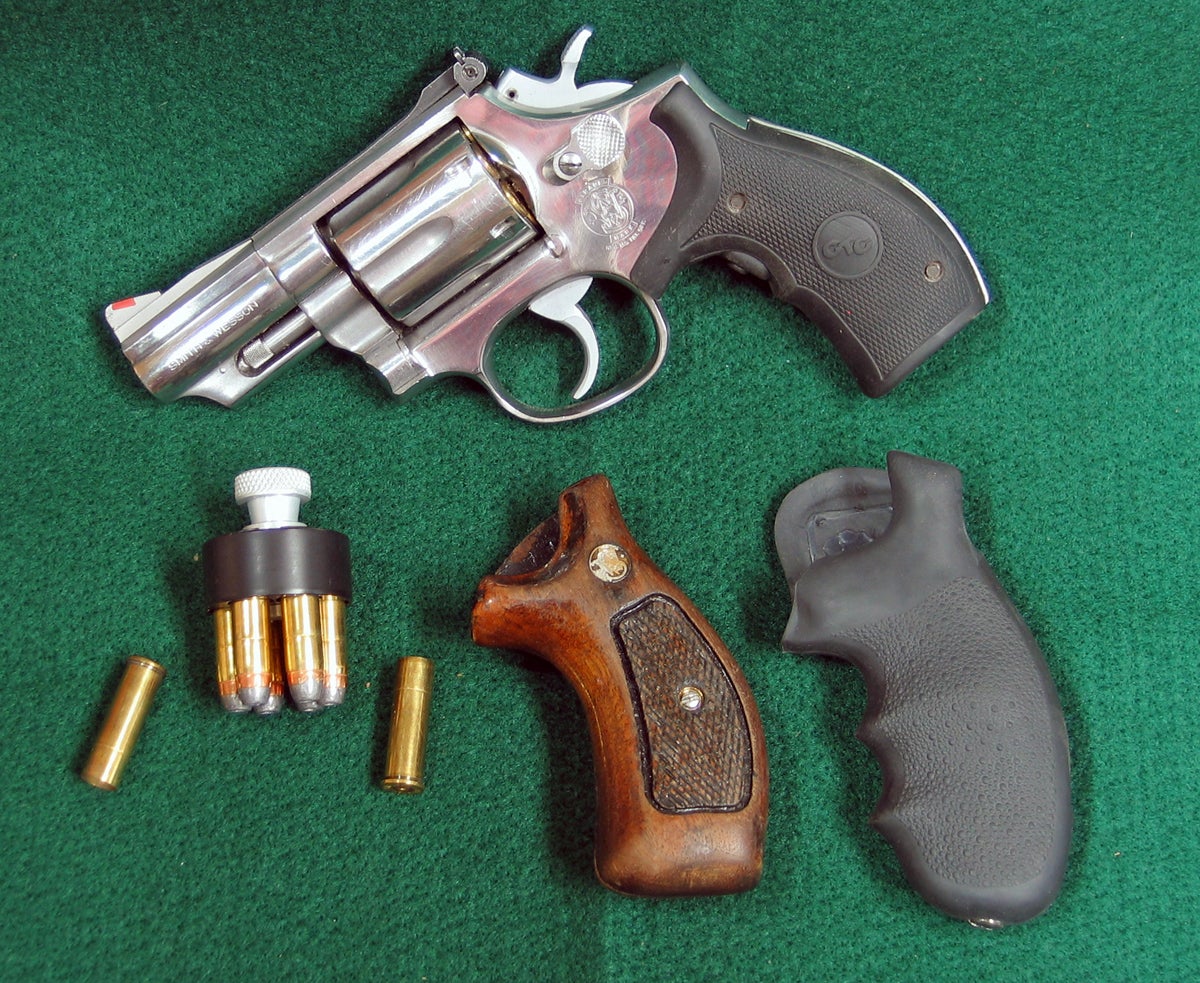 The first time I wrote about the Model 66 was more than a decade ago, and in the intervening years another one crossed my path — and I was smart enough to take plenty of photos while I had it. The round butt version of the Model 66 is certainly more compact, and the Lasergrips on this one are comfortable as well as useful for close-quarters defensive work.
This 66-2 saw a lot of use in the quarter-century or so before it came into my life, as the battered wood grips testify. Fortunately for me, the previous owner had purchased Lasergrips as well as a small Hogue monogrip and included them in the deal.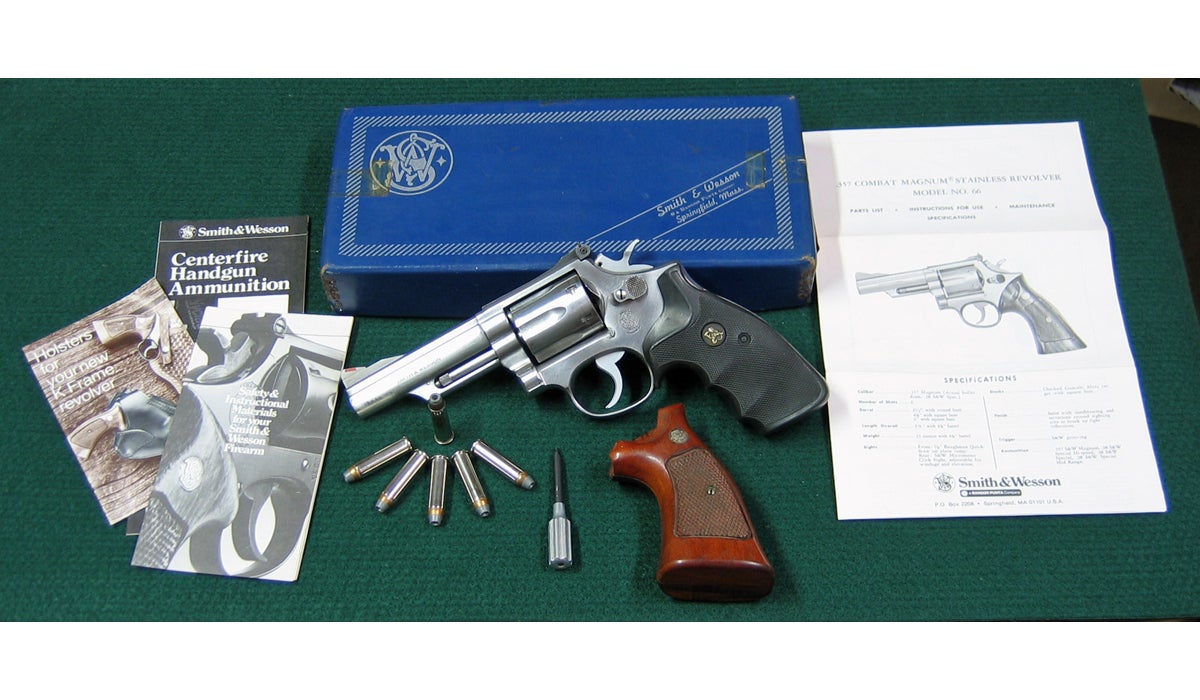 It's always nice to have original "stuff" such as this factory box in which the 66-1 was originally purchased. Also pictured is the obligatory S&W screwdriver which used to come with every new S&W revolver, the factory grips, some ammo, and original S&W paperwork from the 1980s.
When these guns were made, wood grips (S&W calls them "stocks") were standard, and their square-butt guns came with goncalo alves wood "target" grips which have a sharp edge or corner around the bottom. Dad disliked this, so he rounded that off and sanded away some wood that made it uncomfortable for him to fire the revolver, as he was a southpaw. He then refinished the grips.
I can't write about this old 66-1 without including an incident in which Snuffy prevented a violent crime.
Dad had retired and become old and gray, probably appearing to be a prime victim. One early morning while driving through Tampa's deserted streets, he stopped for a red traffic light.
In Dad's peripheral vision he detected a large creepy-looking fellow, who suddenly began sauntering towards the truck. No one else was in sight; it was just the two of them.
Rather than challenging the guy directly, Dad simply leaned over to reach under the seat, where his hand found Snuffy's grip. Leaving the revolver in its holster and still not making eye contact with the threat, he raised the firearm into the bad guy's view for just a second before setting it on the seat beside him.
Just a quick peek at that revolver caused the crook to turn on his heel and make tracks for elsewhere.
Conclusion
The Smith & Wesson Model 66 Combat Magnum is a six-shot double action stainless steel revolver chambered for 357 S&W Magnum, and has been available in numerous variations over the years, with about a ten-year gap in production from 2004-2014.
Made on the K frame, the 66 is reliable, tough, accurate, and well-made. It'll serve as happily shooting targets as it will for self-defense, and the stainless steel finish means it won't readily show wear.
You could do a lot worse than the ol' Model 66.