Savage Arms Rolls out Four Rifles in High-Performance 300 PRC
Eve Flanigan 07.02.20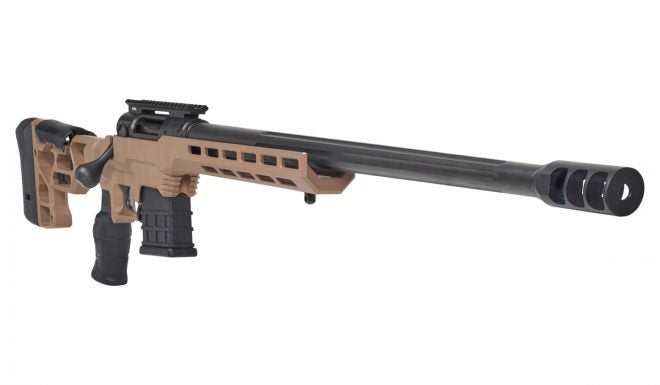 Savage Arms of Massachusetts just released four rifles for precision shooting and hunting enthusiasts. These are the latest civilian rifles to represent relatively new chamberings designed by Hornady. The 300 PRC (Precision Rifle Cartridge) was designed in response to a Department of Defense announcement for lightweight, long-distance-capable, terminal-ballistics-effective ammunition.
Shooters can enjoy Savage's customizable AccuTrigger and Accustock features while the cartridge stretches out their range with Savage's well-known outstanding accuracy for an off-the shelf product. The rifles feature button-rifled barrels and locknut barrel headspacing. Each includes a polymer AICS magazine and serrated lock nut. On top is a monolithic, 20 MOA rail.

There are three precision-shooting specialty rifles and one hunting-oriented rifle in the new lineup. All are built around the company's proven 110 short action receiver.
The rifles are:
• 110 Long Range Hunter, 26-inch barrel. MSRP $968
• 110 Precision, 24-inch barrel. MSRP $1,499
• 110 Elite Precision, 30-inch barrel. MSRP $2,149
• 110 HS Precision, 26-inch barrel. MSRP $1,284
Both right- and left-handed bolts are offered. For more information, see the Savage Arms website.


This chambering holds a lot of promise for the hunt field. According to a Savage press release:
While 300 PRC is capable of exceptional accuracy, the round is not simply a paper-puncher. The true potential of the 300 PRC comes from the intentional pairing of heavy .30 caliber bullets with non-belted cases and temperature-stable powders. The 300 PRC's projectiles achieve repeatable accuracy thanks to their high ballistic coefficients. The 30-degree shoulder of the case provides stable chamber alignment, while the non-belted cases stack efficiently and feed reliably from magazines. The combination allows for fast follow-up shots.
The 300 PRC is a magnum cartridge and a riff off the 375 Ruger. It uses a standard .532-inch magnum bolt face and headspaces off the 30-degree shoulder. According to a Hornady press release, it has superior chamber alignment than standard belted magnums. Its shape facilitates better stacking and feeding from fixed magazines than previous industry standard. Standard magnum cartridge powder is used in both Hornady's current 300 PRC products, but the company's data indicates 300 PRC delivers more consistent velocity and less barrel wear than other magnum loads.
The Hornady PRC factory loads include 225 grain ELD Match and 212 grain ELD-X Precision Hunter. Both deliver impressive ballistic coefficients. The Precision Hunter bullet is designed for knockdown power at sub-400 yard shots. At greater distances, the synthetic heat-protector tip presses into the jacket to initiate mushroom-like expansion to take down big game.
Data from Hornady's 24-inch test barrel show good consistency in sustained velocity over distance. The 212-grain bullet has 2,860 feet per second (fps) muzzle velocity. At 500 yards, it's still going 2,212 fps, with a loss of 38.3 inches of elevation. The 225 grain match bullet is speeding at 2,810 fps out of the muzzle, slowing to just 2,250 fps at 500 yards with 38.4 inches of elevation loss. One tester's analysis describes the round as having the ballistic advantages of 6.5 Creedmoor with a 300 Norma-like bullet, but lacking the shortcomings of 300 Norma. Both bullets are available for hand-loading.
The marriage of Savage's off-the-shelf precision barrels and custom ergonomics with what looks to be a new precedent in accuracy for magnum cartridges promises to deliver satisfaction for big game hunters, match competitors, and recreational long-range shooters alike.