AllOutdoor Review: Springfield Armory Desert FDE Hellcat 9mm
Adam Scepaniak 07.07.20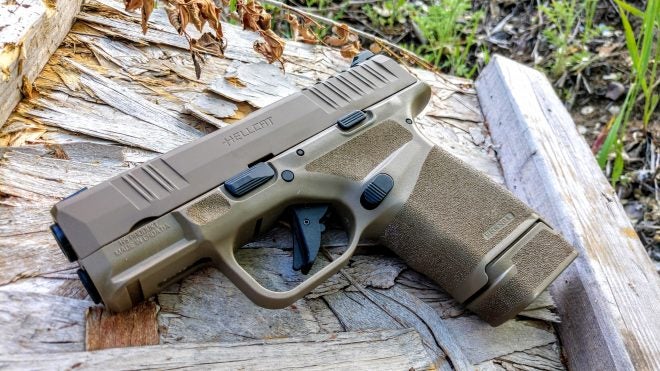 The Springfield Armory Hellcat has been out for nearly 1 year now and it has been dominating the CCW (concealed carry weapon) market from the very outset. Along the way we have seen a few new iterations come along with the most notable one being an OSP (Optical Sight Pistol) version to more readily allow the addition of a micro red dot. The newest one to date though is a Desert FDE Cerakote model in both a standard and OSP configuration. So, in this AllOutdoor review we will take a look at the newest micro-compact offering from Springfield Armory in the Desert FDE Hellcat 9mm. Let's dive in!
Specifications: Springfield Armory Desert FDE Hellcat 9mm
You might have caught a post about the Springfield Armory Hellcat on our sister-blog of TheFirearmBlog.com (TFB) this past February where we went into detail about the world's highest capacity micro-compact, or maybe you saw Russ Chastain's Hellcat Review right here on AO. The most obvious difference between those pistols and this one we will review today is the Desert FDE Cerakote finish.
The rest of the technical specifications can be read below as presented by Springfield Armory:
CALIBER: 9mm
COLOR: Desert FDE
BARREL: 3″ Hammer Forged Steel, Melonite® Finish, 1:10
SLIDE: Billet Machined, Desert FDE Cerakote Finish
FRAME: Desert FDE Polymer w/ Adaptive Grip Texture
SIGHTS: Tritium/Luminescent Front, Tactical Rack U-Notch Rear
RECOIL SYSTEM: Dual Captive Recoil Spring w/ Full Length Guide Rod
GRIP WIDTH: 1″
MAGAZINES: (1) 11-Round, (1) 13-Round Extended
WEIGHT: 17.9 oz w/ Flush Mag, 18.3 oz w/ Extended Mag
LENGTH: 6″
HEIGHT: 4″ w/ Flush Mag, 4.5″ w/ Extended Mag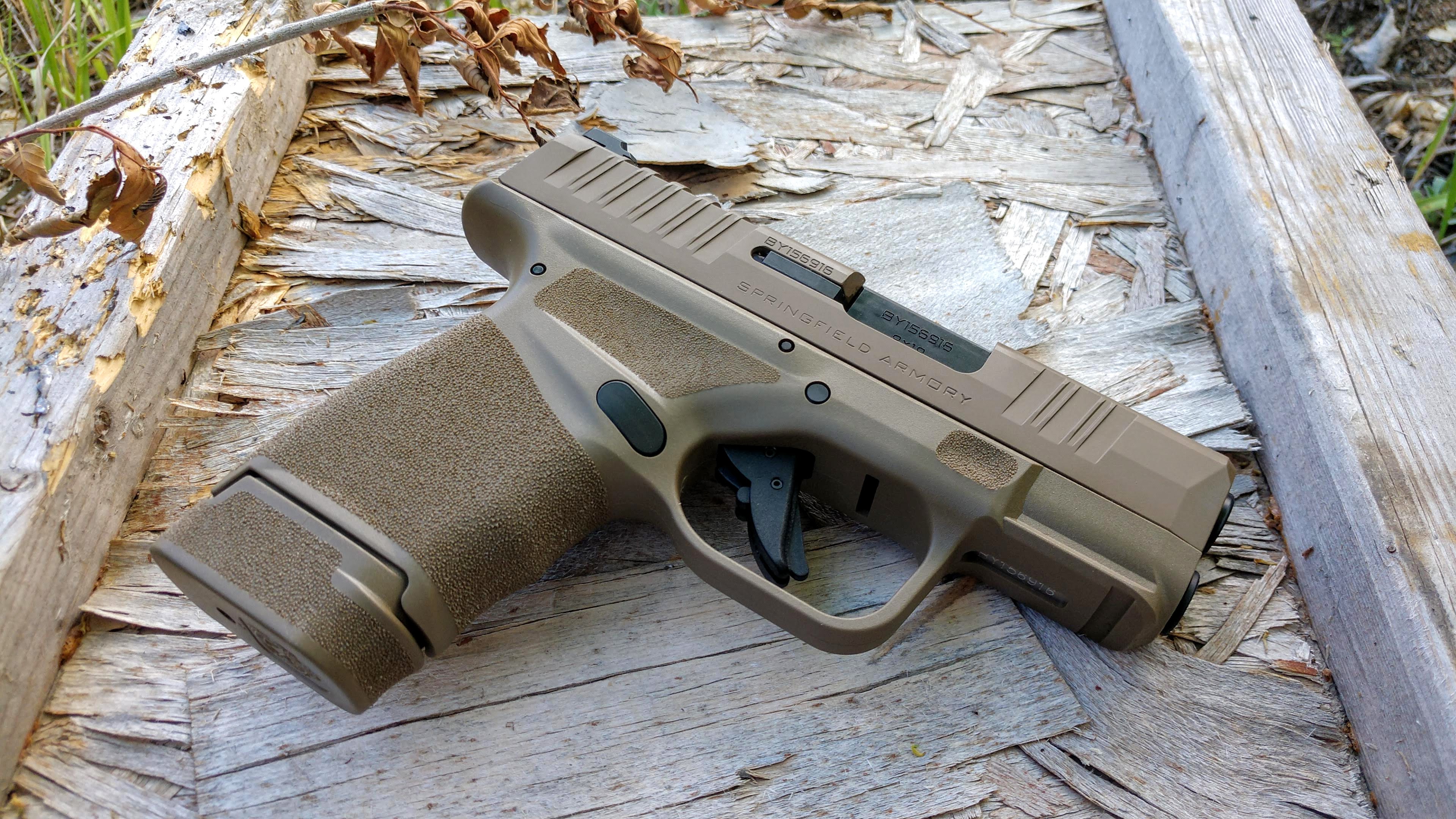 The MSRP for this standard configured Springfield Armory Hellcat in the Desert FDE Cerakote is benchmarked at $610. If you opt for the OSP version in Desert FDE it would be a touch higher in price at $643. Both of the Desert FDE models are more expensive than all of the black Hellcat permutations which is understandable because of the more durable Cerakote finish. A Press Release statement can be read below from Springfield Armory which talks about the handgun we are reviewing here today in greater length:
"The Springfield Armory® Hellcat® is a class leading concealed carry handgun that packs up to 13+1 rounds of 9mm into a space previously reserved for pocket guns. Now available in Desert Flat Dark Earth, the Hellcat offers a 3″ Melonite®-finished hammer forged steel barrel along with legendary Springfield Armory reliability in a trim package a mere 1″ thick. The Hellcat is the definitive concealed carry pistol."
First Look: Springfield Armory Desert FDE Hellcat 9mm
We can let the elephant out of the room immediately and talk about the glaring change on this Hellcat: its Flat Dark Earth (FDE)! It is simply more than that though. It is a slightly different shade of FDE (Desert FDE, to be exact) which is pretty important if you care about the finer details of its appearance. Typically when we see AR-15s in some kind of FDE color scheme there are 4 different hues of brown on the same firearm. But why? It looks gross. The reason most manufacturers struggle with colors other than black is because one given color of FDE does not appear the same on metal parts as it does on polymer ones. So when you look at the Springfield Armory Hellcat in Desert FDE it is actually very impressive and attractive that it is the same color top to bottom. No funny 50 Shades of FDE.
While the Desert FDE Cerakoted slide, frame, and magazine floorplate are a striking finish all of the black controls are a nice offset in their own right. Every piece that is important to the control and manipulation of the firearm is black which acts as a great visual marker. The Magazine Release, Trigger, Slide Lock, Disassembly Lever, Sights, Barrel, Slide Cover, and Guide Rod are all black. So, while there is no replacement for strong fundamentals and training in firearm handling the black components are easily distinguished from the rest of the slide and frame.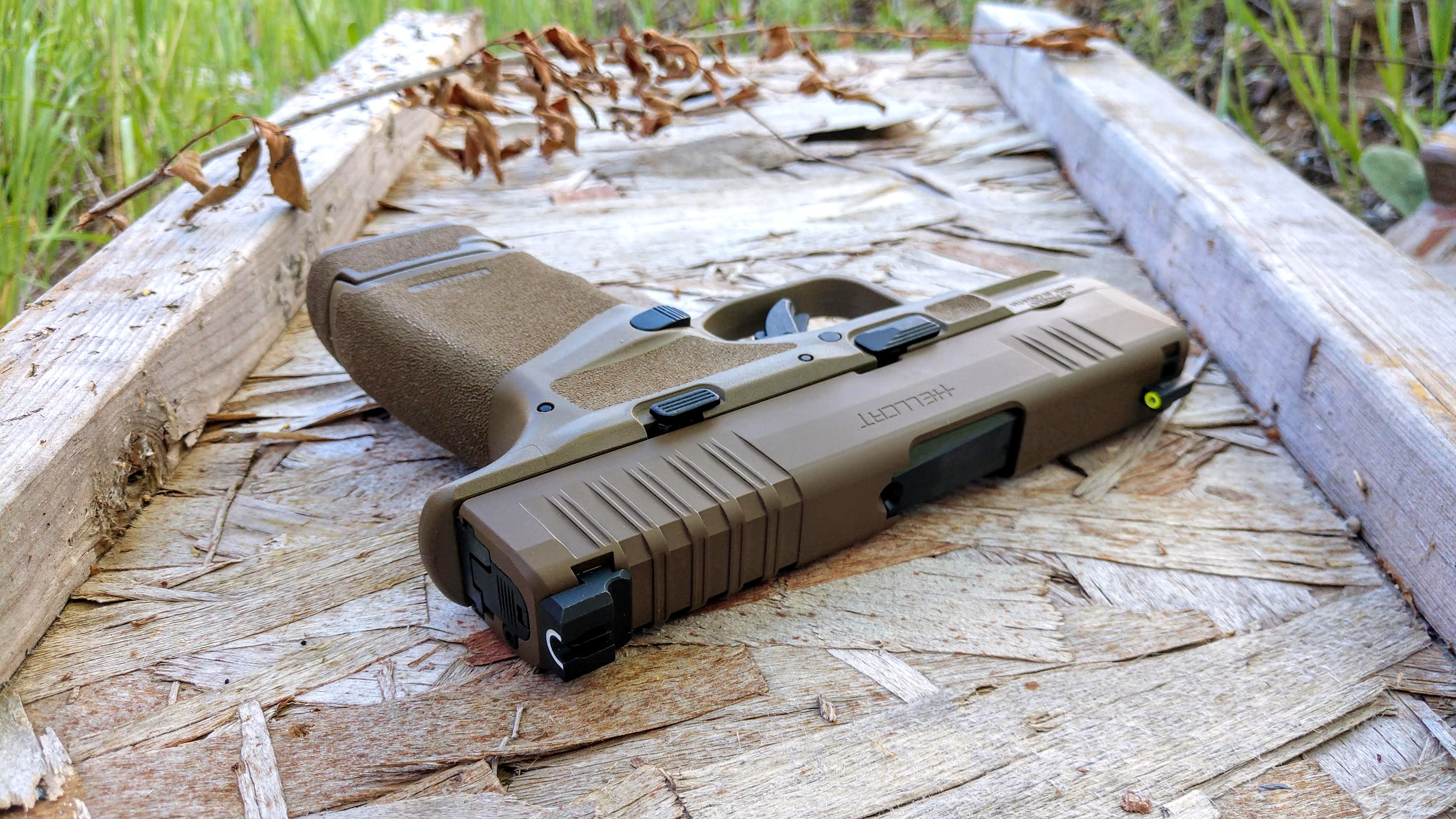 Another element that is immediately noticeable on the Desert FDE Hellcat are the sights. You have a Tritium/Luminescent Front Sight paired with a Tactical Rack U-Notch Rear that is easy to acquire in both blinding sunlight and low scenarios around dusk, dawn, and night-time. This is a sight picture that is available on some of the XDS Mod.2 pistols and I am glad to see it get carried over to the Hellcat as well.
Range Time: Springfield Armory Desert FDE Hellcat 9mm
When it comes to shooting this pistol, just like when I formally tested the black Hellcat in February, it is startlingly accurate. For a handgun with only a 3″ barrel, albeit constructed from hammer-forged steel, it shoots with the steadiness, precision, and accuracy of a full-frame firearm. I had the ability to test out a black Hellcat in a "normal" Minnesota winter which consisted of -10°F temperatures with much more frigid wind chills. Before my hands went numb I was able to produce 1 ragged hole on targets varying from 15 – 20 yards. Now flash forward to this past June and July where Mother Nature becomes bi-polar in the summer in Minnesota and it is now 90°F with an even higher heat index on any given day. I primarily used Federal American Eagle Syntech ammunition for testing and regardless of the temps outside I am getting point-of-aim, point-of-impact accuracy. Once again, in my eye's this is pretty impressive coming from a carry gun.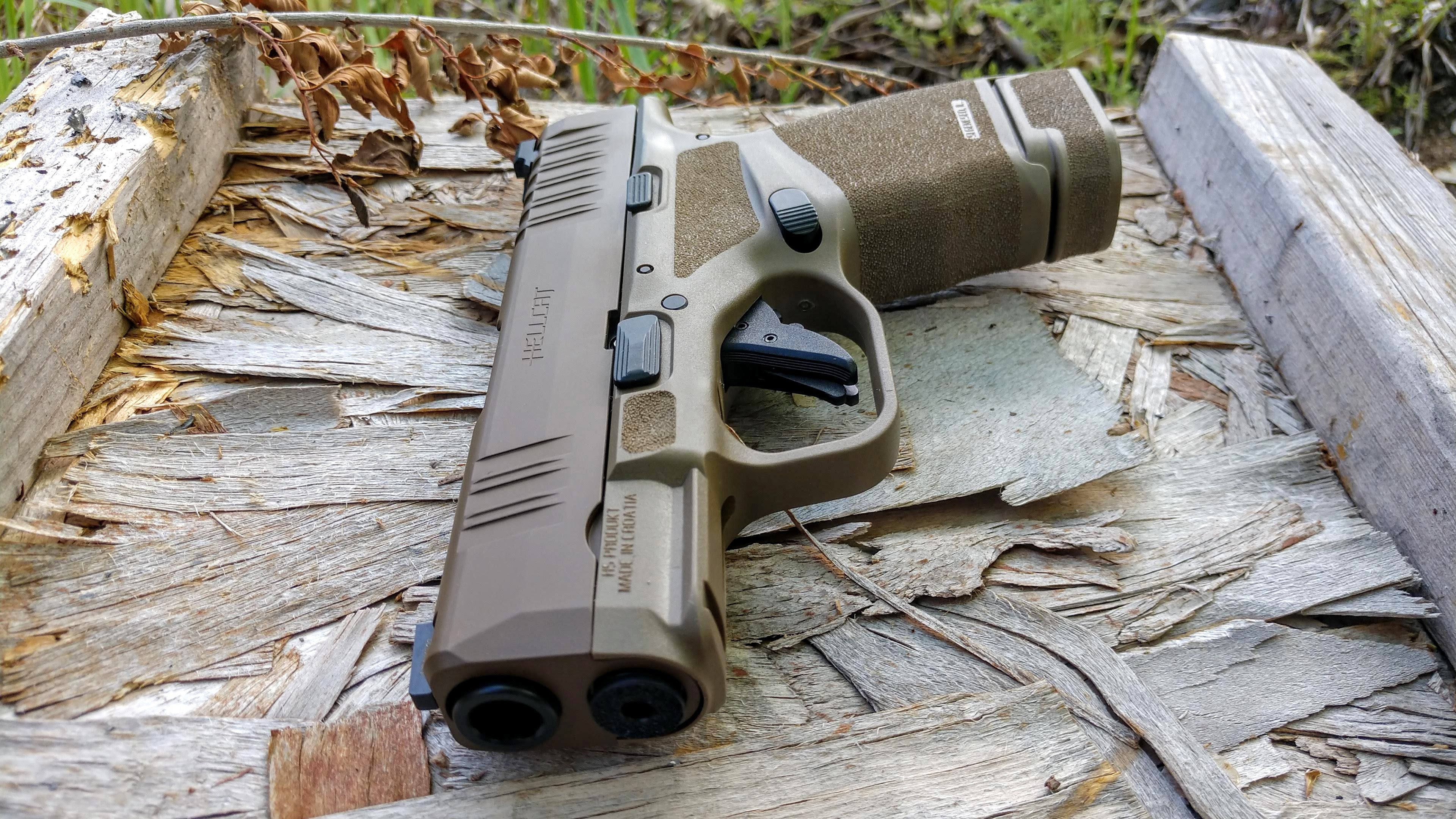 Carry Time: Springfield Armory Desert FDE Hellcat 9mm
I had 4+ months of experience carrying a black Hellcat and now I added to that by carrying the Desert FDE Hellcat for a couple months more. My favorite method of carry originally for the Hellcat was Appendix Inside-the-Waistband (AIWB) so I did that again with the Desert FDE Hellcat. It was very comfortable to carry all day in this position whether it was seated in a vehicle commuting, at an office, or strolling around my family's gun store (where the Hellcat sells like hotcakes, by the way).
AIWB has become my favorite method of carry over many years because it can easily be hidden by a simple T-shirt whether it is a hot July day or a frigidly cold one in January. Simultaneously, it is very fast to draw from if you give it a little bit of practice. A third reason I support AIWB carry is it keeps the firearm between you and anyone you encounter. What I mean by that is no one with evil intentions is going to sneak up on you, and take your sidearm from you if you are carrying AIWB. The Hellcat could be carried anywhere, but it felt most at home for me while carrying AIWB.
Final Thoughts: Springfield Armory Desert FDE Hellcat 9mm
So, what are my final thoughts?… Overall, I am just as impressed with the Desert FDE Hellcat as I was with the original one. They knocked it out of the park in regards to capacity, the overall footprint for concealed carry, the sights, texturing, and even the sexy aesthetic of a Desert FDE Cerakote. There is not much to dislike about this firearm unless you truly need something larger because you have grizzly bear paws or desire something awkwardly smaller purely for the convenience of size knowing it will recoil brutally worse.
In closing, I want to say thank you to Springfield Armory for allowing AllOutdoor and myself the opportunity to try out their Springfield Armory Desert FDE Hellcat 9mm. That is greatly appreciated. Also, we would like to know what all of you guys and gals think? Do you believe that the Springfield Armory Desert FDE Hellcat 9mm is something worth spending your money on? Would you carry it while camping or hiking? Shoot a league with it? Use it as your everyday carry? Let us know all of your thoughts in the Comments below! We always appreciate your feedback.