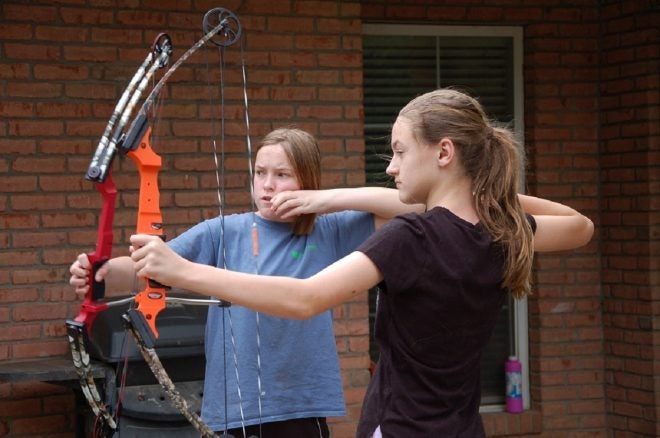 After this past Christmas was long over and gone, I began hearing a faint swishing sound from across my neighbor's fence. I was curious. The next time I saw my neighbor out in the yard I made an inquiry as to that curious noise. "Arrows," he said. "My girls are shooting arrows."
Turns out his two youngest daughters of four, Charlotte and Anastasia, got archery gear from Santa. Their bows are not high tech compound units, but simple, primitive bows. Apparently they are taking to their bows like ducks to water. They have always been the outdoor types, especially fishing, but expressed some interest in joining dad on duck hunting trips.
Their father said he was hoping to plant a seed of interest in them for deer hunting, or just hunting. That is a growing trend around the country with the growth of archery shooting programs in private and public schools. Mississippi is big into this program having established the AIMS program or Archery in Mississippi Schools. The program is growing by leaps and bounds.
To support the statewide program the city of Clinton of which I am a resident is partnering with a local private Christian college (Mississippi College) and the city's parks and recreation program to build a professional level archery range to be called the Arrowhead Archery Range. Assisting with this archery program is the state wildlife agency. The AIMS program will promote archery programs for students in grades 4-12.
Recruitment to the archery program has been overwhelming and successful. The main reason seems to be that archery does not require the student participant archers to be any kind of a special athlete with special talents. There are already an estimated 80,000 archers enrolled in the AIMS program statewide. That is a heck of a start for a new program.
The construction of Arrowhead Archery Range is being developed at a local city recreation park. Plans call for a field at the park for target archery. A wooded area on the property will be used for a 3D archery range for more field practical skills development. The 3D targets will include small animals such as skunks to large animal targets like elk.
The range will be open to the public as well for supervised archery practice, AIMS archery competitions and other school archery programs. This new facility will be available to host state, regional, and national tournaments including K-12 and college archers. A long term goal is to also build an indoor range as well.
Though the AIMS program is not specifically preparing students to become hunters, it is only natural that many may follow that path. The program is good for developing outdoor skills and perhaps to invite these archers to become future bow hunters.