Federal Premium Ammunition Debuts NEW Black Cloud TSS 20 Gauge
Adam Scepaniak 07.08.20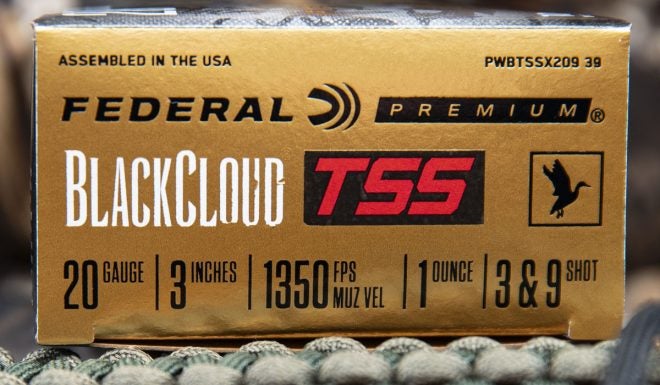 Federal Premium's Black Cloud TSS ammunition has been a crowd favorite for ducks and geese since its introduction and now people who tote 20 Gauges out into the woodlands and ponds in pursuit of waterfowl can utilize them, too. It might be only July, but many hunters have their gaze set on the hunting seasons fast approaching this fall. If you are one of the 20 Gauge faithful these are the qualities you can come to expect if you dive in on some of the NEW Black Cloud TSS 20 Gauge loads:
New option pushes 20-gauge effective range to 50 yards
60% TSS pellets
TSS is more than double the density of steel & 56% denser than lead
40% FLITESTOPPER Steel
FLITECONTROL FLEX wad provides the most consistent patterns in all waterfowl chokes
Reliable primer & clean, fast-burning propellant
Blended load featuring No. 9 TSS & No. 3 FLITESTOPPER Steel
PWBTSSX209 39 | 20 Gauge 1 Ounce 3″ | 3 FS Steel & 9 TSS | 10-Count | MSRP $38.99
As with the 12 Gauge loads developed by Federal Premium in Black Cloud TSS, they truly are a unique blend that competing manufacturers have not caught onto yet. Between the proprietary TSS material and mindful selection of both #9 and #3 shot, it is a waterfowl swatting load, for sure.  Federal Shotshell Product Manager, Dan Compton, goes on to further explain this new offering from Federal Premium:
"The hard-hitting TSS pellets make up 60 percent of the payload, our FLITESTOPPER steel pellets make up the remaining 40 percent. A raised cutting ridge encircling the exterior gives the pellets an unparalleled ability to slice through feathers and flesh, with no loss of penetration or adverse effect on ballistics and flight characteristics. FLITESTOPPER steel creates significantly larger wound channels than standard round pellets. Coupled with TSS, this blended load delivers extremely impressive results."
According to Federal Premium, these 20 Gauge Black Cloud TSS loads are now shipping to retailers. If you are already patterning your shotgun and counting your decoys, this might be a load for you to try in a few months. The real question though is what do you think? Let us know all of your thoughts in the Comments below! We always appreciate your feedback.