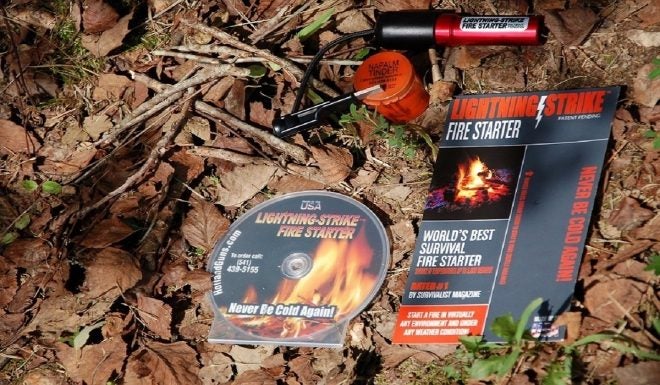 There are a lot of fire starters on the market now. They are virtually dime a dozen so to speak and some of them are not worth a dime. But there are some really well made, highly functional fire starters around and one of them is the Lightning Strike Fire Starter by Holland's Shooters Supply.
I have never met Darrell Holland the inventor of the Lightning Strike Fire Starter, but if I were to guess he is a tinkerer. Like so many entrepreneurs they were disappointed with other products on the market, so they simply decided to create one on their own. His lifelong outdoors experience and background as a survival expert definitely helped in the design of this fire starter.
In Holland's own words:
"Being in Oregon, the weather can change drastically and a fire is one of the first things taught in survival training. The fire starters available commercially were nothing more than charm bracelets. In a life or death situation, you need something that will function."
The Holland Lightning Strike Fire Starter is CNC machined from 7075-T6 aluminum that has been anodized. The flint replacement is quick and easy which is a double real plus where you are outdoors under bad conditions or the stress of trying to light a critically needed fire. Also the whole unit is self-contained so everything is kept together. The striker fits into one end for storage and the other end is capped with a weather resistant cap. The large striker rod is attached via a shock cord to the end cap.
Integral to the cylinder unit is a holding space to store crucial pieces of tinder. You may think that virtually anywhere you are that Mother Nature is going to supply even tiny bits of fodder to start a fire. Maybe so, but what if it is drenching wet or covered in snow? Lightning Strike also makes tinder disks to use with this fire starter, but other types of tinder will work, too.
This striker unit permits the use of only one hand to strike a fire which can be important under tough conditions. The secret to this fire starter is that its design aims more spark directly to the tinder to maximize the fire starting effort.
Available in red, blue, green, and black, the Lightning Strike Fire Starter is only 7.5 inches long and weighs a mere 4.5 ounces. There is also a mini size available that is 6-inches long weighing 3.2 ounces. Check out the full product line at www.hollandguns.com.