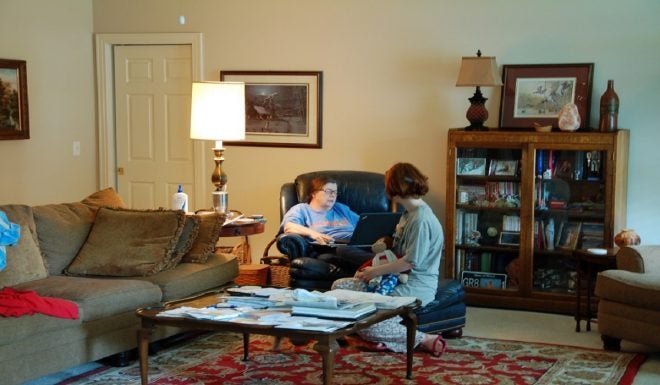 Ok, right now your physical and life-sustaining needs are being met. It might be tough shopping enough to find food for a week at a time, but you are managing to feed the family every day. Routines have had to be changed. Your office is closed and you are working at home on line including phone conference calls. The kids are out of school until there is word of an "All Clear" to return to classes. To say your lives have turned upside down is a huge understatement.
However, the tougher question is how you manage your total sense of mental well-being given your status of sheltering-in-place. Many states are in a wholesale shutdown status right now. Many have been mandated to stay home. There are no gatherings of family reunions, neighborhood cookouts, church services, club meetings, funerals, weddings, or basically any meetings of more than 10 people and individuals are to be separated by a minimum of six feet.
What this means is basically no social life, except perhaps with home family and nearby neighbors. There's little face-to-face now until further notice. Of course, this is all designed to slow the spread of the coronavirus between people. So, how do you manage the psychological depression of being in a required lockdown? Eventually mental distress could result in physical distress unless you finds ways to occupy your mind.
First, explore all the ways you can stay busy. That is endless if you are even the least bit creative. Television and radio can always occupy some of the time. Reading good books, the daily newspaper, and other publications will help as well. Computers are still live so that resource is never ending. Cell phones are active so stay in touch with family, friends, and co-workers.
Watch and read the news, world, national, state and local. Keep up to date on the virus and efforts to keep it under control. Political news is always fascinating and is one way to keep up with the world. Listening to daily local news and weather is a part of mentally staying in the game. All these resources should be used on a daily basis.
For recreation there is always electronic games, board games, cards, and other amusements you can play with family or children. Maintaining a hobby is a good practice. It might be woodworking, painting, sewing, puzzles and other games. Get outside to exercise even if it is just a stroll up and down your own street and neighborhood. Be active every day.
Sheltering in place is never fun, but one can survive it by staying active both physically and mentally. Soon the virus will be defeated or will play its course. Hang in there as best you can. If your local outlets run out of supplies and goods, try an order through Amazon.