Ultimate Lever Action: Belt Fed 44 Magnum Built From a Ruger
Russ Chastain 07.16.20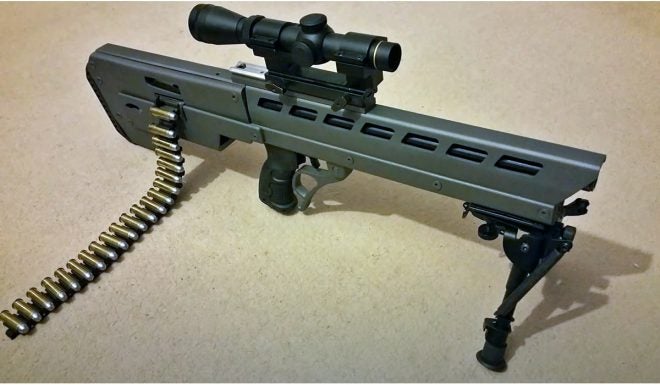 I was fortunate enough to recently find a post on our sister site TFB about a guy in the UK who converted a regular ol' lever-action Ruger 96-44 lever action carbine into a belt-fed bullpup!
The TFB post has more images and details, which will be helpful in the event YouTube takes down the video because it's about a gun (they've been known to do that). But basically this fellow lives in a place where centerfire guns can't be semi-auto, so they generally use bolt action & lever action long guns. So he took a Ruger 44 mag and remodeled it somewhat.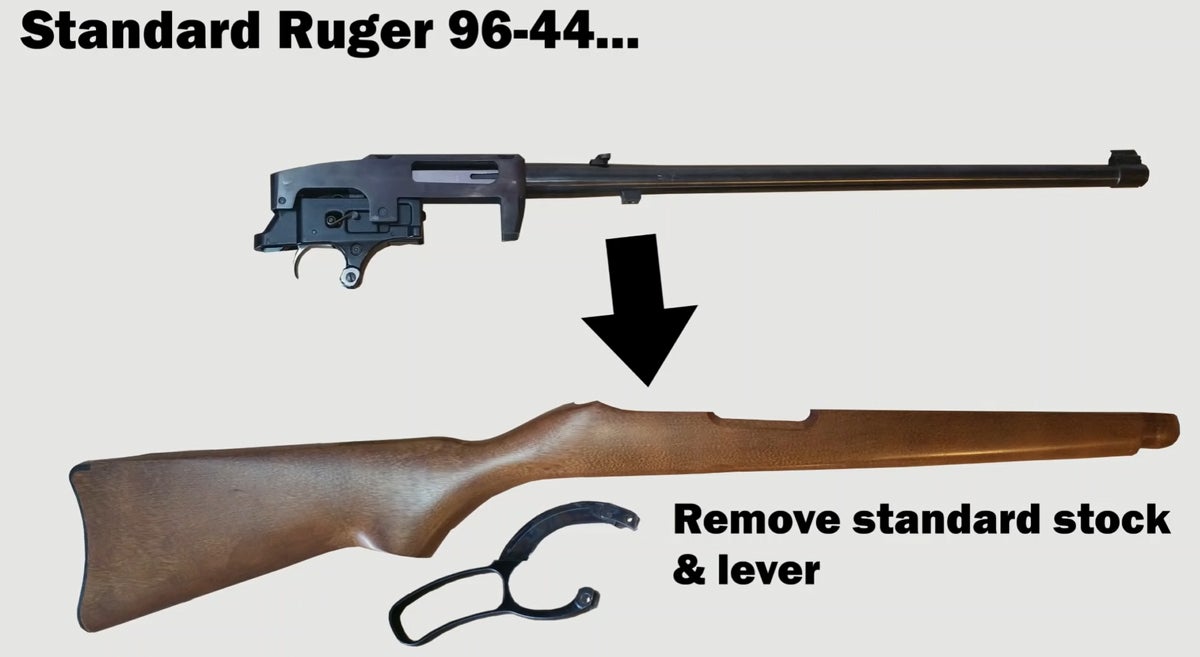 For those unfamiliar with it, the 96-44 was Bill Ruger's odd attempt at reviving his first-ever long gun, the Model 44 carbine, which was a semi-auto. The rotary magazine was an improvement over the original carbine's tubular mag, and the one or two 96-44s I've fired were accurate and reliable, but I can't help loving the original model more.
William Ruger was a tinkerer and I'm sure he would have been impressed with the ingenuity seen here, had he lived to see it. The video demonstrates the complexity of the design, with long assemblies needed to transfer the lever action and trigger from the mid-mount bullpup location back to the action at the rear. Not to mention remodeling things to replace the small rotary box mag with a mechanism that feeds ammo reliably from a belt that's made of 3D printed links of his own design!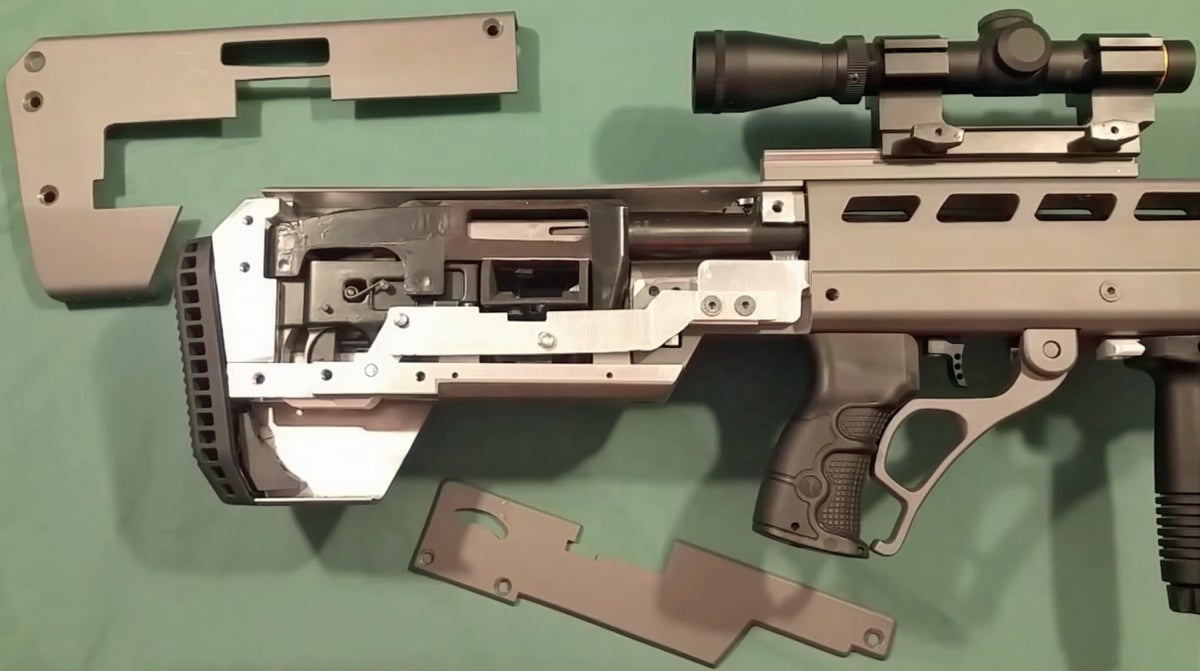 It's not perfect, and in the video he tells us about its shortcomings, but always ends by telling us what great fun it is. And I would certainly love to try it out!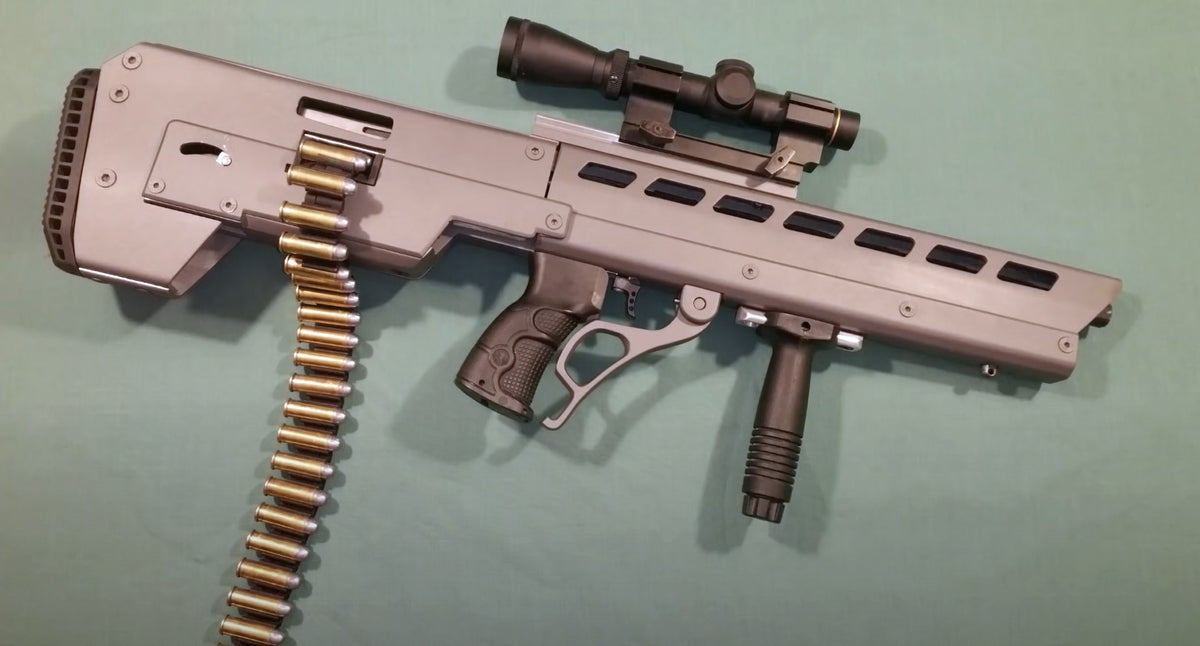 It's even legal to own in the UK, where they have plenty of anti-gun laws, but have absolutely no magazine limit restrictions. So the number of 44 magnum rounds you could legally link together is theoretically unlimited!
Ah me. I think I need a moment. In the meantime, please watch the video and let us know what you think.