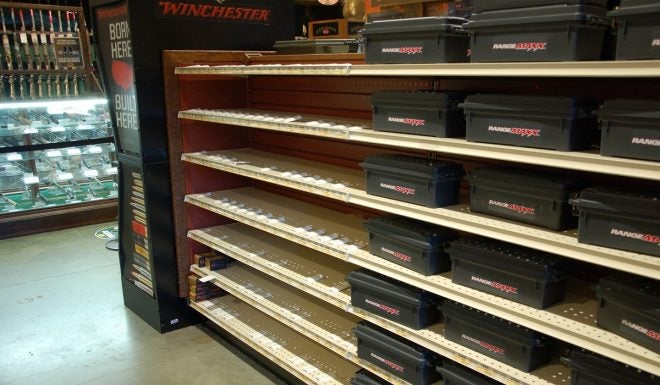 I just came from a big box store in my home area only to find absolutely not one box of handgun ammunition on the shelves. Nada, none. It was the same this past weekend at the first gun show in our metro area since early March. The big ammo dealer was completely sold out of case lots of all ammo by noon, but especially handgun ammo. There was not a single box of 9mm ammo to be had at the show with 400 gun dealers. The panic is in full swing.
As the covid numbers continue to rise again, like 15,000 cases in one day in Florida and like increases in several other states, citizens are once again beginning to focus on self-reliance and self-defense. Gun sales and background checks have skyrocketed again as the threat quotient increases, real or otherwise. Accordingly ammo sales have jumped off the charts as well as the shelves.
A huge regional outdoor store in Louisiana sent out their annual end of the summer, pre-hunting season sales flyer full of so-called "deals" on high quality factory ammo by the case. A friend called there the day after the flyer came out and was told, "Oh, we don't have any of that case lot .5.56 ammo in stock. Call back in two weeks and we'll see if any came in." I would not hold my breath on that one. Other mail order outlets are out, too.
And just like gasoline prices, ammo is going up in price exponentially at the same time as supplies dwindle. We've seen this before. Today's ammo pricing for example on a case or two half cases of standard 55 grain, 5.56 FMJ ammo is $250 for 500 rounds or $500 for 1000. A year ago it was $350 for a 1000 round case. Two to three years ago it could be found as low as $300 for 1000 rounds. And that was the good stuff, Federal or PMC.
So, what are good ammo buying strategies right now? Shop hard and often. Check and recheck every internet site vendor. If the price is decent, buy it immediately. Visit all your local ammo outlets, big box stores and mom and pop shops. Again, if they have any on the shelf, buy it. If, however, the prices are an apparent rip off, then go elsewhere to more honest dealers. Some segments of society will always take advantage of hard times. Take your business somewhere else.
Make a full inventory of the ammo you have on hand now. Make a list of what you really need and concentrate on that. Prudent and persistent shopping should yield some results, but the closer to the national election, the tougher it will be.