A bit of Africa in the American Southwest
Back in the late 1960s to mid-70s, before the word "ecosystem" existed in the average person's awareness, an official with New Mexico Department of Game & Fish thought it would be a great idea to release an African species, Oryx gazella, AKA gemsbok or simply oryx, into the desert of White Sands Missile Range. The purpose? Hunting an exotic species without having to hop on a plane.
Depending on the account one reads, 92 to 95 animals, offspring of imported breeding animals which (due to federal law) had lived out their lives in the Albuquerque zoo, were released onto the expansive range. Releases began in 1969 and ended by 1977.
Oryx turned out to be more adaptable than expected, and predation of the 400- to 500-pound ungulates by mountain lions, relatively uncommon in the White Sands lowlands, didn't occur. The animals "reproduced like rabbits," in the words of one biologist. Though they're not great jumpers, their sheer mass and 30- to 40-inch bayonets-for-horns proved hard on fences. Within a few years, oryx were present on the expansive desert and cattle ranch land surrounding White Sands Missile Range (WSMR) and beyond. Most of this dry remote land is of State and Bureau of Land Management ownership. With camel-like ability to go without regular access to water, the animals thrive in the scrub land, dry-grass meadows, and foothills of the Chihuahuan desert.

Of Luck, Licenses, and Gemsbok
Despite the unanticipated consequences, the original goal of the NMDGF program has been fulfilled in spades. Today, once-in-a-lifetime premium hunt lotteries are held for "on-range" hunts within WSMR. With support and supervision of wildlife officials, these prestigious hunts carry a near guarantee of success.
For those willing to play with poorer odds of finding an oryx and the motivation to independently scout a massive landscape, there's a public "off-range" draw now available. These month-long permits are available 10 months out of the year. While they're still obtained via the NMDGF lottery system, chances of getting a permit are much greater. And since the gemsbok breeds year-round, seasons are as well. Upon applying, hunters provide their first, second, and third choice of months, with the searing hot summer months offering a greater chance of draw success — for those who can stand the heat.
My partner/mentor and I put in a paired application. A nice feature of the New Mexico system is the ability to draw as a pair of hunters, each with one tag. We were lucky to draw — for July 2020. This was our second hunt, the first being in June 2018. It had been my first encounter with the big animals, and in 2018 the only glimpse I got of them was a fleeting view of a very spooky, fast-moving herd of eight.
Stuff you find in the Chihuahuan Desert
Committed to success this time around, we set out on the first day of the season bright and early, from home at least. The area we hunted is far from any lodging, and the late-morning sun was already hot when we set upon the first scouting area. The technique we employed was to drive the remote dirt roads checking cattle water holes, usually just a low spot in the terrain with dirt dozed up on two sides to form a semi-natural rain catchment. Most were woefully dry. But on a couple occasions, especially around cattle salt blocks, oryx droppings and tracks could be found. Where fresh sign was found, we'd walk and glass, usually coming up with no oryx but often finding other remarkable sights that made for a good day outdoors.
Sightings of other wildlife made the day enjoyable, even in the absence of gemsbok. A trio of jackrabbits, unfazed by the presence of humans, were entertaining as they alternated between facing off with one another, leaping comically in the air, and then giving chase again. Pronghorn antelope were seen, alone or in small groups, in the grasslands here and there. It seemed unusual to see them at the time, until I realized at day's end we'd seen so many I'd lost count. Raptors, including a golden eagle, hunted the area like the pros they are.

One dry water hole had a large, thick bush at the edge. My partner made the "shh" motion as he waved me over, standing on the crest of the dirt tank and pointing toward the bush on the other side. I soon understood why. A trophy-grade Barbary ram, another of New Mexico's introduced species, stared intently from the shade of vegetation.
I raised my scope to get a better look, and was surprised to see the animal resting on its knees. Prior to that day I'd only seen them as shoulder mounts. The real thing was bigger than I expected. Its massive horns were framed perfectly in the tree. No tag for this one did I have, but what a shot that would have made. A few seconds later, the animal ran up the hill and out of sight, accompanied by two other respectable-sized rams, their long curtains of hair making them look like three fringed 1970s couches moving up the hill. So well-camouflaged are they in that desert setting that not one of the three is visible on the somewhat pixelated image I got of the fleeing trio.
A Lot of Heat and a Bit of Delirium
The July sun baked the land and us as the day went on. Still, it was alternately tantalizing or humorous to find the occasional fresh sign in the form of poop, tracks, or both. Tantalizing when a water hole or path had fresh tracks or poop, and we'd scout other-worldly, mini-forests of yucca plants that could hide an oryx — generally considered a dangerous species thanks to their size, defensive tendencies, and sword-like headwear. The Savage Ridge Warrior 308 is heavy, but the burden of carrying it was made easier by the Butler Creek Comfort Stretch sling, which is padded just right. Those little hikes turned up nothing in the end. Humor and silliness would set in when it dawned on me that my level of optimism was directly tied to how shiny or dry the oryx pellets appeared.

Shadows of ocotillos were long as we crested a hill many miles from where the day started. Glassing the area that had looked promising two years before, it was obvious nothing was stirring. Thoughts and discussion moved to finding a campsite before nightfall. But as we headed downhill, an odd thing happened. Clouds covered the sky, seemingly out of nowhere. Without the aid of sometimes-insufferable Chihuahuan desert wind, the temperature dropped to an almost pleasant warmth. The change was dramatic and I switched from dark sunglasses to my favorite (but lighter) lenses from the SSP eyewear Methow kit. A break in the fence, an oryx crossing discovered two years ago, remained. Near it was a single but encouragingly fresh pile of dung.
Finding the One
It was over the next rise that my guide and pal spotted a little group of the big African animals — on the wrong side of the fence, where a kill wouldn't be legal. But a flash of movement on the side we were on turned out to be an oryx, and the best-looking of the bunch. The truck's sudden halt alarmed them all, and they scattered. But the legal one, a big cow, made a right turn away from the others, yielding a broadside view. We eased forward and I hopped out of the truck and duck-walked with the loaded Ridge Warrior to a vantage point, using a yucca as cover all the way.
I eased into a sitting position, finding a good shoulder mount aided by the sling. Peering through the Bushnell LRTSi scope, set on its lowest 4x power, I struggled to focus. I turned the power up to 7x, thankful for its first focal plane construction and knowing that zero doesn't change when I change magnification. In retrospect, I'm glad I had the SSP Eyewear specs on, as they caused no distortion through the scope as regular shades might. My guide had whispered "310 yards" as I crawled, so I knew I needed to hold slightly high.
The shot made the cow stop, shudder, and take off at a gallop. The sight made my heart sink, but my disappointment was short-lived. The Federal Premium Terminal Ascent bullet worked as it was supposed to, entering the lower right lung. We were surprised to find the mushroomed slug a long way from the entrance, having traveled diagonally rearward and coming to rest just under the hide in front of the left flank.

The Perfect End to a Great Day
While taking the shot I hadn't felt the anxiety I'd expected, but when I lay hands on the huge and strikingly beautiful coat, the result of a combination of preparation and luck, I was filled with thankfulness — for the animal, for friendship, and for this state I've made my home. But the real work was about to begin.
Part of the day's planning had entailed an improvised shade structure for the big task of skinning and field dressing, but the sudden, unexpected change in the sky proved a wonderful gift. The cooler temps and a light breeze carried away any flies that would've been present, and a stunning sunset lit the isolated expanse of desert as the work was done. My Maverick fixed-blade, by Buck Knives, earned a whole new kind of respect when it showed its value as a skinner.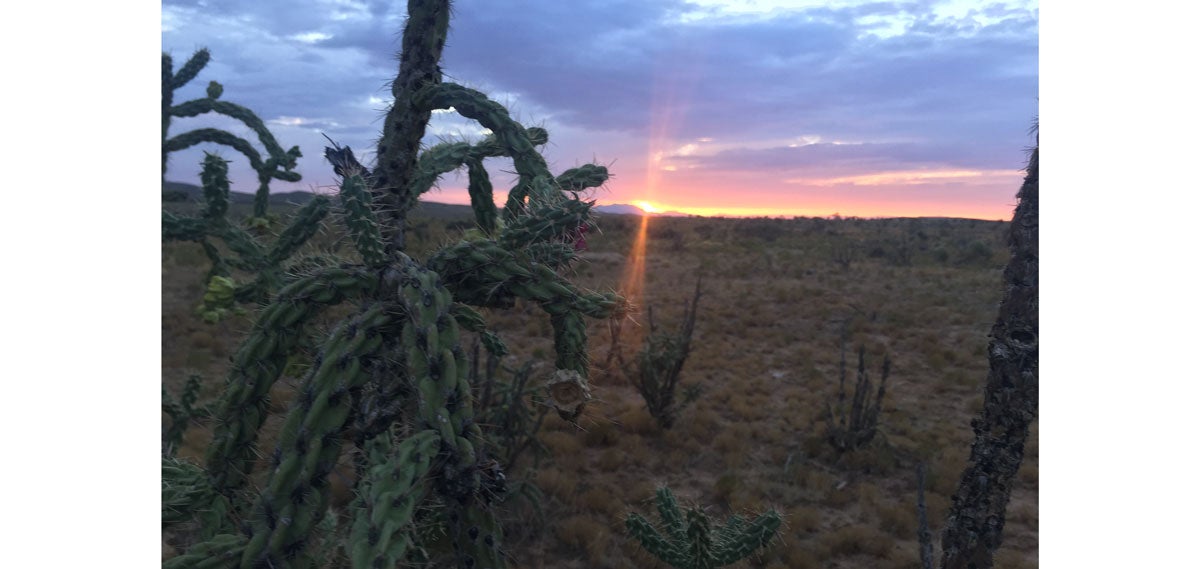 By dusk, thanks to my experienced friend's skilled efforts, two large coolers were full of more than 100 pounds of delectable meat. I had that, a dramatically mushroomed slug, and perfect set of 35-inch horns as tokens of the day. It was the perfect ending to the first day of any season, and a highlight of my life.