Paul Harrell's Top 5 2020 Handguns for Concealed Carry / Personal Protection / Home Defense
Russ Chastain 08.04.20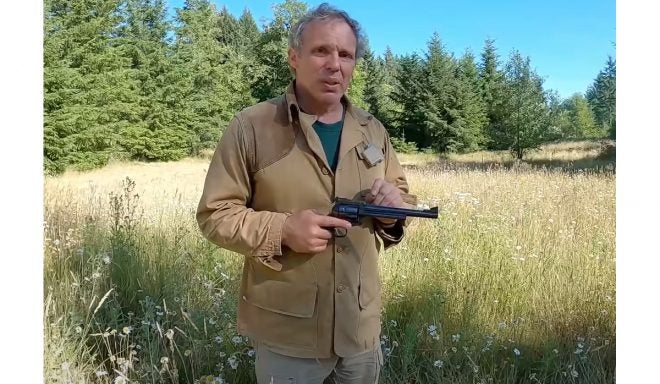 (Image: Screenshot from video)
We've featured some of Paul Harrell's "top five handgun" videos here before, including his top 5 iconic American handguns and his top 5 handguns for beginners. This time, it's a new video he just released entitled "Paul's Top 5 Handguns (Updated for 2020)."
Paul is revisiting this topic because one of his earlier two versions was noisy. Now he has new and different handguns available to him for testing and, as he says, "because the situation has changed."
He tosses in one of his favorite disclaimers ("nothing I say today should be inferred as a recommendation"), which seems a bit pointless in light of the fact that many viewers take all of his lists as recommendations… but he clarifies it by allowing that different people have different needs & tastes and what's right for him is not necessarily right for someone else (my phrasing).
His criteria for selecting a handgun for concealed carry/personal protection/home defense:
Must be available (legal in his area, affordable, etc).
Must be one he can use safely & efficiently.
Must be suited to the task (concealable; low-profile sights).
Must be something he likes, which includes "the classics" such as 1911s & revolvers.
Must be something he'd actually carry (size & comfort seem to be his main considerations here).
Let it be known that most of his selections fail to meet most of those criteria for most people.
Instead of getting to his top five list, Paul converses at great length on things such as barrel length, adjustable sights, and ammo capacity. If you want to get to the actual handguns, skip to the 12-minute mark.
Here they are:
1) Beretta 92FS 9mm Luger
Considerations include ammo capacity, accuracy, reliability, and the fact that he's very familiar with it.
2) Sig Sauer M17 9mm Luger
Paul likes this striker fired pistol and feels its ambi safety eliminates the safety concerns about the Sig 320. Standard magazine capacity is 17, but 21-shot mags are available for it.
3) Steyr GB 9mm Luger
Another "classic" on his list of so-far-not-very-concealable pistols for concealed carry, the GB is an 18+1 with an easy-to-load magazine.
4) Beretta M922 22 LR rimfire
This is where the entire presentation starts to feel like an April Fool's gag. A relatively huge pistol — in 22 LR — is one of his top 5 concealed carry pistols? Hogwash.
He qualifies his selection with the observation that 22 LR ammo is currently easier to get and less expensive than centerfire handgun ammo, but that does nothing to negate the large size of his "not really a recommendation."
5) Ruger 57 5.7×28mm
Yep, pretty sure Paul's punking us. Why else select five really big handguns, including the Ruger 57 which uses really expensive ammo, as his favorites for concealed carry?
6) Sig Sauer p365 9mm Luger
As the sixth pistol in his "top five" list, this is also the only one of his selections made for the concealed carry.
After shooting the P365, he opines that if you get one, get the manual safety. He elaborates on this in a comment on the video:
"Hey everyone. There has been a lot of commentary about the 365 (we have a presentation on it). The 365 is a striker action with a very light trigger pull, lighter than some single actions I have fired.

"In my opinion it has a higher chance of negligent discharge due to unintentional finger on the trigger than other strikers like most Glocks. So… If you get a 365 make sure you carry it in the proper holster that covers the trigger and I would prefer the version of the 365 that has the manual safety."
Not content with showing six poppers in a top five list, he produces number seven, which really seals the deal here. There are less-practical selections than what Paul has included in his list, but this one definitely takes the cake.
7) Ruger New Model Blackhawk 30 carbine
This long-barrel single-action revolver is one of the least-suitable handguns for concealed carry — ever.
Are these actual recommendations? Well, let's hope not. But if Paul wears the shooting jacket everywhere he goes, he could easily conceal most any handgun.
Watch the video, and you be the judge.