AllOutdoor Review: Davidson's Exclusive – Diamondback DB15 5.56 NATO
Adam Scepaniak 08.11.20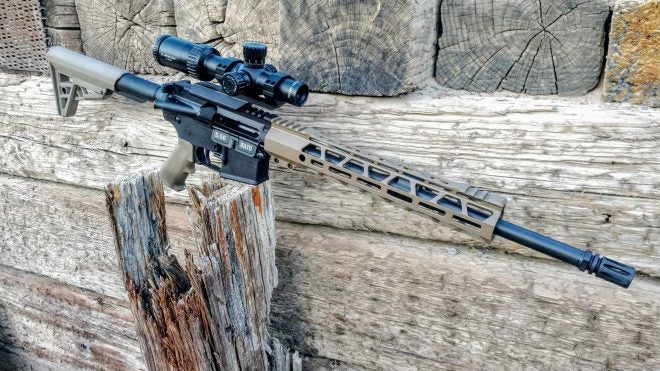 When it comes to modern sporting rifles there seems to be two definitive camps of shooters: those who want high-end and those who want affordability. If you are one of those consumers who is hunting down an affordable AR-15 it is not so difficult to find cheap ARs, but it is hard to locate ones that are not also cheaply made. The fine line of affordable yet well constructed is like finding a needle in a haystack. In this AllOutdoor Review, we take a look at a "Davidson's Exclusive" Diamondback DB15 5.56mm NATO rifle in Flat Dark Earth to see if it fits that description of light on the wallet, but heavy on quality. Let's dive in and take a look!
Specifications: Davidson's Exclusive – Diamondback DB15 5.56 NATO
Diamondback Firearms as a company is known for producing good quality yet attainable handguns in their DB9 and DB380 series, but the question we are putting forth today is does that apply to their rifles as well? The rifle we are reviewing courtesy of Davidson's since it is, in fact, a Davidson's Exclusive is the Diamondback DB15 (Model DB15MZFDE) chambered in .223 Rem/5.56mm NATO. All of the specifications can be read below as presented by Diamondback Firearms and Davidson's:
Caliber: 5.56mm NATO
Barrel: 16″ Medium-Contour, 4150 CrMov, Black Nitride with 1:8″ Right-Hand Twist
Gas System: Carbine-Length
Bolt-Carrier Group (BCG): Shot-Peened, Magnetic Particle Inspected (MPI), Mil-Spec 8620 Carrier
Upper: A3 Flattop Forged 7075 T-6 Aluminum, T-Marked
Lower: Diamondback Standard Forged 7075 T-6 Aluminum Lower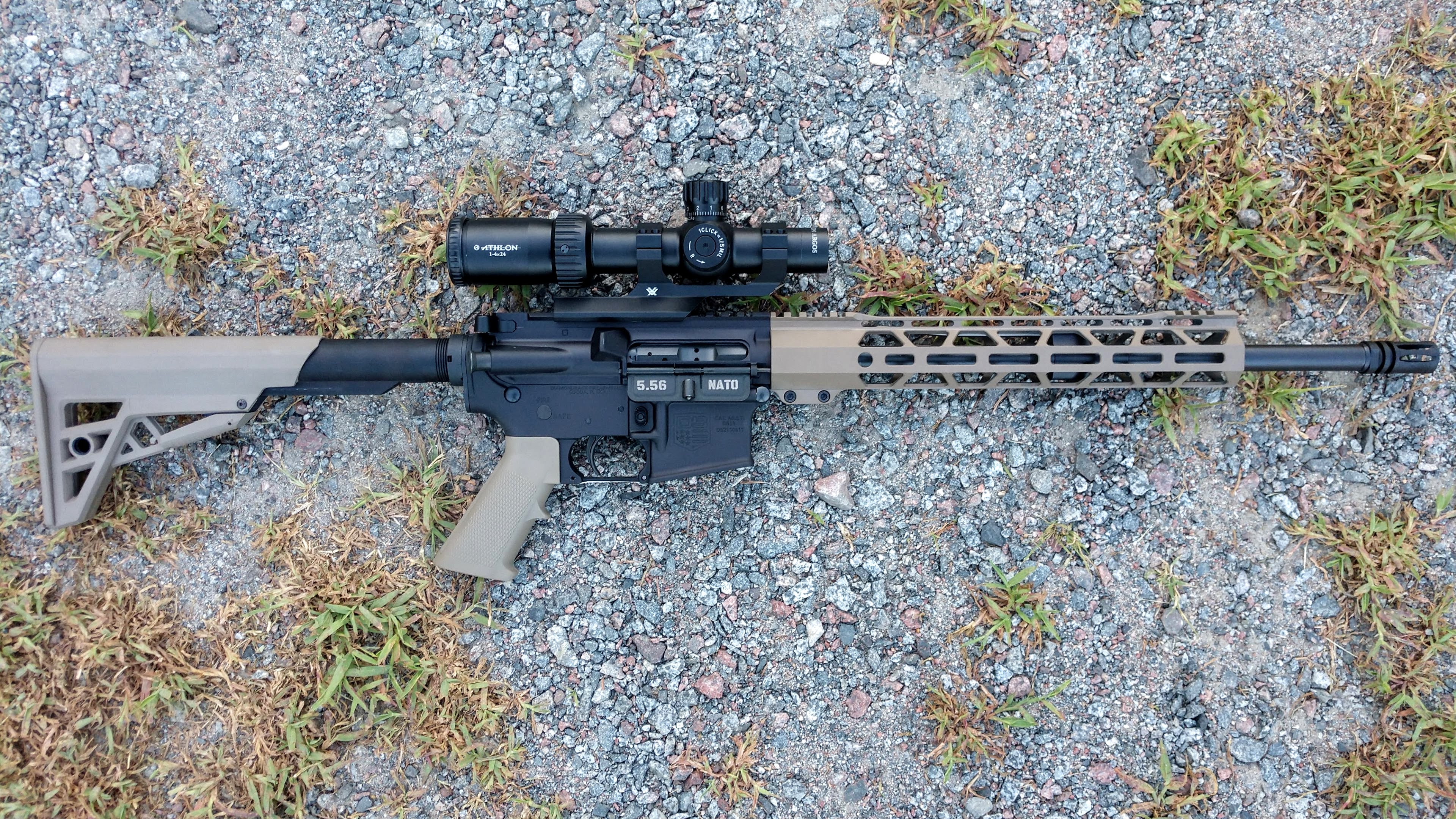 Handguard: 12″ M-LOK Free-Float Rail
Grip: A2 Style, Black Plastic
Stock: 6-Position ATI Mil-Spec Buttstock
Magazine: 30-Round C Products Defense
Muzzle Device: A2 Flash Hider (½" x 28 TPI – Thread per Inch)
Weight: 6.1 Lbs
Length: Stock Collapsed 33 ½" | Stock Expanded 36"
The current MSRP for this specially configured rifle from Davidson's is $559. It is covered by the Diamondback Firearms "Limited Lifetime Warranty" in the rare event that if any service should be needed throughout the duration of your ownership you will be covered. While many people view Diamondback Firearms as a company for the everyday shooter and consumer, they also do a fair amount of work and production for law enforcement and SWAT Units throughout the United States. A short video from the Diamondback Firearms YouTube channel outlines this below:
First Look: Davidson's Exclusive – Diamondback DB15 5.56 NATO
When it comes to first handling this rifle out-of-the-box it is fairly straight-forward. The Diamondback DB15 handles really well as far as simple ergonomics, and is pretty light with the free-float M-LOK handguard. It weighs only 6.1 Lbs with no optic or loaded magazine in it so it is very wieldy straight out-of-the-box. Another standard check on all AR-15 rifles and pistols I review is the buffer tube nut. If it is not staked that is a clear sign of poor quality and a glaring absence of quality control. With the Diamondback DB15 the buffer tube nut was properly staked, and the gas key on the bolt-carrier group (BCG) was as well. A great sign to start this review.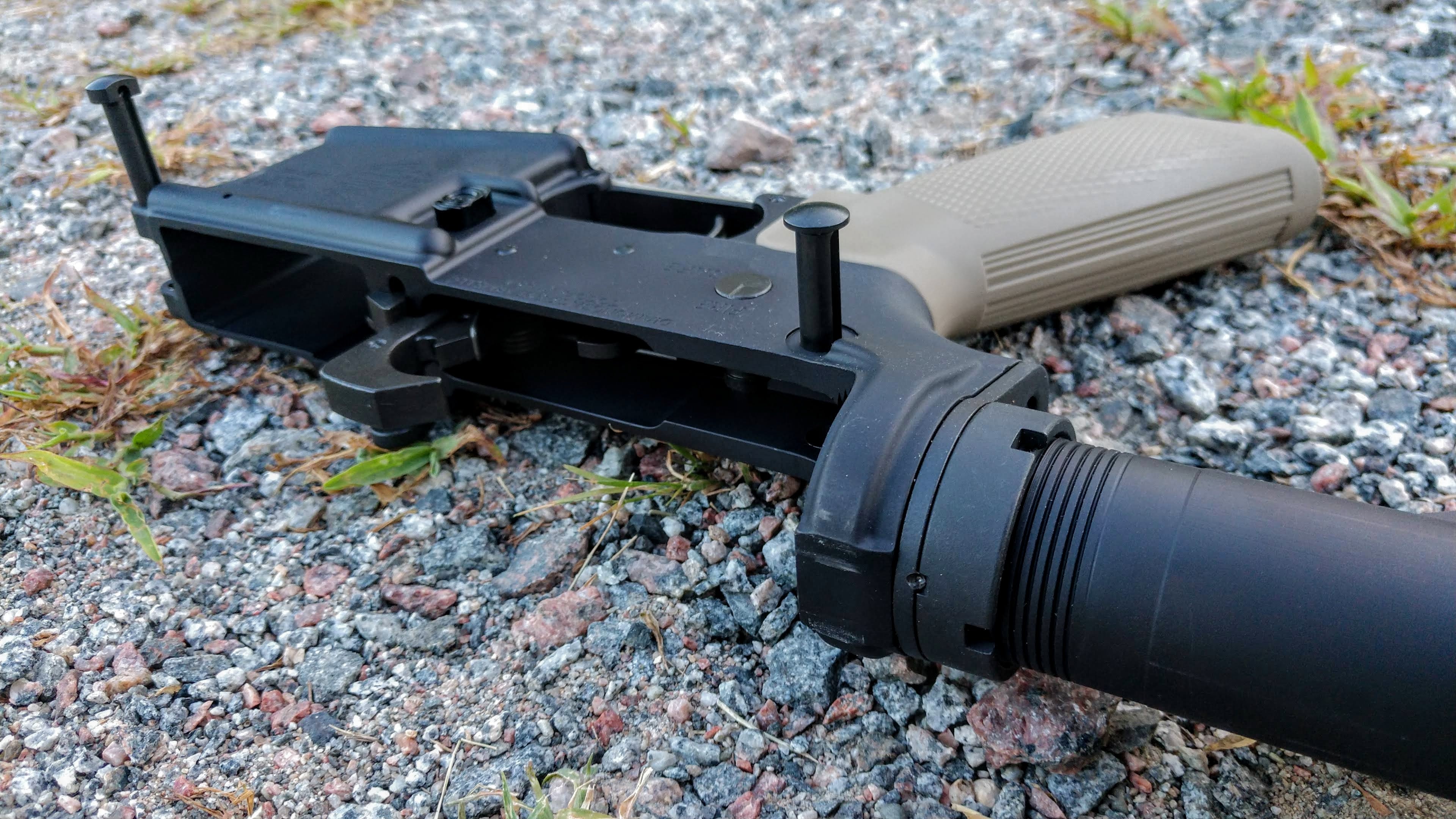 While dry-firing the rifle before heading to the range, the Diamondback DB15 had a decent trigger reset, but the pull weight was a little heavy compared to other cheaper ARs I have fired and handled before. While the trigger has something to be desired with the heavier travel, that is always something that can be easily upgraded by the user to an aftermarket one of their choosing.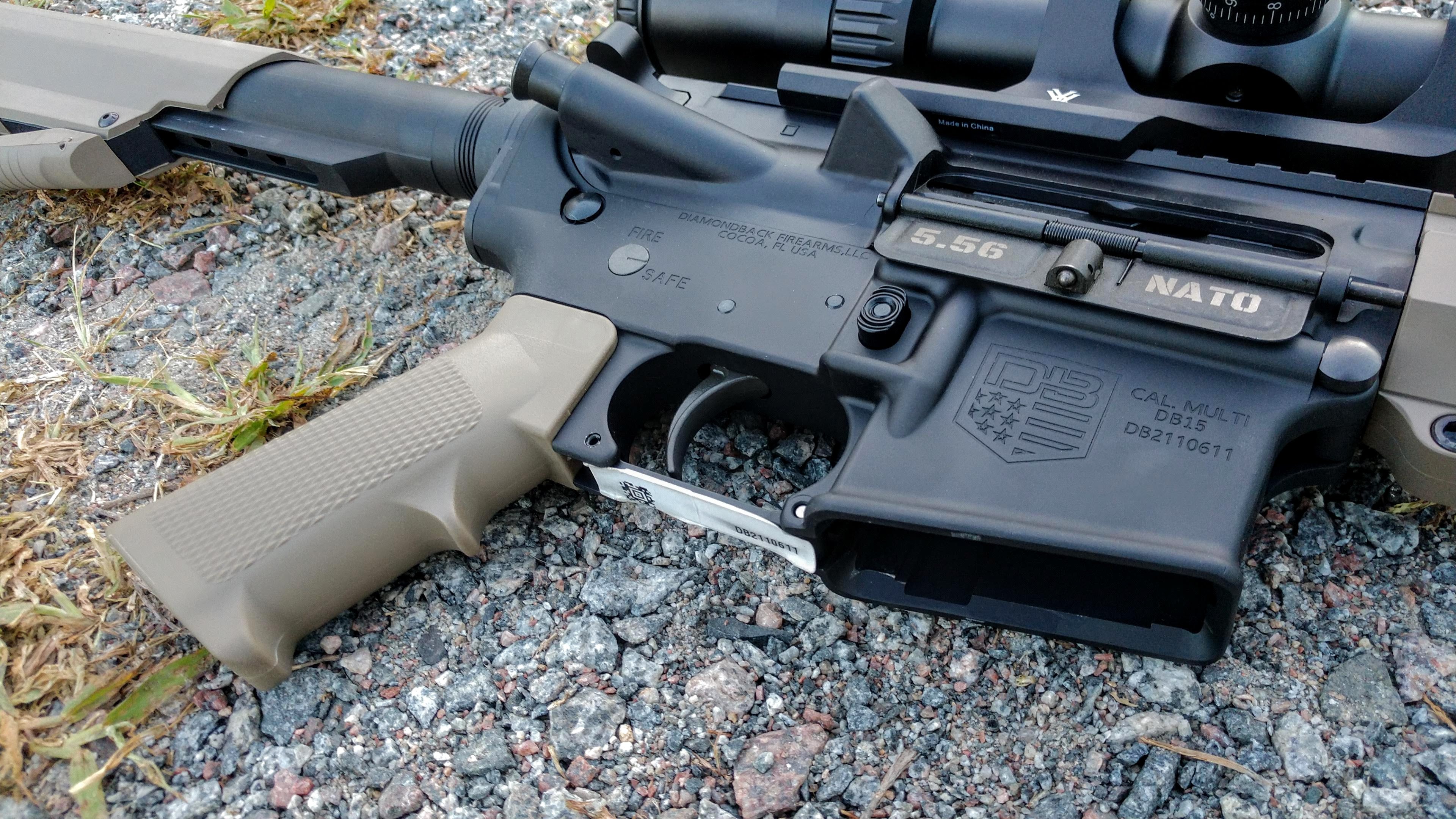 The collapsible stock is really firm and rigid once locked into its six collapsible positions, but when moving and floating between positions it is difficult to catch a spot for it to lock in. Again, this is another component of the rifle that helps in keeping the price-point low and is serviceable yet it can be easily upgraded by the end user; no gunsmith required. An upgrade to a simple Magpul stock, in my mind, would be a nice addition to this rifle.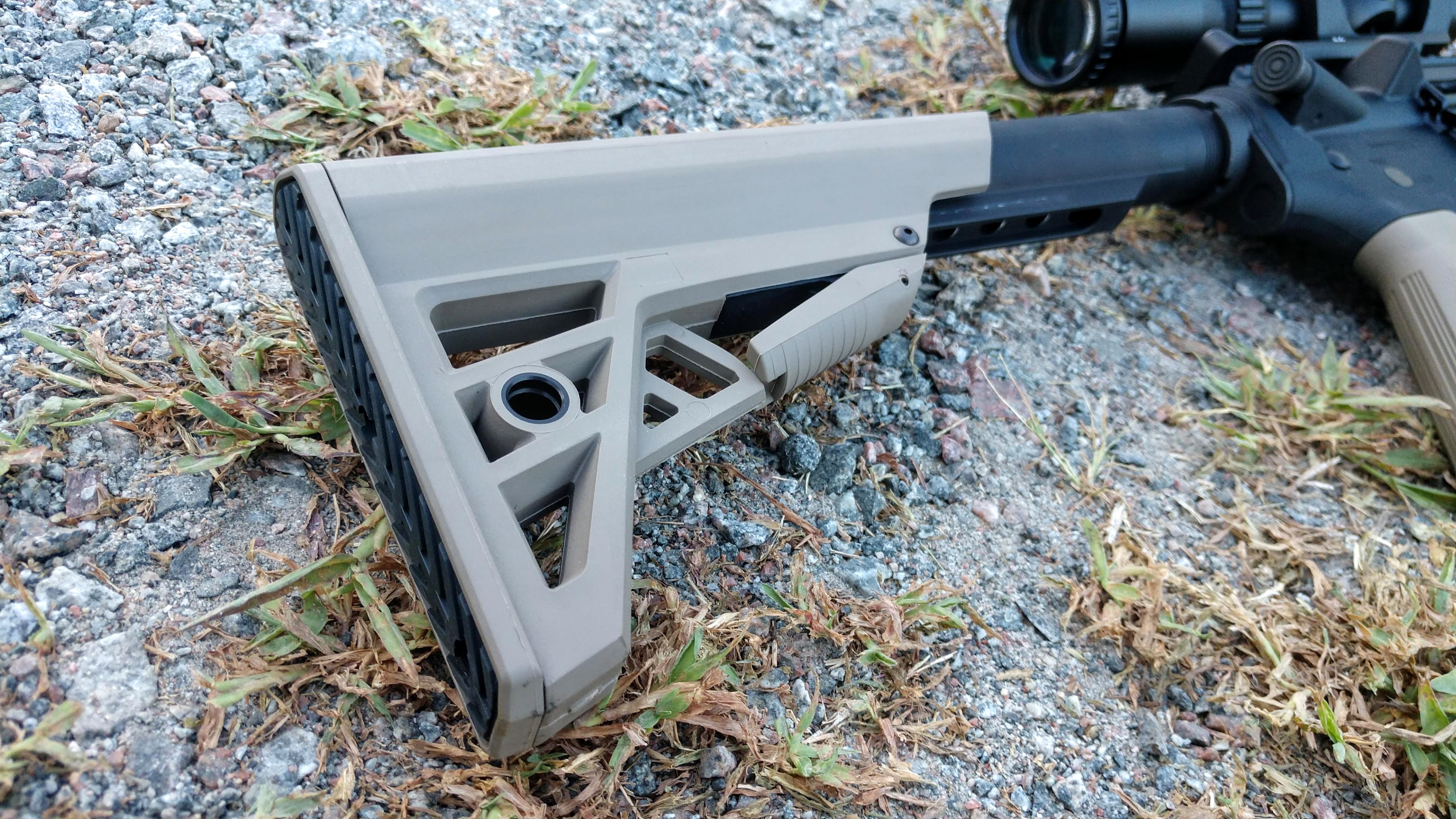 Range Time: Davidson's Exclusive – Diamondback DB15 5.56 NATO
Once I got out to the range I shot two starkly different types of ammunition through the rifle: some junk unknown steel-cased ammunition I had on-hand, and some of Norma USA Match .223 Rem 77 Grain HPBT (Hollow-Point Boat-Tail) ammunition. For an affordable AR, it shot surprisingly well and actually exceeded my expectations for both types of ammo. I did some transition drills on cardboard and steel silhouettes out between 25 – 50 yards and the Diamondback DB15 cycled the cheap steel-cased ammunition as well as the much higher quality Norma Match ammo flawlessly.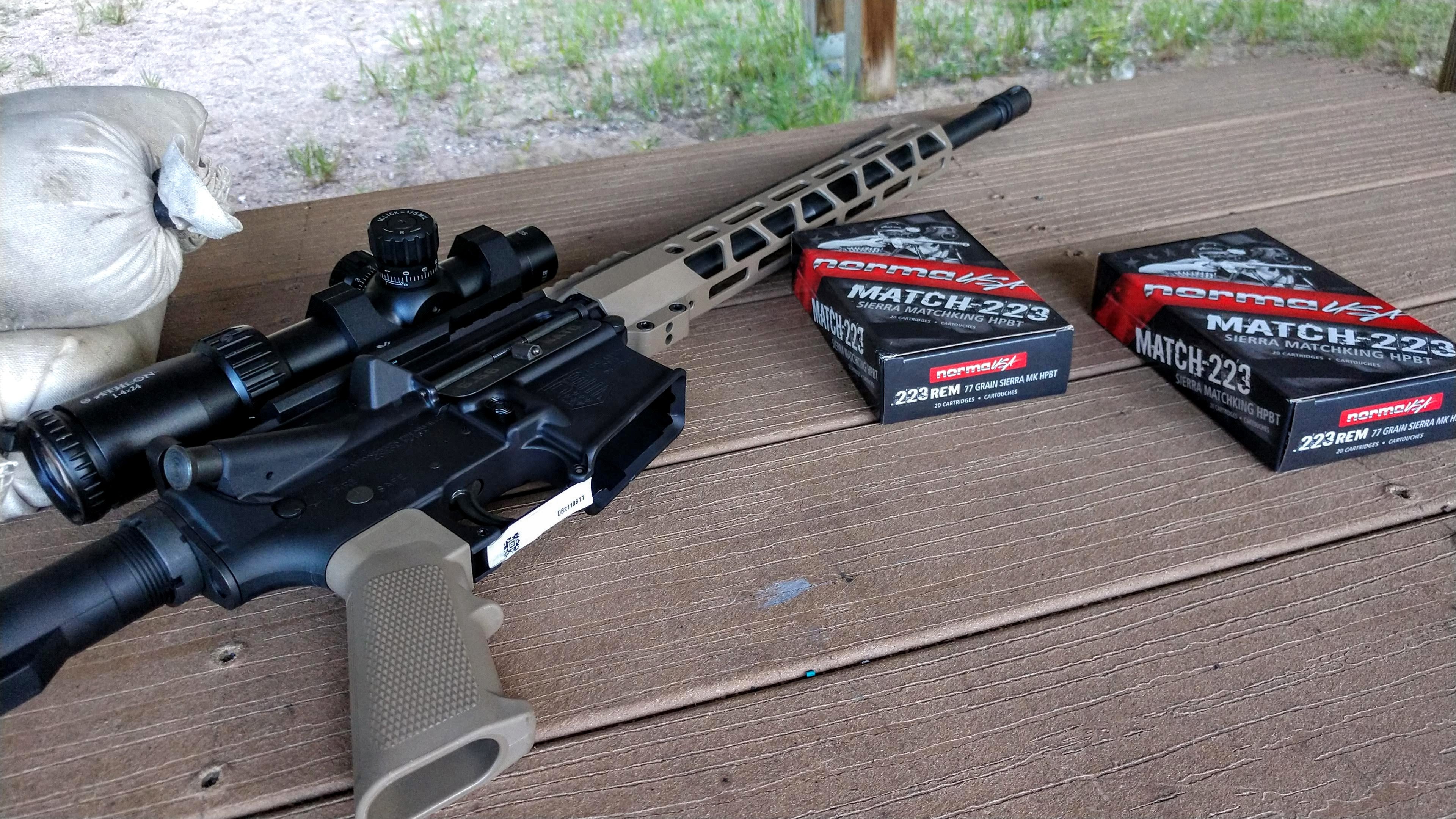 With the steel-cased ammunition at 100 yards, I was getting roughly 1″ – 2″ groups which was decently impressive. Nothing against Diamondback Firearms (more so on the cheap ammo), but I fully expected an affordable rifle with suspect ammo to shoot roughly 3″ – 4″ groups at best around 100 yards. So, that was a tremendously pleasant surprise. My best grouping with the steel-cased ammunition ended up being 1.83″ which is stellar in my mind.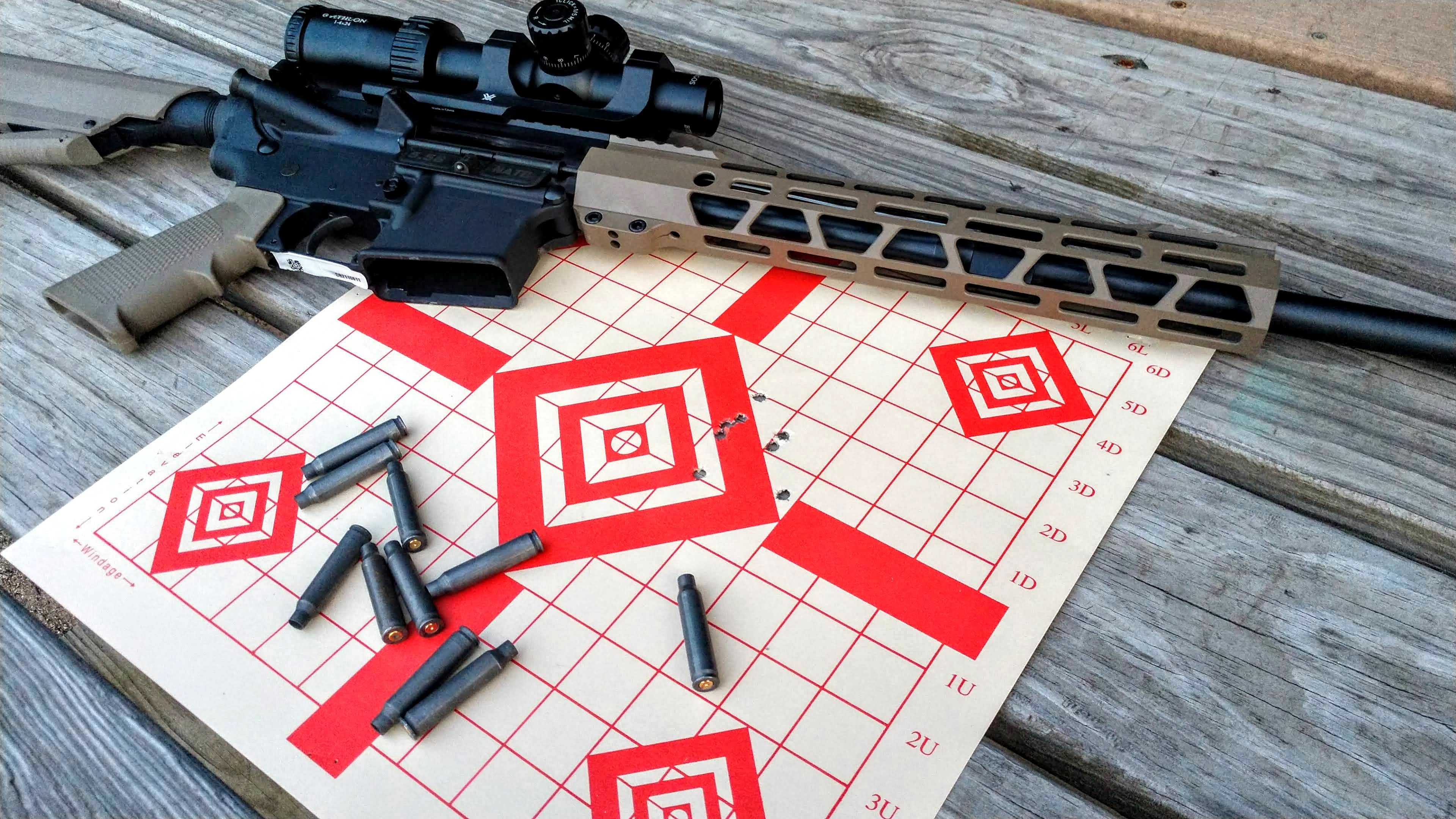 Next up was the Norma Match ammo for an accuracy test, and I thought how much better can a $500 rifle honestly shoot? Well, I would soon find out it is a LOT better. I did experience some horizontal stringing on the Norma match ammunition group which was easily attributable to the windy day. So, if I could call wind better, or if it was a calm day the groups would have been tighter yet. With the Norma Match ammunition I was shooting sub-M.O.A. (Minute of Angle) all day long and I was only using an Athlon Argos 1-4x24mm scope. The best group I ended up laying down was a tight 0.618″ grouping at 100 yards. I have shot a lot of fancy ammunition and $1,000+ AR-15s in my day, and it is pretty rare to so easily shoot under 1″ groups like I experienced on this outing.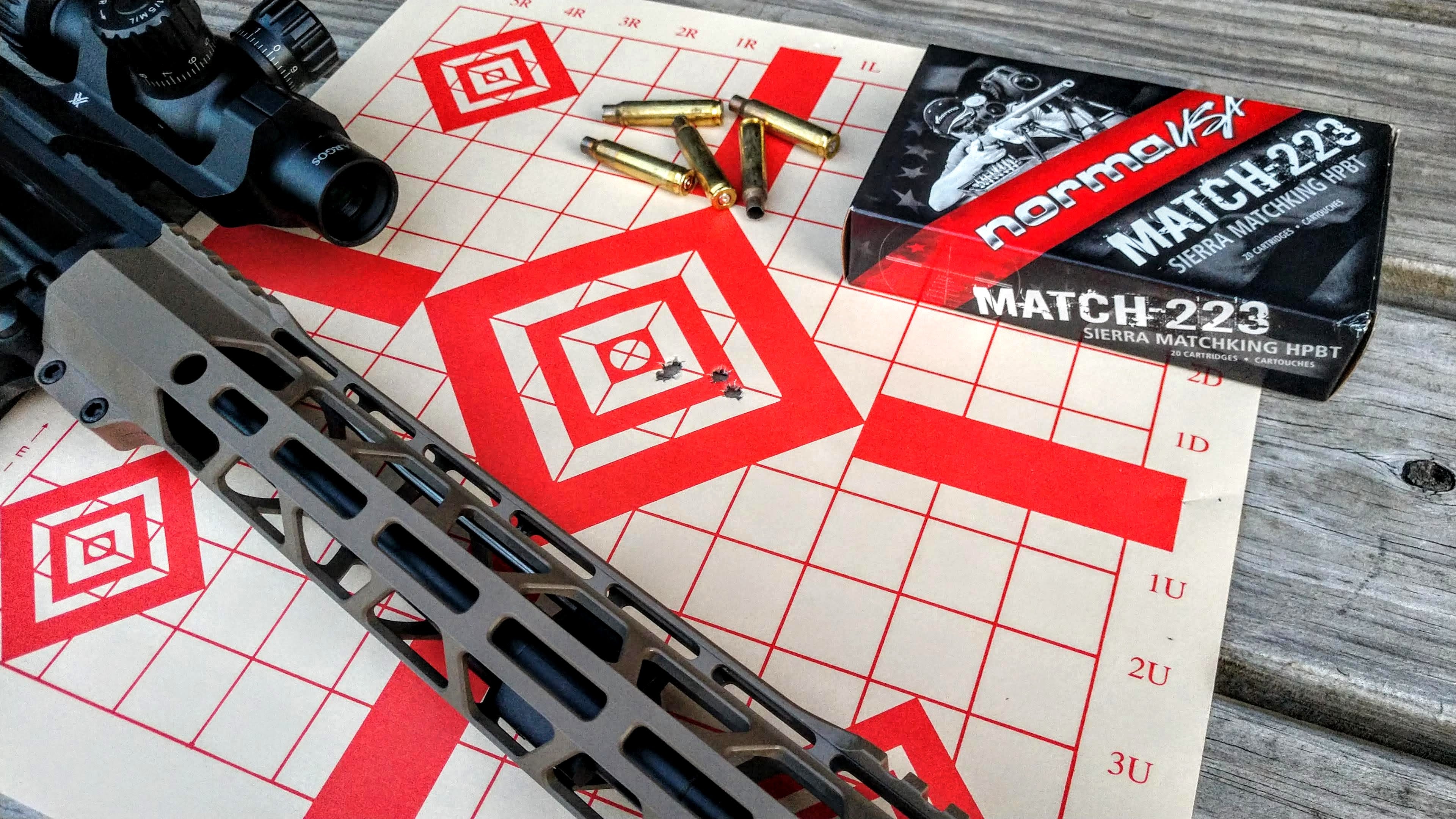 Final Thoughts: Davidson's Exclusive – Diamondback DB15 5.56 NATO
So, what are some of my final thoughts on the "Davidson's Exclusive" Diamondback DB15 5.56 NATO in Flat Dark Earth (FDE)?… Well, what will get most consumers to jump in and buy this rifle is likely the price-point and the Flat Dark Earth (FDE) color scheme. Some of the components like the trigger and collapsible stock are cheap (not bad), but simply cheap. That is not a deal-breaker for me because they can be easily upgraded. What is often a deal-breaker for me is accuracy. If a gun cannot shoot, what's the point in even having it? Well, that was not an issue with this rifle. With 1″ – 2″ groups with steel-cased ammunition and superbly better groups (0.618″ in fact) with the Norma Match we tested, the accuracy was far beyond what I anticipated.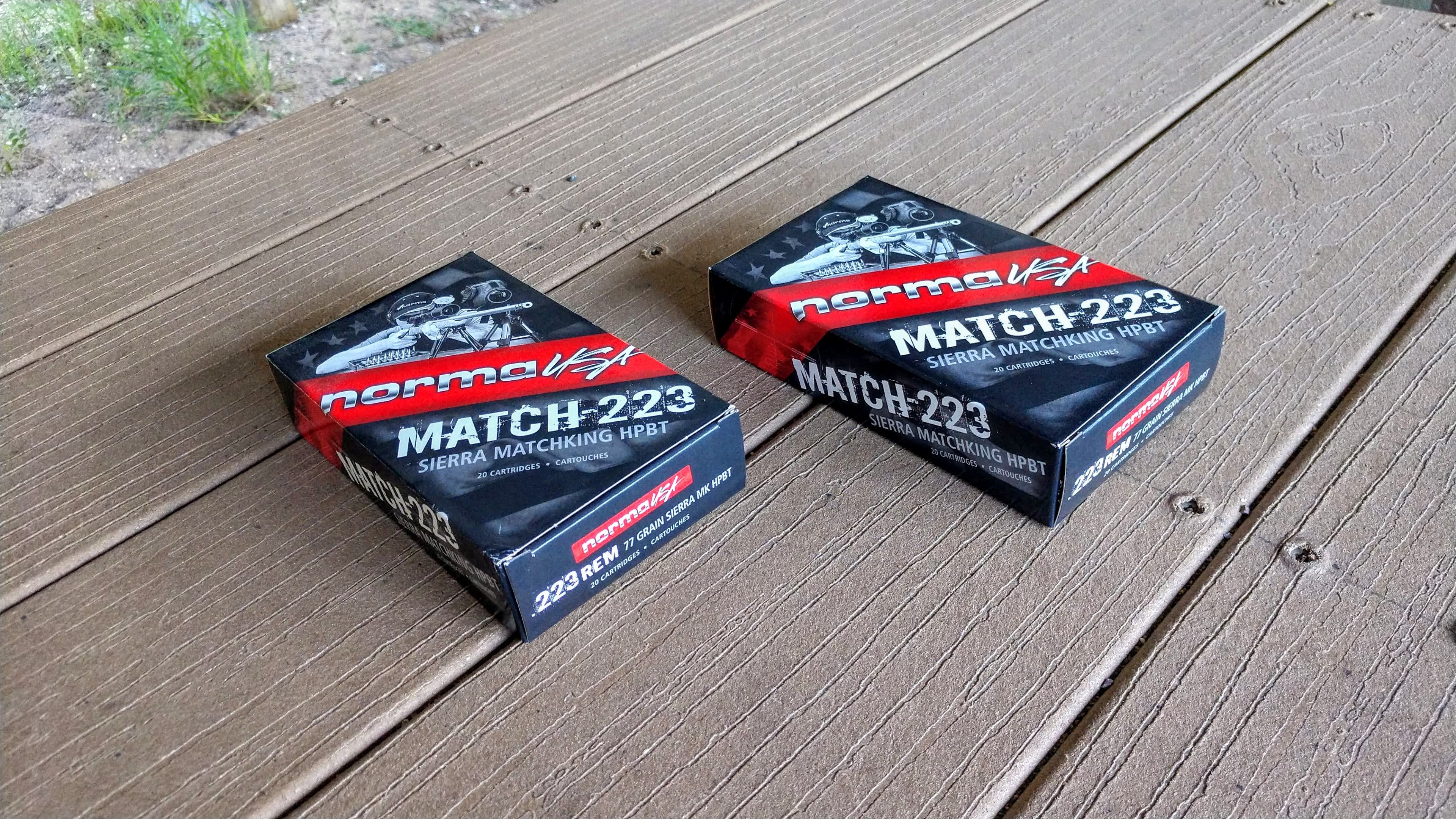 While this gun is not my favorite color being an off-shade of true FDE and it is cheaper on the furniture, this gun flat out runs and is surprisingly accurate. If you are in the market for an affordable AR-15, that is no frills, can be easily upgraded, and shoots lights-out… I firmly believe this rifle is not only a sleeper, but an absolute winner. With a Limited Lifetime Warranty and a street price somewhere in the low $500 area, I have no hesitation recommending this rifle to anyone.
In closing, I want to say thank you to Davidson's for allowing AllOutdoor and myself the opportunity to try out their "Davidson's Exclusive" Diamondback DB15 5.56 NATO in Flat Dark Earth (FDE). Also, thank you to Norma/Ruag for providing AllOutdoor with ammunition for this review as well as others. That is always greatly appreciated. Also, we would like to know what all of you guys and gals think? Do you believe that the "Davidson's Exclusive" Diamondback DB15 5.56 NATO in Flat Dark Earth (FDE) is something worth spending your money on? Would you carry it while camping or hiking? Shoot a league with it? Use it as a varmint hunting rifle? Let us know all of your thoughts in the Comments below! We always appreciate your feedback.