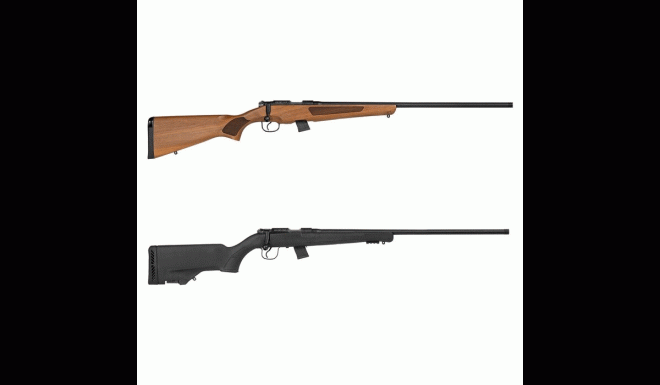 I will be the first to admit I am not familiar with the brand "Escort" when it comes to firearms, although I have heard the name. These firearms are manufactured in Turkey by Hatsun Arms Company and imported into the US via Hatsun USA Inc., located in Bentonville, Arkansas.
Somewhat atypical for the brand name Escort and the Hatsun Company, well-known for their unique shotguns and high-powered airguns, is an offering of a bolt action 22 rimfire rifle. New for the company in 2020 is the Escort 22LR bolt-action rifle. Simply named the "22LR," this magazine-fed bolt-action rifle will make a great hunter, plinker, and/or trainer at an excellent price. This rifle is simple to operate and easy to maintain. The hard chrome-plated steel alloy receiver and barrel resist rust and corrosion while the smooth chrome plated bolt moves free-yet-precise. The safety mechanism is easy to operate, even for the most inexperienced shooters.
The rifle includes a 5-round and a 10-round magazine to suit a variety of hunting and plinking needs. The magazine bodies are made from a lightweight, durable polymer with a stainless-steel follower that is easy to load. The threaded barrel is fitted with a protective cap and is ready to accept a variety of popular muzzle accessories. Mounted studs are ready to accept a wide array of slings.
The Escort 22LR is available in two stock variants. The Turkish walnut stock offers fish-scale textured grip areas and a recessed magazine well. This stock also features Hatsan's DuoTex buttpad for consistent, easy shouldering. The synthetic stock model features texturing of the grip areas and a Picatinny accessory rail under the forearm. The buttstock also has a storage slot for a spare 5- or 10-round magazine and is equipped with a soft ventilated buttpad.
22LR Features:
.22LR bolt action rimfire rifle
Oxidation proof hard chrome receiver
Precision rifled hard chrome-plated steel barrel
½" threaded muzzle with fitted protective cap
Includes a 5-round and a 10-round detachable magazine
Manual safety with cocked bolt indicator
Ambidextrous grip
Soft rubber buttpad
Dovetail grooves on receiver for 11mm scope mounts
Mounted sling studs
22LR Specifications:
1:16″ twist .22LR barrel
24.8″ barrel
43.1″ overall length
6.1 lbs.
MSRP: $249.99 – 22LR SYN / $299.99 – 22LR Walnut
Most shooters enjoy small game hunting and plinking with a 22 rimfire. This new offering from Hastan just provides another option for rimfire enthusiasts and at an affordable price. Check them out at https://escortshotgunsusa.com/