AllOutdoor Review: Athlon Argos BTR 1-4×24mm AHSR14 FFP IR MIL
Adam Scepaniak 08.20.20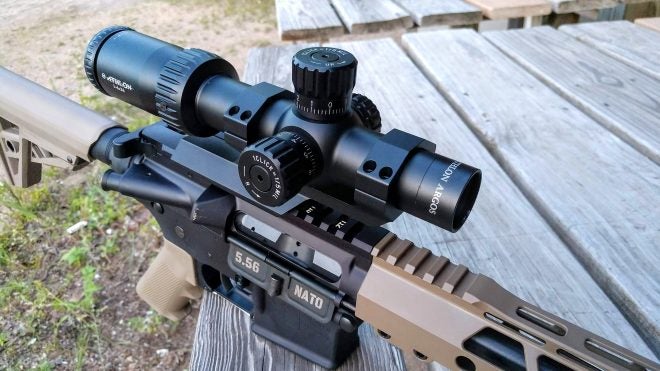 Whether you are pursuing hunting adventures, having fun at weekend 3-Gun matches, or simply want a jack-of-all-trades optic, your needs are likely to be met by an LPVO (Low Powered Variable Optic). While LPVOs are not an entirely new concept to the world of glass, they have gained significant traction in the past decade. With the exponential growth of modern sporting rifles along with advances in ammunition and general firearm quality, more shooters are understanding that you can do more with less.
I own one LPVO personally, but we all know one is never enough. That is what pulled me into the charm of the Athlon Argos BTR 1-4×24mm AHSR14 FFP IR MIL. Long name, yes, but it is very compact and light for its category. We will take a deep dive look into this LPVO and my experiences over the course of 4 months and multiple firearms. Let's dive in!
Nomenclature: Athlon Argos BTR 1-4×24mm AHSR14 FFP IR MIL
Before we full on swan dive into what the Athlon Argos BTR 1-4×24mm AHSR14 FFP IR MIL is all about we will take a step back and do some deciphering. Starting from the front of the name, we are working here with an Athlon Optics product hailing from the "Argos" series. (Complete conjecture on my part, but the Argos BTR is argon purged for waterproofing and thermal stability so the series name could be a nod to that.)
Next, "1-4" describes your magnification range and 24mm describes the objective diameter (front lens diameter furthest from the shooter's eye). The characters of "AHSR14" indicate the name given to the reticle by Athlon Optics. FFP is an acronym standing for "front focal plane" which explains what plane of the glass inside the scope that the reticle is etched in. Finally, IR is short-hand for "illuminated reticle" and MIL is short for "milliradian" or "MRAD."
MIL is elaborating as to what unit of measure the windage and elevation turrets are set for adjusting. If that vocabulary marathon is still a bit confusing, Athlon Optics does a good job of explaining their scope in the quote below:
"The AHSR 14 FFP IR MIL reticle is perfect for short and mid range shooting with an illuminated 16 mil diameter circle, 1 mil center cross (0.5 mil from center to each side) and cross lines with 1 mil hash mark increments extended to 8 mils on both horizontal and vertical directions. The reticle at one magnification becomes a red dot circle that can be used effectively for short range target, while at 4 magnification it offers enough details with 1 mil hash mark that help shooters quickly spot their target and set holdover positions. The black line starts at 10 mil from the center and extends to 30 mil on each direction with 5 mil hash mark in between. The illuminated portion of the reticle provides excellent low light visibility and the total 60 mil reticle span offers accurate holdover points for both elevation and windage compensation."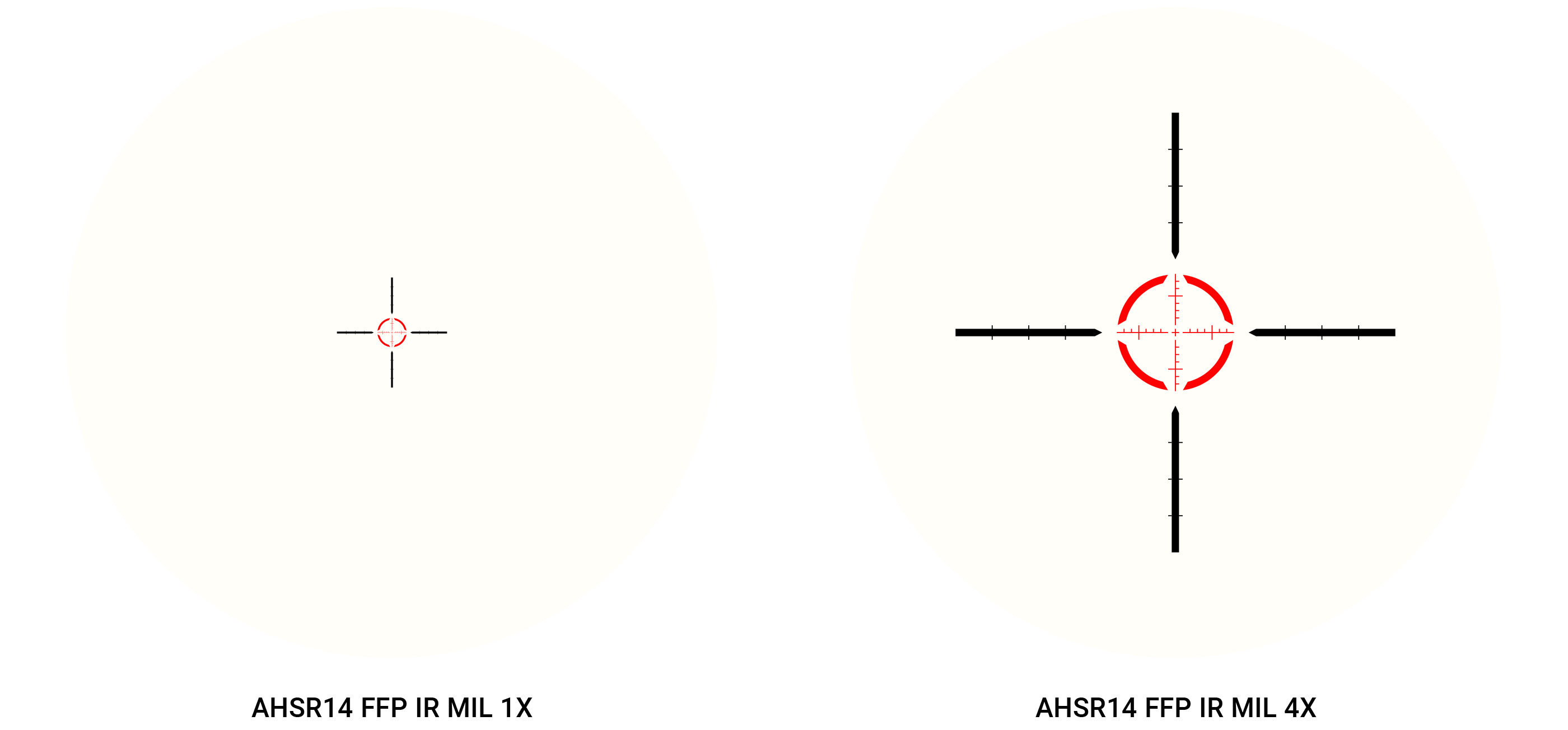 Specifications: Athlon Argos BTR 1-4×24mm AHSR14 FFP IR MIL
The Athlon Argos BTR 1-4×24mm AHSR14 FFP IR MIL is a scope that is well suited for a host of firearms and varying platforms. It essentially depends on what you want to accomplish with your optic, the distance you are lobbing lead, and whether you are hunting down specific features or not. The complete specifications listing can be read below as presented by Athlon Optics:
Magnification: 1-4x
Objective Lens: 24mm
Reticle: AHSR14 FFP IR MIL, Glass Etched
Surface Finish: Matte
Lens Coating: Wide Band Fully Multi-Coated w/ Xtra Protective Coating
Tube Material: Aircraft Grade Aluminum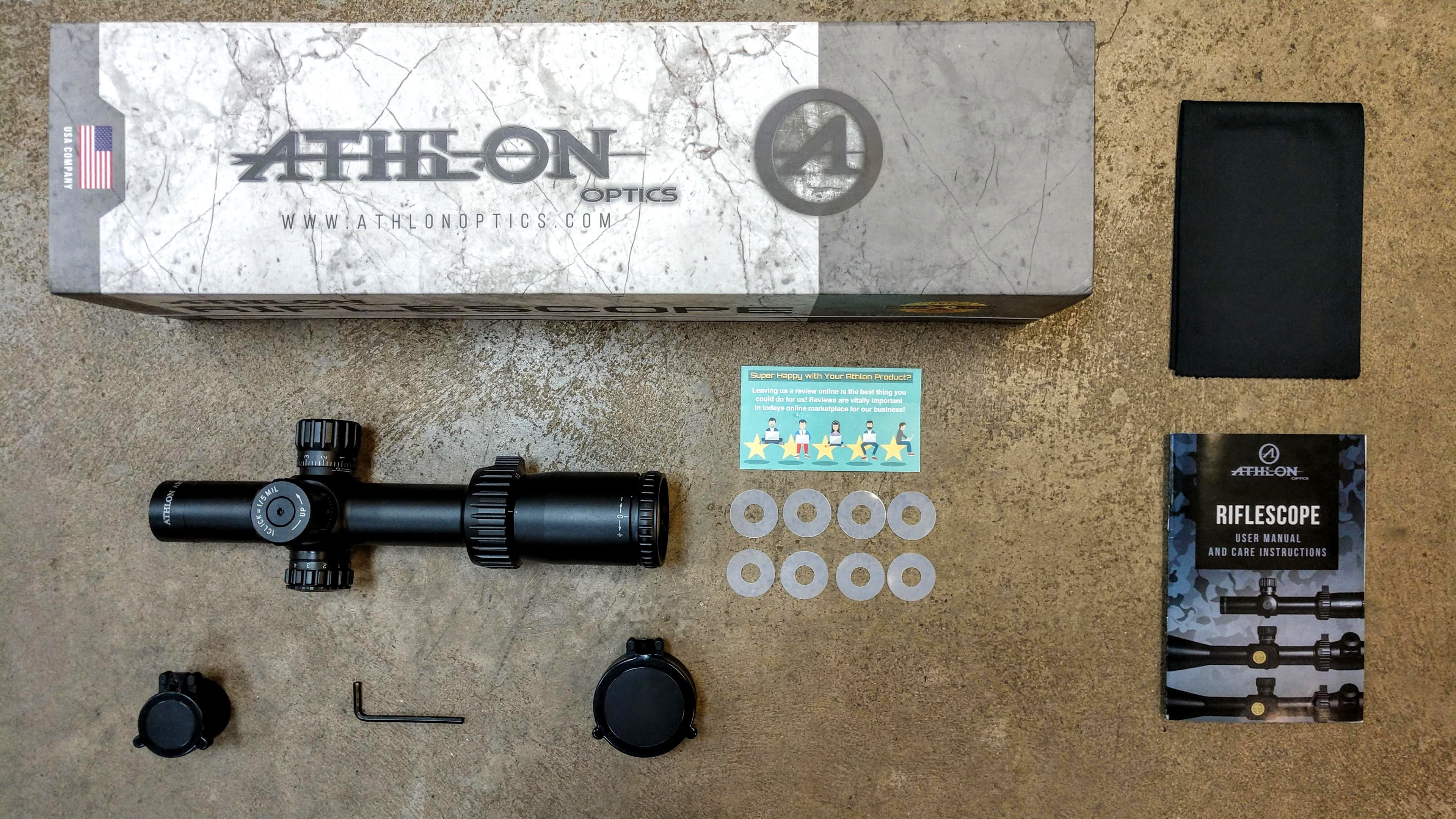 Tube Diameter: 30mm
Exit Pupil: 13.4 – 5.4mm
Eye Relief: 3.5 Inches
Field of View (@ 100 Yards): 112 – 27 Feet
Click Value: 0.2 MIL (1/5 MIL)
Adjustment Range per Rotation: 12 MIL
Total Elevation Adjustment: 40 MIL
Total Windage Adjustment: 40 MIL
Turret Style: Exposed
Parallax Adjustment: Fixed
Purging Material: Argon
Length: 9.5 Inches
Weight: 20.5 Ounces
This scope is covered by the Athlon Optics "Gold Medal" Lifetime Warranty where if your scope is in need of repair or replacement there is no receipt required, no registration required, and there will be no cost to you. Athlon fully stands behind their optics so you can have the ultimate peace of mind in the field or at the range. The current MSRP for the Athlon Argos BTR 1-4×24mm AHSR14 FFP IR MIL is benchmarked at $359. A further explanation as to what the Athlon Argos BTR 1-4×24mm AHSR14 FFP IR MIL is all about can be read below directly from Athlon Optics:
"For those of you that are just getting started in the PRS or are looking to start, take a close look at the Argos BTR family of scopes. These scopes have features normally only found on high-end scopes. They have a 4x magnification making them versatile in multiple shooting disciplines. They also feature our Advanced Fully-Multi Coated Optics that delivers a crystal clear bright image in in low-light environments. The Argos BTR also has our exclusive XPL coating that protects your lenses from dirt, grease, and harsh weather conditions.  The aircraft grade aluminum tube will protect these world class optics no matter what punishment you throw at it."
Mounting: Athlon Argos BTR 1-4×24mm AHSR14 FFP IR MIL
When it came to mounting the Athlon Argos BTR 1-4×24mm AHSR14 FFP IR MIL on varying firearms it was equally easy across the board. This Athlon Argos BTR spent the better part of 2 months on top of a Ruger American Predator chambered in 350 Legend (Full AllOutdoor Review of that rifle HERE). For that pairing, I used some basic 30mm medium rings I had lying around and the scope held a zero, passed a tracking test (we will get to that later), and performed as best as one could expect. For a straight-wall cartridge like 350 Legend, .30-30 Win, or even .45-70 Gov't I believe an LPVO like the Athlon Argos BTR is a great fit.

More recently, I took the Athlon Argos BTR for a 2 month test run on a Diamondback DB15 5.56 NATO rifle. To marry the Athlon and the Diamondback together, I used a cantilever MSR (modern sporting rifle) mount to achieve the best or most appropriate cheek weld and eye-relief possible. While this rifle in .223 Rem/5.56mm NATO does not have more recoil than the previously used 350 Legend, it was subjected to a much higher round count (300+ rounds) and it continuously maintained a zero, passed a tracking test, and helped achieve some impressive accuracy atop the Diamondback DB15. (Full AllOutdoor Review of that rifle HERE).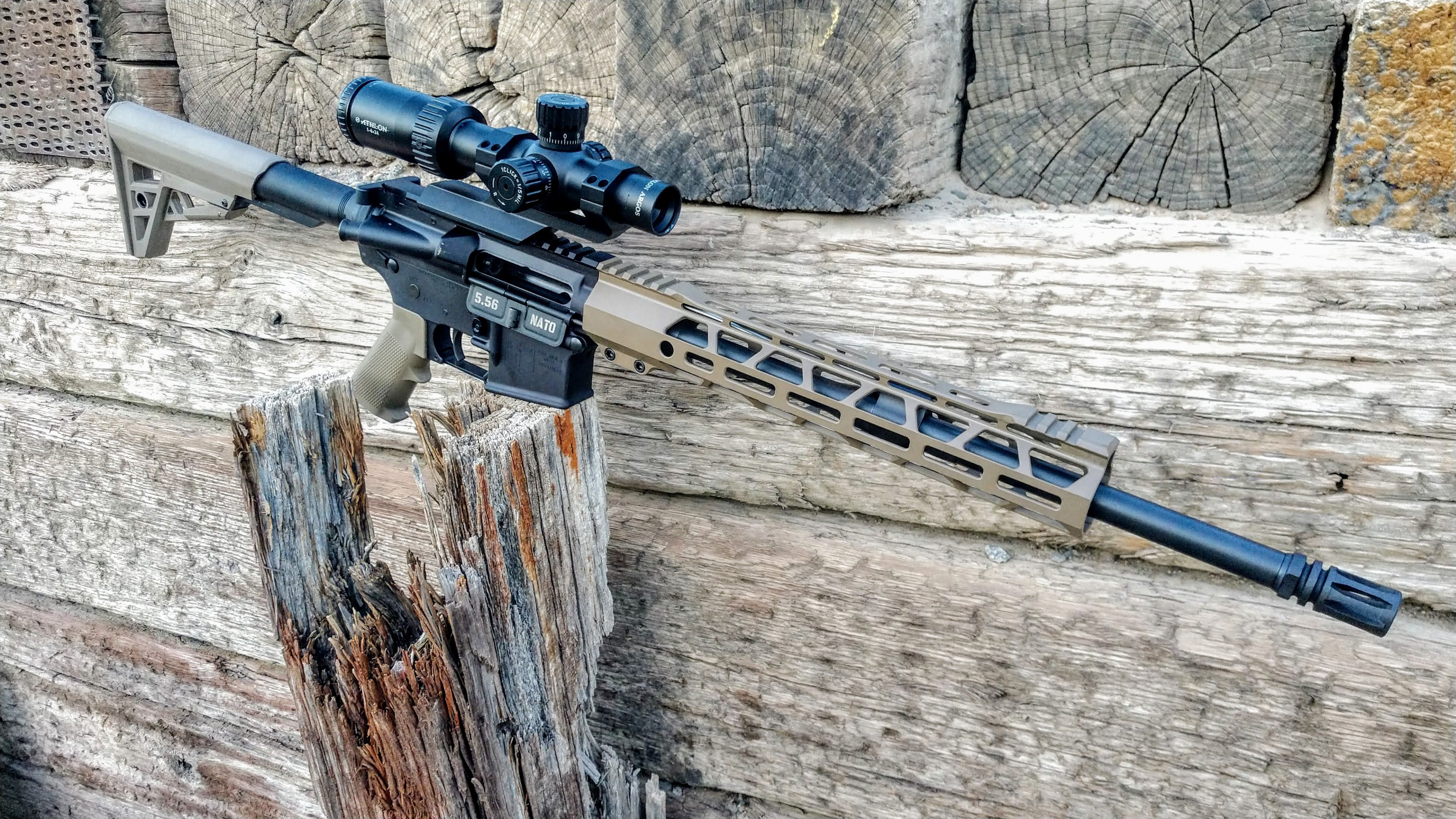 Tracking: Athlon Argos BTR 1-4×24mm AHSR14 FFP IR MIL
The next test to ensure this optic is up to par is to verify it "tracks" correctly. What is meant by this is if you make an adjustment, through either windage or elevation, by clicking a fixed amount on your turrets, that should actually pan out on paper. This refers to a scope tracking correctly. You never want to adjust your elevation say 10 mils and then an optic does not act as advertised and only gives you 8 mils of adjustment.
So to test the tracking, I shot a 4-shot group, adjusted 2 MIL to the right, shot a second 4-shot group, and finally adjusting 2 MIL down. After wandering around my target, the scope gave me the exact amount of elevation and windage adjustment I was dialing in which is perfect. It passed the tracking test. I can also state that over the course of 4 months of intermittently shooting the scope always responded accordingly. Another test I typically incorporate in optic reviews is a Parallax Test, but it was not necessary for the Athlon Argos BTR because this optic has a fixed parallax.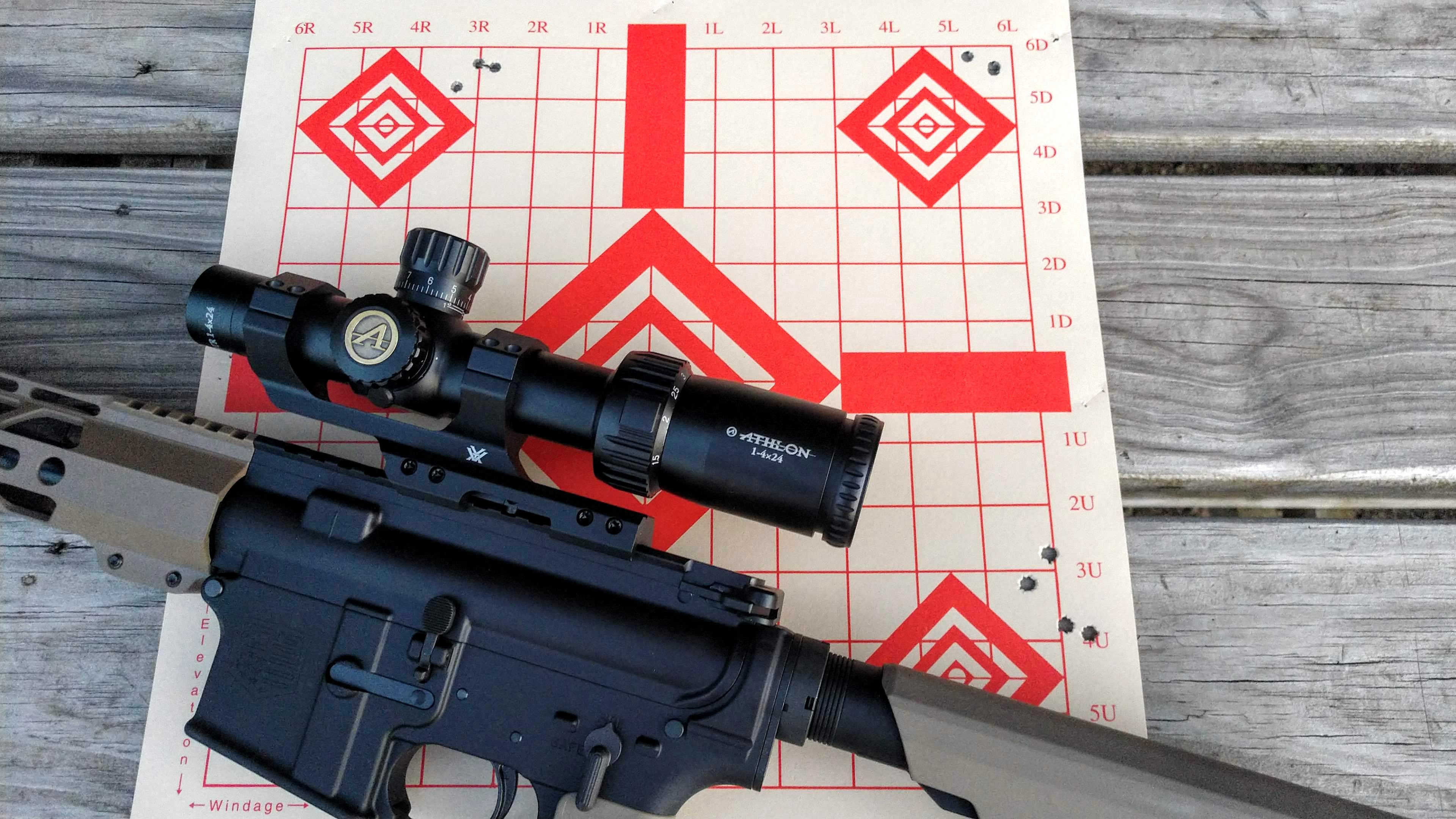 Final Thoughts: Athlon Argos BTR 1-4×24mm AHSR14 FFP IR MIL
So, what are my final thoughts on the Athlon Argos BTR 1-4×24mm AHSR14 FFP IR MIL? The Athlon Argos BTR provided enough magnification to make hits potentially on big-game out to 200 yards yet was weak enough on the low end to shoot awkwardly close shots like 10 yards if you were to ever be so lucky. For longer shots, closer to that threshold of 200 yards, the reticle is a bit 'busy' on 4x magnification, but with an LPVO like this the bulk of my shooting for any firearm it is placed on will presumably be closer (likely 50 yards or less).
The diopter for eye relief was easy to adjust and held steady in place once you selected where it gave you the best clarity and sight picture. The magnification knob was a bit stiff (not too stiff) which over the years I now tend to view as a positive because with prolonged use all optics will begin to rotate easier (or too easy) in time. So, a tighter yet positive feel to the magnification knob was a good thing. The windage and elevation turrets responded with a prominent, but soft "click" with every adjustment you gave. I liked that it was a softer movement because I am from the train-of-thought that I should not need to flex my biceps like Hulk Hogan to adjust for windage and elevation on-the-fly. Other people like really tight clicking turrets so that is simply a matter of preference.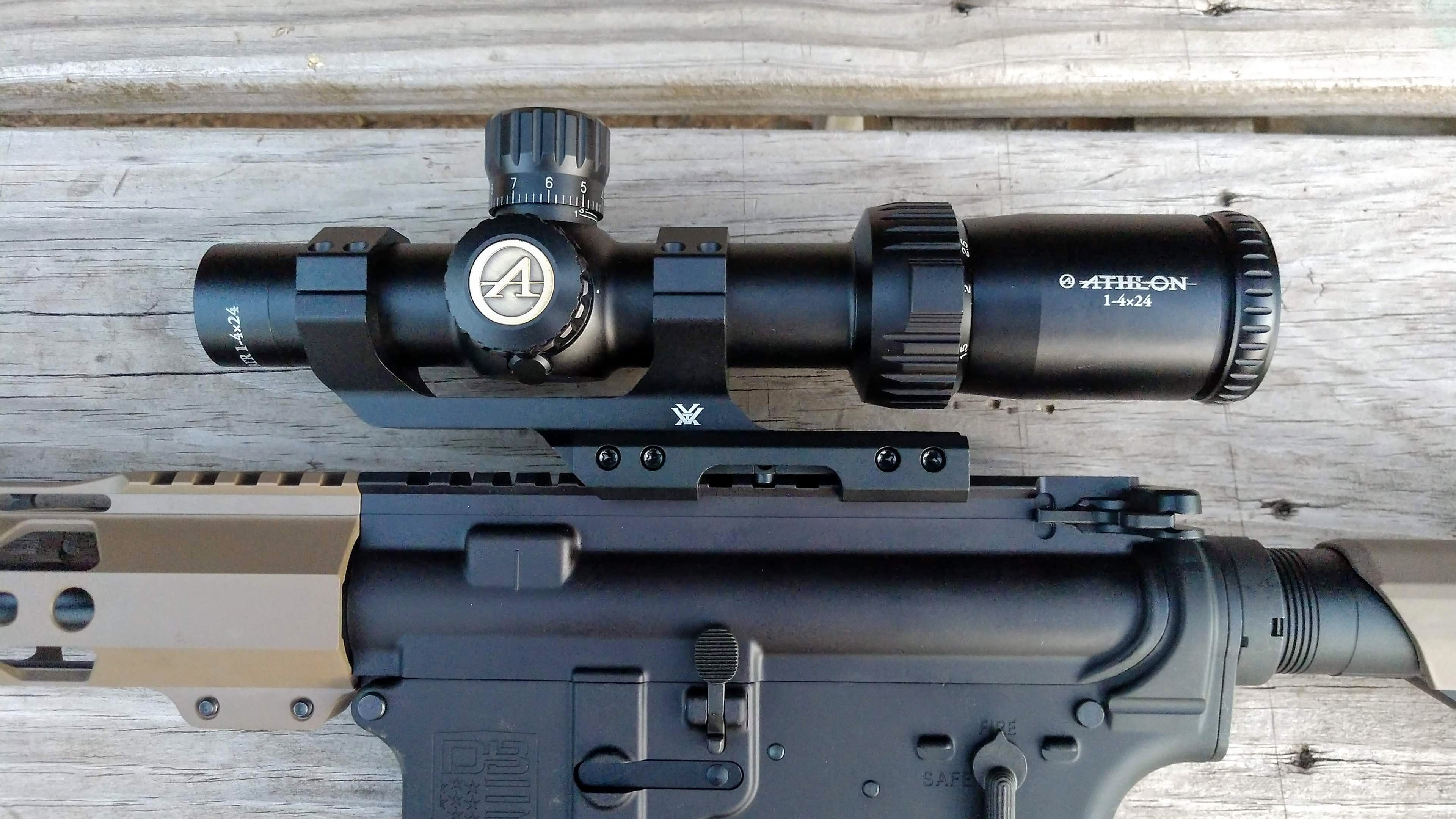 All in all, this scope achieved good accuracy for me relative to the firearms I mounted it to, it passed multiple tracking tests on different guns, and has good clean glass. From top-to-bottom and front-to-back it performs as advertised if not much better. With an MSRP of $359 I would not hesitate to recommend this optic to anyone who is in need of an LPVO for anything from a hunting rifle to a modern sporting rifle. It authentically is a good optic.
In closing, I want to say thank you to Athlon Optics for allowing AllOutdoor and myself the opportunity to try out their Athlon Argos BTR 1-4×24mm AHSR14 FFP IR MIL. Also, thank you to Norma/Ruag for providing AllOutdoor with ammunition for this review as well as others. That is always greatly appreciated. Also, we would like to know what all of you guys and gals think? Do you believe that the Athlon Argos BTR 1-4×24mm AHSR14 FFP IR MIL is something worth spending your money on? Would you shoot a league with it? Use it on a hunting rifle? Let us know all of your thoughts in the Comments below! We always appreciate your feedback.