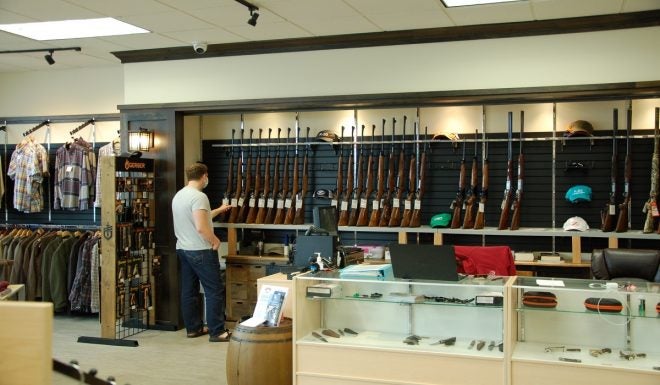 Have you ever been in the presence of greatness or the top of the line of anything? Maybe it was a stroll through the showroom of a local Mercedes-Benz automobile dealership, or a little window shopping at an exclusive jewelry shop checking out the latest in Rolex watches or perhaps something else. What about a top of the line selection of the world's finest firearms? It is an experience you must not miss.
I recently made a short vacation trip to the home of country music, Nashville. The primary mission on the to-do list was to see my grandson, but it was also a quest to visit a relatively new gun shop by the name of Double Guns. The shop is headed up by president Terry Hetrick, who I did not get to meet. Maybe he was out shooting or teaching some clients how to shoot, which he has been doing for more than 20 years.
This unique gun shop is tucked away in the corner of a small shopping center in the West End Avenue section of the city known for being one of the areas of high-dollar residents and shopping. It is easy enough to find just off Interstate 440 not far from The Parthenon Park a well-known Nashville landmark visited by tourists coming to the area.
Double Guns makes a striking impression immediately upon entry into the shop. The layout and cabinetry displaying the firearms selections is a thing of beauty. It should be of course, having been designed and constructed by Julian and Sons of Heber Springs, Arkansas. These guys are modern day artisans of fine woods not unlike the stock materials used in many of the shotguns and rifles sold at Double Guns, and their work is a thing of pure beauty.
Housed inside a huge walk-in vault are the finest firearms made in the world. There were no 870s here. Among the shotgun brands were Krieghoff, Fausti, Zoli, Beretta, and others I have only previously seen at SHOT Shows over the years. One Krieghoff over-and-under competition shotgun carried some of the finest scrollwork and engraving known to exist. The price tag bore a retail of $32,000. I was too intimidated to even pick it up.
Rifles included Mauser bolt guns with ultra-top-grade woods, highly figured walnut, Sauer rifles, and Blaser. These rifles came in calibers capable of taking any African game, or whitetails right here at home. Their selection of optics matched the gun offerings. So does the clothing, field luggage and other shooting and hunting accessories.
One day in your life you have to visit a shop like Double Guns. If not, at least see it on line at www.doublegunsofNashville.com. Trust me, it is well worth the experience.