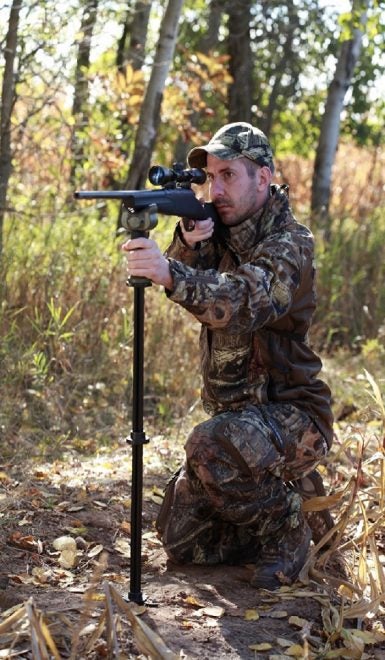 In the real world, shooting conditions are rarely ideal. We practice our shooting at an outdoor range, a commercial indoor shooting facility, or even an open area in the woods, down a powerline, or other safe place to lay out a short or long range opportunity. In a formal situation a shooting bench, standing lane, or table is available. This is not always the case "in the field."
Preppers, survivalists, serious shooters, professionals, or amateurs need to learn to shoot, well, anytime and anyplace. This means making the most out of what is available regardless of the situation. What you need is a steady position to take good shots at a variety of targets as events unfold. Standing up to shoot ought to be a last resort if you can help it.
Hunters have long used a wide variety of available stances and shooting aids to assist them in making more-precise shots. Some of these aids are commercial shooting accessories, but many others can be provided by nature. Shooters need to learn to look around for such positions to steady their rifle or handgun shots. Usually such situations develop quickly, so finding stable shooting positions quickly is a good skill to acquire and practice.
The market offers many types of shooting sticks with one leg, bipod legs, or tripods. Some have hand grip adjustable releases to raise or lower the gun rest portion. Others use screw-in and -out legs to adjust height. Some are even like modern tent poles that pull apart with a shock cord inside the poles to steady them.
If you get any of these, learn to shoot with them and practice regularly. It is more difficult than you might think.
In the field, woods, yard, city, or wherever, learn to shoot from anything. In the woods or at a bugout location, learn to shoot from the rack or across of the seat of an ATV/UTV. Find a tree limb suitable for a quick rest in the field, a big rock, stump, old farm equipment, fence post, gate, or whatever else you can find. Fold up a jacket to shoot off the hood of your vehicle or out the opposite window from inside.
You get the point. Find a rest, shoot from a rest every time it is even remotely possible. Bring your own or improvise one from whatever the world around you provides.