Ed Brown Releases FX2 Carry Pistol with New Trijicon Optic
Eve Flanigan 09.11.20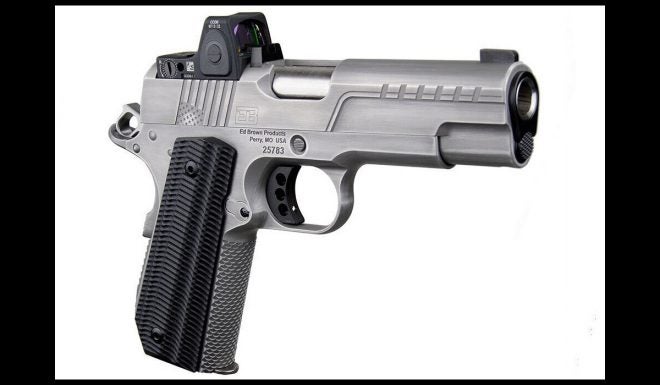 Luxe 1911 maker Ed Brown Products recently announced the release of the FX2, their new concealment pistol. The FX2 is available in 9mm and 45 ACP. It carries Trijicon's new RMRcc carry-size red dot optic as well as numerous upscale features as expected on an Ed Brown pistol, and should be a huge hit.
As the name implies, the FX2 is the descendant of the company's FX1 model, a government-size 1911. Built on a bobtailed, commander-size frame, the FX2 sports a finely detailed "snakeskin" pattern on the front strap and mainspring housing. The black grips, made from G10, are formed in a staggered chevron pattern for good traction.
The stainless steel frame is finished in industrial gray, lending what the company describes as an "edgy" look. The takedown pin and skeletonized trigger offer contrast in black. In Ed Brown inventory, this pistol's name is the FX2-SS. Perhaps that's an indication that other finishes will be available in the future.
The slide is highly customized, with an American flag motif etched into the rear slide serrations. (In response to a social media comment about the flag appearing to be upside down flag in pictures, a company rep replied that the design is intended to look perfect in a holster.) The front of the slide has decorative cuts in the classic 1911 profile, also pulling double duty as cocking serrations — a good feature on an optic-bearing pistol.
There is a bushing over the flush shiny stainless steel barrel. Unlike the FX1's barrel, this one isn't ported.
One remarkable and functional feature of the FX2 is the depth at which the optic rests on the barrel. Ed Brown machined an unusually deep cut. This lowers the overall profile of the gun for concealment purposes and minimizes the sight-over-bore issue that can present occasional challenges to accuracy. Backing up the optic is an Ed Brown rear sight and an orange ring/white center Ameriglo front sight. They offer the shooter a constant co-witness.
Factory reps say the Trijicon optic was chosen not only for its low profile, but also its waterproof qualities. Since concealment guns are often exposed to sweat, it's important to choose an optic that won't quit when wet.
Specs on the 9mm aren't published yet. The 45ACP version of the FX2 ships with a flush, 7-round magazine. It weighs 41 ounces with the empty mag. It's 7.75 inches overall in length, and just 6.0 inches in height inclusive of the Trijicon sight. The slide is 4.25 inches. Capacity and weight in 9mm are not provided on the Ed Brown website.
The FX2 is offered at $4,295 in 45 ACP. The 9mm is $100 more. All Ed Brown pistols are covered by a lifetime warranty.