AllOutdoor Review: Banish 30 Suppressor from Silencer Central
Sam.S 09.22.20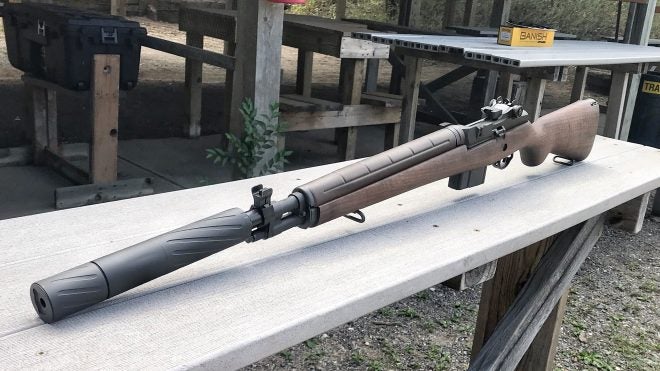 Hey all! Silencer Central was kind enough to give me the opportunity to use and review one of the suppressors in their Banish line, and I am excited to have the chance to go over the experience. I know the aspect of getting a gun muffler such as the Banish 30 we are covering today can be daunting, especially to people who may be new to the whole NFA process. Retailers like Silencer Central (formerly Dakota Silencer) have expedited that painful process and made it much easier for consumers to jump on the bandwagon of suppressor ownership. They offer many top name brands in the silencer industry as well as their own "Banish" series of suppressors. Along with their simplified silencer buying process, Silencer Central can also ship the silencer directly to you once approved. They are licensed in all 42 states where silencers are legal so no need to seek out a dealer near you. In this AllOutdoor Review, we take an in-depth look at the Banish 30 Suppressor from Silencer Central and see how it fares. Let's hop down the rabbit hole!
Specifications: Banish 30 Suppressor from Silencer Central
One of the defining differences of this specific suppressor is that it is essentially available in two lengths for the price of one. The Banish 30 comes paired with an extension which takes it from a 7″ to a 9″ can. It also is self-serviceable in that it can be disassembled for any necessary cleaning. Both the main suppressor body can be disassembled and baffles removed as well as the extension with its own baffles that are different from the main body ones not to get mixed up.
CALIBER: 308/7.62
CALIBER RANGE: 17 to 300 Weatherby
MATERIAL: Titanium

COLOR: Black

FINISH: Gun Kote and Tribodone 41 DLC

SOUND REDUCTION: 34 dB

MOUNT STYLE: Direct Thread

THREAD PITCH: 5/8×24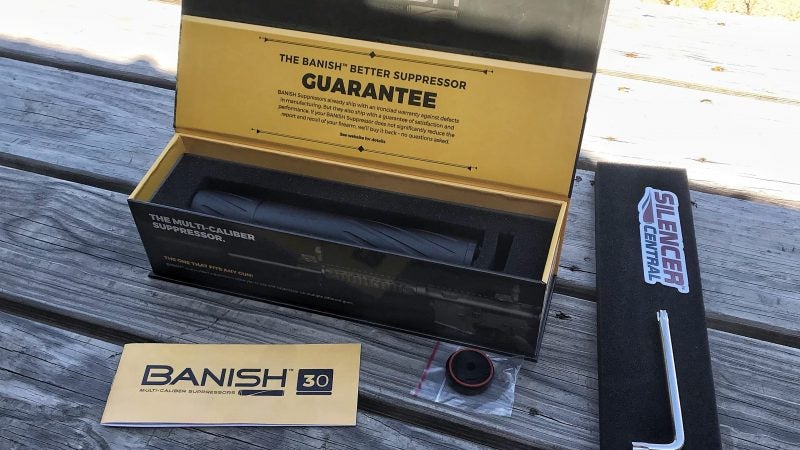 DIAMETER: 1-1/2"
LENGTH: 7" or 9" (depending on whether the tube extension is on or not)
WEIGHT: 10 oz (7") or 13 oz (9")
BAFFLES: 8
SELF-SERVICEABLE: Yes

FULL AUTO RATED: Limited Full-Auto Rated
MSRP for the Banish 30 currently stands at $979 and holds Silencer Central's Lifetime Warranty of the "Banish™ Better Suppressor Guarantee". This is Silencer Central's way of covering any defects in manufacturing along with the overall performance and quality of their suppressor. If your Banish Suppressor does not perform as it is intended by reducing report noise, felt recoil, or increased accuracy due to recoil reduction, Silencer Central will buy it back. Some more useful information and background on the Banish 30 can be read below thanks to Silencer Central:
"The most versatile suppressor in the Banish line, the Banish 30 works with your rimfire and rifle calibers from .17 to 300 Weatherby.

All Banish suppressors have been designed for unmatched sound suppression. Testing shows that Banish 30 reduces the report of a 308 by a whopping 34 decibels, or more!

Like all Banish suppressors, the Banish 30 is made from a strong, Titanium alloy for unmatched durability, at an extremely light weight. The Banish 30 comes as a 9-inch suppressor holding eight STifle™ baffles, yet for tighter shooting platforms or blinds, can easily break down and assemble into a 7-inch configuration. At seven inches, you'll hardly notice the suppressor on the end of your rifle.

Perfect for the range, but also a plus for in-the-field while big game hunting, the Banish 30 will significantly reduce the report and recoil of large-caliber rifles, while still being effective on rifles down to rimfire calibers."
Unboxing: Banish 30 Suppressor from Silencer Central
The Banish 30 comes in a very nice box that is magnetically sealed. The box includes a multitude of tools and extras to help you along with your ownership of a quality and unique suppressor. These include a star wrench that attaches to an included endcap removal tool to ensure that a fouled up suppressor can be taken apart and cleaned if need be. Along with those items they supply a spare end cap o-ring/rubber gasket and a stylish decal for all the people out there that enjoy representing their collections. Other components you might enjoy having that we had for testing are:
Adding the spare end cap o-ring/rubber gasket to the package you get with your suppressor shows the forethought and care that Silencer Central put into the quality item you get. O-rings/rubber gaskets in general have the tendency to degrade and decay over time and the addition of it being exposed to heat and possible fouling do not make it a stranger to breakage, though I would wager these would last a long while given the baffle design of the Banish 30. It keeps most of the mess away from the outer walls of the suppressor and even away from the threads and gasket.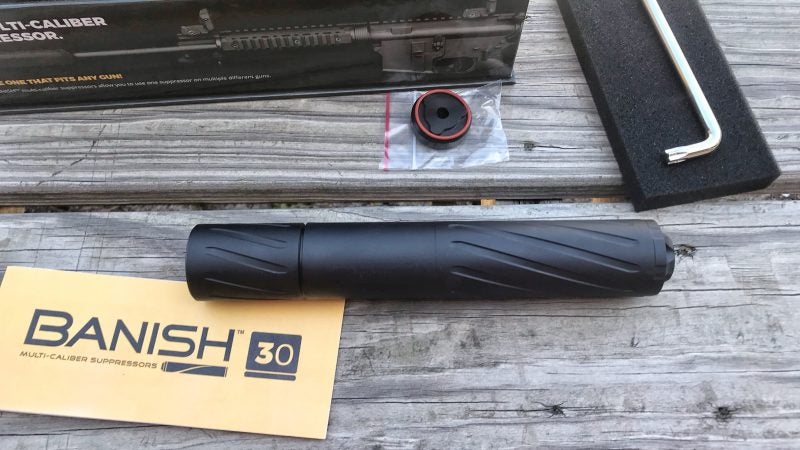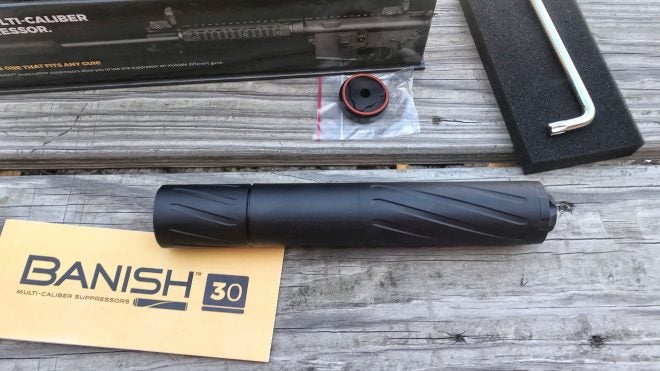 As I mentioned earlier the Banish 30 is user-serviceable in that the silencer along with its extension can be disassembled for cleaning if at all necessary. When I say that I mean it in that with most centerfire suppressors the pressures are typically strong enough to blast all the fouling and carbon out the front and keep things clean enough to be used far more and far extensively in comparison to rimfire suppressors. That being said this suppressor can do that as well but there is always some stuff that hangs out on and it does not hurt to get your suppressor looking like new on the inside and out again.
Range Time: Banish 30 Suppressor from Silencer Central
Now when I got to get some range time with this suppressor it was a unique scenario in that I also had a Springfield Armory M1A Tanker 308 Rifle that I was reviewing for an article over at our sister site TheFirearmBlog (TFB). The stars felt like they had aligned so that I may pair that work of art with this one. I put together the necessary materials to make that happen and the process and results will appear in a future article to be published over at TheFirearmBlog (TFB). I have to say the experience of that pairing was very positive and I think a lot of that is owed to the Banish 30's design.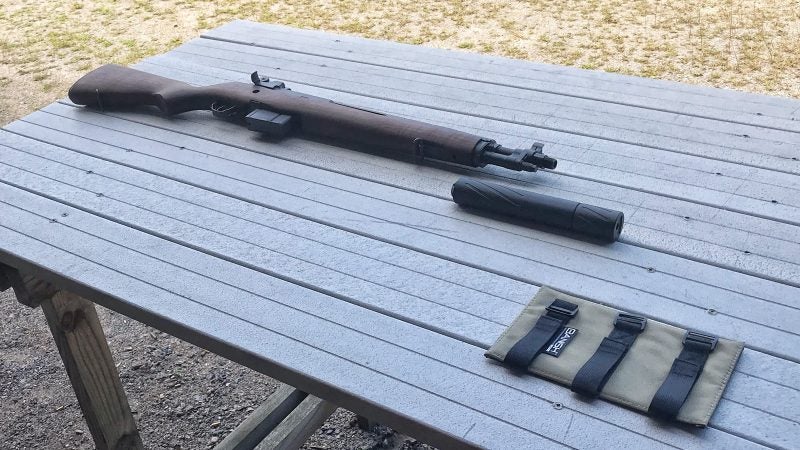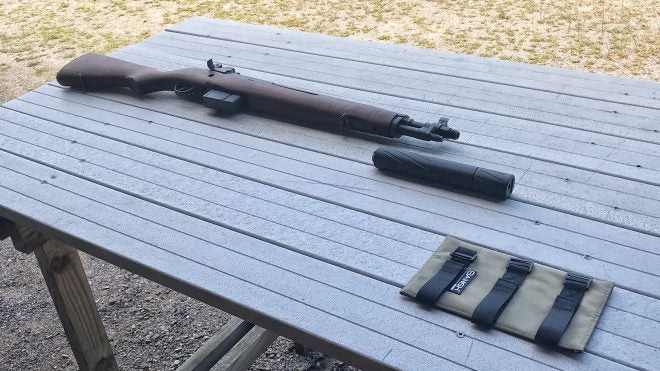 When I say the design of this specific suppressor made the overall experience more positive it is because of its inclusion and style of expansion tube that sits at the back of the suppressor before any gas travels to the baffles. It is designed to catch the blast and direct gas down through all the baffles as it said in the disassembly/reassembly video earlier. The reason this matters is the M1A Tanker does not really have an adjustable gas plug or any way of managing the gas beyond its stock configuration. That being said the gas that would come out of the action and hit me in the forehead was quite probably far less than it could be on suppressors that do not have such an expansion chamber built-in.
One drawback I can attest to noticing about the suppressor was not in its performance but rather it's capacity to heat up very quickly. This is by no means a flaw in its design since this suppressor is full-auto rated and would essentially be safe to fire until red hot and melting if it would even melt. I only see it as a drawback to someone shooting larger calibers and in rapid succession. Even the Suppressor cover was extremely hot to hold for too long. I would wager the rapid heat up is due to the lightweight design. After about 15 minutes the heat had dissipated after removing the cover.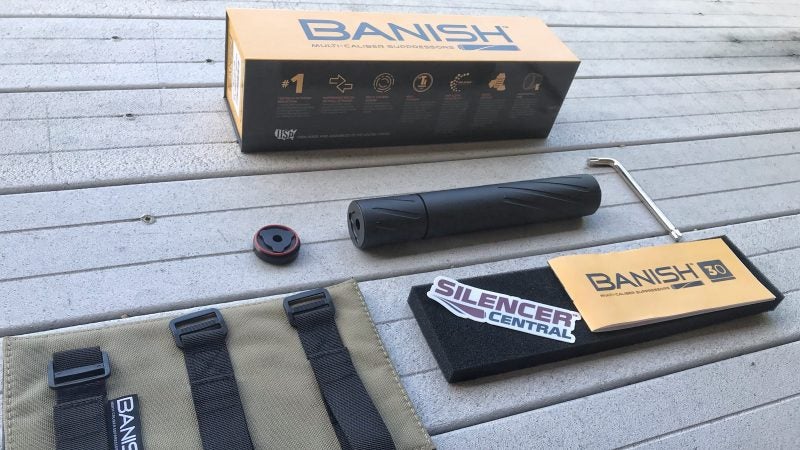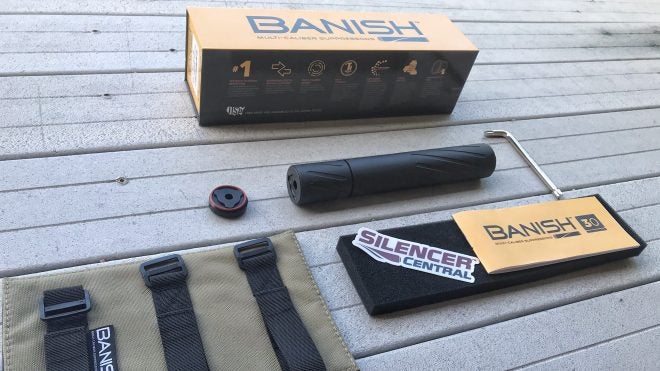 Since this is a suppressor review, after all, I should let you all know about the noise or lack thereof. As for actual sound suppression, I was extremely happy with it. I was using all the miscellaneous 308 and 7.62 NATO I had on hand and no subsonic ammo given the current state of the world and lack of availability. This gun was hearing safe outdoors in the open with generic boxed ammo of all sorts. It did its job very well and I was happy with it overall.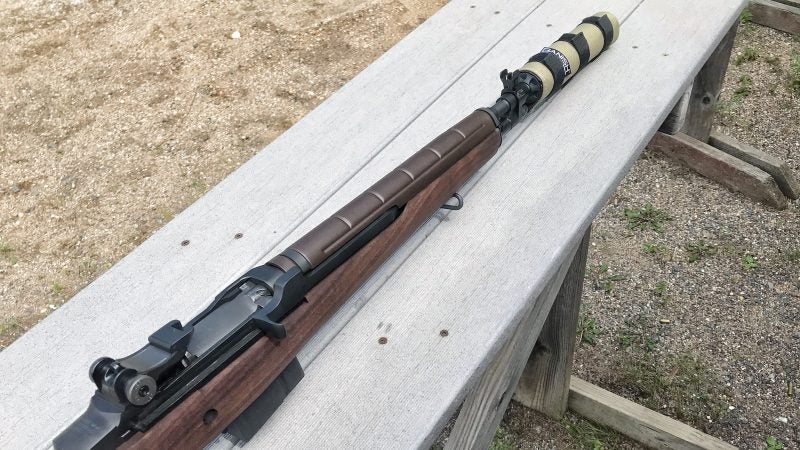 Final Thoughts: Banish 30 Suppressor from Silencer Central
I think as far as suppressors go the Banish 30 should be in your top five if you are looking for a 30/multi caliber suppressor. It is very versatile which makes it appealing to me as I own multiple guns that would be cool to suppress. The design makes it competitive in its noise reduction and weight. It has a variable length depending on how compact you would like to stay. A feature that I appreciate as a rimfire suppressor owner is it is similar and easy to clean.
With the lifetime warranty and guarantee of a quality-made suppressor, I think it would be hard to go wrong picking one of these up. The folks over at Silencer Central seem very nice and attentive to their customers which in this day and age should make a suppressor owner feel comfortable and content knowing someone has their back. With the only drawback in regards to the Banish 30 being "it got hot quick" I think it is super forgivable since any suppressor would after 30-40 rounds of 308 flying through it. I would recommend the Banish 30 to anyone looking for extreme versatility in a centerfire suppressor.
In closing, I want to say thank you to Silencer Central for allowing AllOutdoor and myself the opportunity to try out their Banish 30 Suppressor. That is always greatly appreciated. The last question that remains is what do you think? Is the Banish 30 something you would be willing to invest your money in to go hunting? Would you use it for home defense? Help a new shooter learn to shoot with it? Let us know all of your thoughts in the Comments below! We always appreciate your feedback.