Review: Pitbull Tactical Universal Magazine Carrier
Eve Flanigan 09.23.20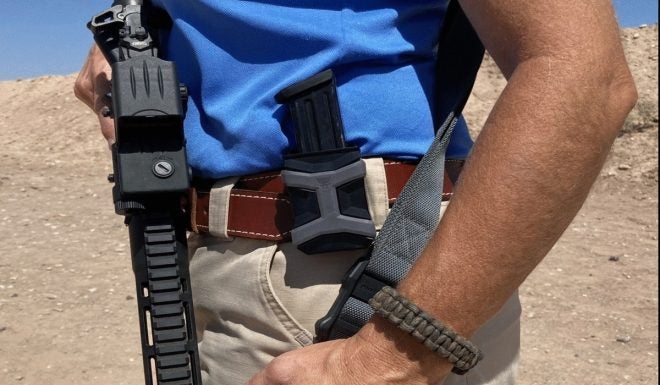 Sometimes, I have the luxury of testing a product over time, in multiple situations, with multiple shooters. This was the case with the Pitbull Tactical Universal Mag Carrier. This pouch is purported to fit any handgun magazine, as well as to be wearable inside or outside the waistband. After a summer of testing it, I'm happy to report that it delivers — albeit with some exceptions for rough duty.
The Pitbull is elegantly simple, and is one of those designs that makes me wonder why mag carriers haven't always been like this. It's made of plastic (ok, maybe it's polymer—it's something on the plastic spectrum), and the sides are separate pieces. It's closed on the bottom. The whole works is held together by a three-dimensional, figure eight-shaped piece of what appears to be strong rubber. One wide flat side bears a typical belt clip that fits belts up to 1.5 inches. Available colors are black (with a grey band), olive drab, and flat dark earth.
During summer 2020, I regularly pulled out the Pitbull for use with students who wanted to try it or who showed up to class without a mag carrier. In three-hour class sessions, it functioned very well with magazines for 1911s as well as double-stack mags for the Glock 19, HK VP9, Canik TP series, and a couple others I can't recall. One student wore the mag IWB; all others wore it on the support side OWB, generally at the 3:00 or 9:00 position.
In my opinion, this mag carrier positions the magazine for fast, flawless manipulations. Most mags are half-covered, allowing for a full, secure grip on reloads.
When doing combat reloads under the timer, using the Pitbull  was a seamless transition from my everyday carrier—I didn't even notice the change, so well-positioned are the magazines. I only wish I had two in order to carry my usual two extra mags.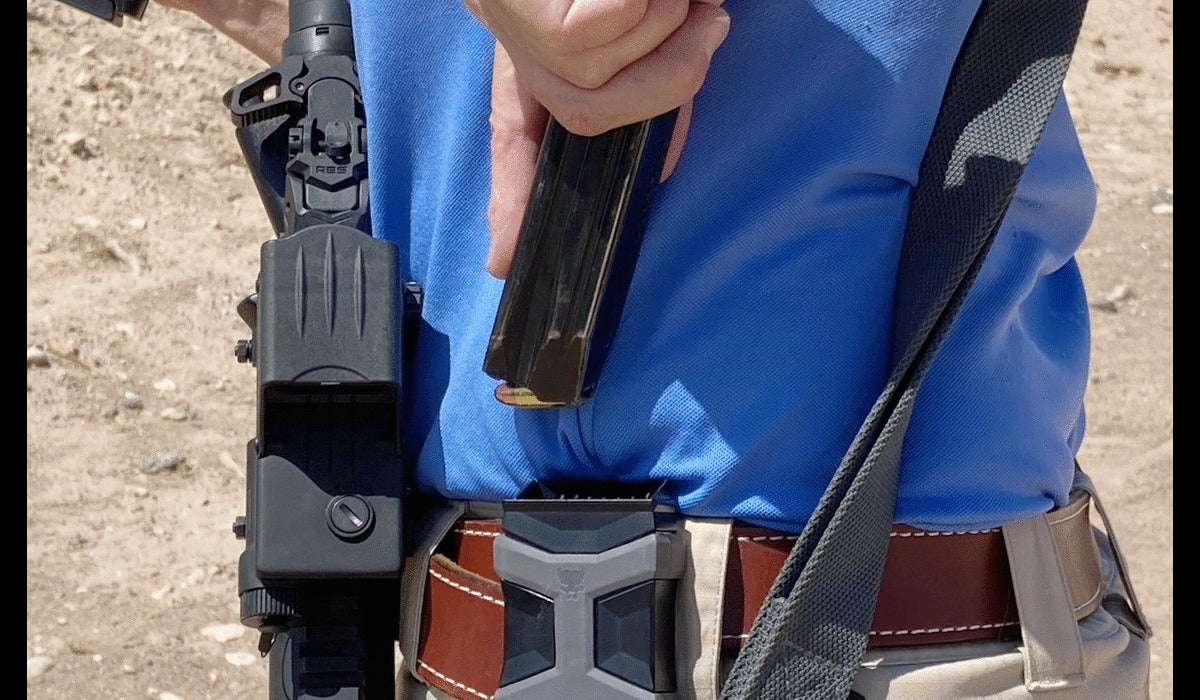 The culmination of this test was wearing it OWB myself with a double-stack 18-round Canik magazine for three ten-hour days at a shooters' retreat at which I'm an instructor. There, the pouch was put through a fairly extreme trial. Shooting is a small part of my role at the retreat. Moving small boulders and large targets, frequent changes of position (squatting, standing, riding in an ATV) and navigating difficult terrain are the norm.
For two half-days, I carried my carbine on a sling, getting into prone and supine position repeatedly as I demonstrated exercises along with assisting students in navigating an intensive distance exercise on a V-Tac board. Bending to assist with equipment adjustments, take pictures, and frequent changes of firing side were the order of the day.
Under this rather extreme test, the Pitbull mostly did well. However, I did at one point find my pistol mag lying on the ground, having fallen out without my knowledge. One other time I found the magazine about halfway out of the pouch and at a funny angle. In both instances, I attribute this to the rifle sling interfering with it during the day's constant activity — not something that would happen under most normal circumstances.
I remain in the fan camp for this pouch. It's been a wonderful asset in my range bag as a quick fix. It would also do just fine under a shirt for concealed carry. The Pitbull Tactical Universal Mag Carrier retails for $24.99 and is available by direct order. The website offers multiple discount opportunities.