TACTACAM's all New Spotter LR Spotting Camera
Luke Cuenco 09.24.20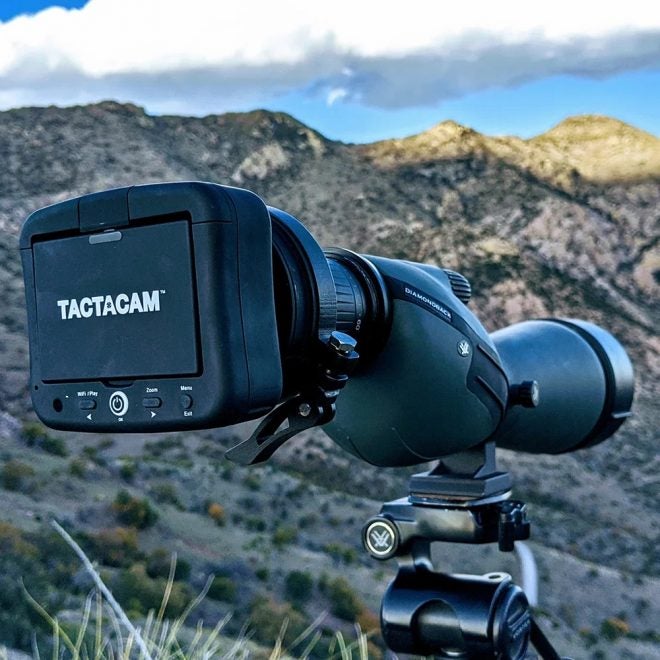 TACTACAM has just released its new Spotter LR shooting camera that comes right out of the box ready to pair with your spotting scope. The lightweight, compact 4K resolution camera boasts unparalleled resolution and rugged field performance no matter what your shooting application is. This camera should prove to be up for the task of capturing that all-important shot.
TACTACAM's all New Spotter LR Spotting Camera
The Spotter LR is a lightweight option for those who want to get an eagle-eyed view on their targets while shooting and it comes loaded with features that will make your day out in the field better.  The flip-up LCD screen alleviates eye strain and is perfect for groups to watch the action in real-time.
Spotter LR:
Lightweight 9 oz camera
Easy quick-connect attachment
Adjustable HD screen eliminates eye strain
One-Touch recording in 4K
Optic and digital zoom
Wi-Fi with App for easy sharing
MSRP: $299.99
With onboard 4x digital zoom, the Spotter LR brings your target closer than ever without degrading resolution. Long-lasting rechargeable/replaceable lithium-ion batteries allow for extended life in the field. Accepting up to a 128 GB micro SD, the memory will never be an issue again. With a dedicated app for smart devices and Wi-Fi capability, downloading and sharing files is easier than ever. Perfect for hunting, scouting, guides and outfitters, target shooters, and nature watchers.
Ben Stern, founder, and developer for TACTACAM said, "We at TACTACAM keep striving to create affordable and high-quality products for serious hunters, outdoorsmen and sportsmen alike while solving common POV camera problems. Filming is fun, rewarding, and preserves rare lifetime memories. In the moment of truth, you need professional-grade equipment that is super simple to use, and just plain works!
The TACTACAM Spotter LR is available now from many online retailers like Optics Planet and begins at an MSRP of $299.99. Personally, I find camera equipment to be fascinating even though it is largely beyond my understanding but a 4K camera that is this small and lightweight is an innovation to be sure!