AllOutdoor Review: Springfield Armory Saint Victor 308 Pistol
Sam.S 09.30.20

As someone who lives in a state where slug hunting zones are prominent and pistols are legal to use in said zones, a pistol platform such as this one offered by Springfield Armory is a welcomed sight. Try not to underestimate the looks of this lovable lot of craftmanship. It is dense, powerful, and wieldy. I personally have referred to it as "Chunk" and I do this with the utmost respect for what Springfield Armory has introduced. I am not much of an AR kind of guy. This one may have changed that by being an extremely fun gun and tool to work with. In this AllOutdoor Review, we take an in-depth look at the Springfield Armory Saint Victor 308 Pistol. Let's hop down the rabbit hole!
Specifications: Springfield Armory Saint Victor 308 Pistol
The Springfield Armory Saint Victor 308 Pistol is a sturdy and compact package with plenty of punch. It features a collapsible pistol brace that is comfortable and easy to use. At the business end there is a blast diverter that is very handy considering how short and concussive these guns can get. The pistol comes stock as an optics ready model and even though most of their guns come with some form of flip-up sights I believe they were not featured due to the addition of cost or the expectation of the average buyer intending to scope this for hunting. In many photos, I included a Vortex Crossfire Red Dot since that is what I used when reviewing this fine firearm. Check out the specs below!
CALIBER – 308 WIN (7.62x51mm NATO)
PISTOL BRACE – SB Tactical™ SBA3™
BARREL – 10.3″ CMV, Melonite®
TWIST – 1:10
TRIGGER – Nickel Boron Coated Flat GI
UPPER RECEIVER– Forged 7075 T6 Aluminum, Type III Hardcoat Anodized, Forward Assist
LOWER RECEIVER–Forged 7075 T6 Aluminum, Type III Hardcoat Anodized, Accu-Tite™ Tension System
BOLT CARRIER GROUP – 308 BCG w/ 9310 Steel Bolt, HPT/MPI, Melonite®
SYSTEM – Direct Impingement Carbine-Length, Low-Profile Pinned Gas Block
HANDGUARD–Aluminum Free Float w/ Patented SA Locking Tabs, Forward Handstop, M-Lok®
MUZZLE DEVICE – SA 2-Piece Forward Blast Diverter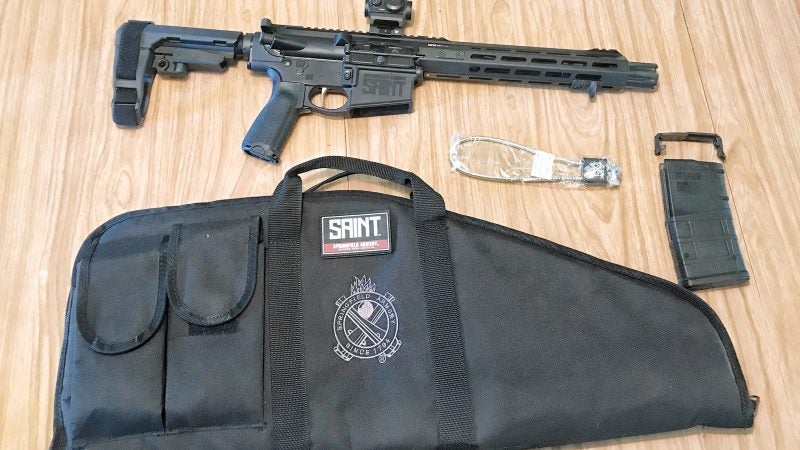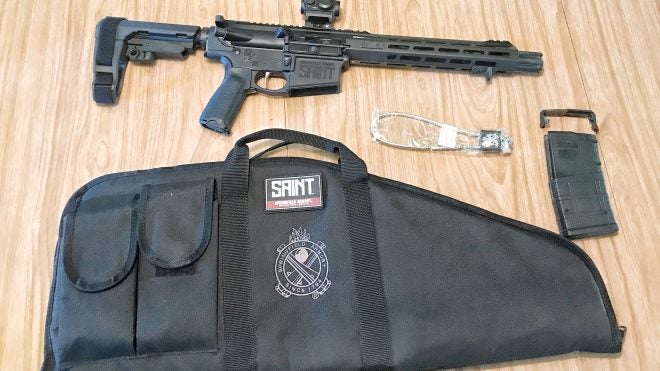 RECEIVER EXTENSION – SA Carbine
ENDPLATE – Quick Disconnect
BUFFER ASSEMBLY – Carbine "H" Heavy Tungsten Buffer
CHARGING HANDLE – GI Style
SAFETY SWITCH – Single Side
TRIGGER GUARD – Integral to Receiver
GRIP – BCMGUNFIGHTER™ Mod 3
WEIGHT – 8 lbs 6 oz
LENGTH –28.25″ – 30.5″
MAGAZINES – One 20-Round Magpul® PMAG® Gen M3
TRIGGER PULL – Roughly 5.5lbs
MSRP– $1,363
The above photograph depicts what comes with the Saint Victor 308 Pistol aside from the manual and Springfield Armory decal. I incorrectly assumed the manual was not sent with this review gun, but it was stuck at the bottom of the cardboard shipping box. Rest assured that all of the Springfield Armory rifles and AR pistols that I have come across while working at a gun shop are and have been properly packaged with the manual and all other contents readily available in or on the included case. That being said the Saint Victor 308 Pistol comes with a very nice soft case featuring two magazine pouches, one 20-Round Magpul® PMAG® Gen M3, manual, decal, and a cable lock.
The MSRP for the Springfield Armory Saint Victor 308 Pistol sits pleasantly at $1,363. As a person who in general is disinterested with anything AR related, after getting to know this lovable chunk I absolutely think you get a deal for the price that is asked. The pistol features very well put together pieces and parts that I would argue that if they were bought bit by bit it would net twice the cost requested of you. The flat-faced trigger is very pleasant to use and the BCM grip is comfy. The addition of an adjustable pistol brace is a greatly appreciated one.
The Springfield Armory Saint Victor 308 Pistol is the newest entry in the Saint Victor line as of April 2020. It features all of the wished-for additions of the line like a hand stop and adjustable brace all well packing the punch that only an AR10 can. Springfield Armory gives lots of behind the scenes detail on the Saint Victor 308 Pistol page. The excerpts of the page are below.
"The newest addition to the venerable SAINT Victor line brings 308 power down to size. With a host of premium features and duty-grade components the all new SAINT Victor Pistol in 308 is built for rugged dependability and available now from Springfield Armory.

Every SAINT Victor is built with purpose. The SAINT Victor Pistol in 308 is designed to give shooters unprecedented power in a small, lightweight build so it stays with you when you need it most. At just 8 lbs 6 oz this potent pistol tags along easily in your vehicle or on your daily routine.

The all new SA 2-Piece Blast Diverter optimizes the gas system, promotes reliable operation and keeps the fire and brimstone headed downrange, where it belongs.

Versatile and nimble, the pistol's handling is enhanced by this 5-position adjustable forearm brace.

The pistol sports a 10.3 inch CMV barrel with a 1:10 twist and is Melonite® coated inside and out for exceptional durability."
Range Time: Springfield Armory Saint Victor 308 Pistol
I am not going to lie to you, I was intimidated by this firearm. I had never shot an AR pistol and especially nothing quite this compact in 308. I know the controls and handling well but was totally lost on what to expect. The gun itself feels small but super dense. It is well balanced and the controls are as easy to manipulate as you could hope for. The result of the expectations I had going into the range was that I totally underestimated this gun and have developed an appreciation toward it. Before diving further, I should mention that I live in a state in which a pistol brace can be legally shouldered and that I did very little testing using the brace as a literal arm brace. To say the obvious, no matter the brace it will never be as comfortable as shouldering it.
Recoil was stout at times but controllable. The controls all were within reach and positive when in use. The hand stop is something that I can honestly take or leave since it is rather tiny and my hands are on the larger side. The quick detach endplate was very nice considering how easy it was to walk around comfortably toting this pistol with a single point sling. The trigger was absolutely wonderful and a great help in relieving any anxiety I may have had about producing poor groups at range. I apologize that my fun and excitement while reviewing this gun ended up making me forget to snap a photo of my target. From memory, my grouping was very fair given that I was using a red dot sight at 50 yards and beyond that, I would not be able to tell you how well it actually was. Rest assured that if I brought this gun hunting I have full confidence in that it is accurate enough to hit my target where intended and as humanely as it can be.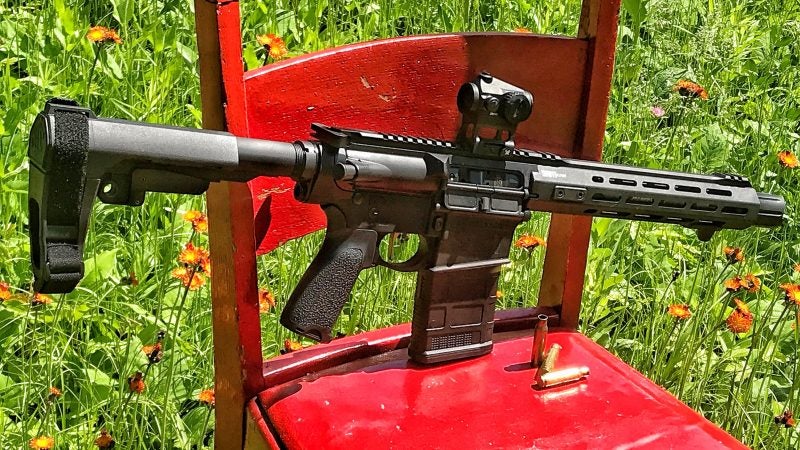 Final Thoughts: Springfield Armory Saint Victor 308 Pistol
All in all, I think the Saint Victor 308 Pistol is a fitting and much-needed addition to Springfield Armory's Saint Victor line up. I believe it is as comfortable and wieldy as an AR10 platform pistol can get. I have handled many and none were as affordable and well put together at the same time as this one. Anyone looking for an excellent and compact semi-auto 308, I encourage you to go out and find one of these to look over and hold. I think you would be pleasantly surprised and excited about what it could bring.
In closing, I want to say thank you to Springfield Armory for allowing AllOutdoor and myself the opportunity to try out their Saint Victor 308 Pistol. That is greatly appreciated. Also, we would like to know what all of you guys and gals think? Do you believe that this variant of the Saint Victor line up is something worth spending your money on? Would you take this chunk out hunting? Would this be your go-to fun gun at the range? Let us know all of your thoughts in the Comments below! We always appreciate your feedback.