Introducing a NEW Weapon Light in the Inforce Wild2 Light
Terry Nelson 10.02.20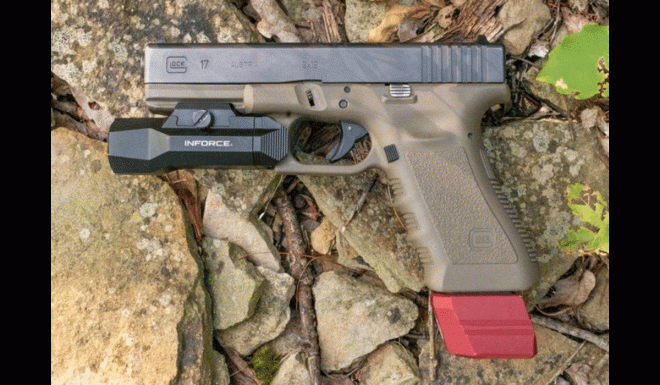 It is not hard to discuss a product I have been using for years. Inforce Weapon Lights have been a part of my personal lineup for quite some time now. Having utilized these quality weapon lights on both personal defense handguns and carbines in addition to integrating them in dim-light training courses I can attest to their quality. Now Inforce is introducing 2 NEW light systems for defense-minded folks in today's trying times. In the following Press Release more details can be found for the Inforce Wild2 Light and Wild1 Light:
Inforce is proud to introduce their new aluminum Weapon Integrated Lighting Device: Wild2. The company released the Wild2 on September 23, 2020, and began retailing Wild's dual-battery full-size model on its website and through dealers.

The first of Inforce's 2020 product releases, the Wild2 (two 123A batteries) will be soon followed by Wild1 (one 123A battery) and is designed for compact handguns like the Glock 19. Both models will resonate with fans of the company's traditional styling, although their hard-anodized 6061aluminum exteriors represent a marked departure from Inforce's longstanding preference for glass-reinforced polymers. But taking their time to release this line of pistol lights comes with opportunities. Seizing one of them, Inforce has gone where others have yet to and made the Wild series' battery door and activation switches out of aluminum.

Wild1 and Wild2 models include a specialized parabolic reflector, which shapes the 1000-lumen (500-lumen for Wild1) beam into a crisp hotspot while still affording adequate spill. Additionally, an activation method ideal for people with smaller hands. Inforce believes its Wild series will be of particular interest to the growing demographic of female handgun owners. MSRP for the Wild2 is 179.99. The Wild1 is expected to be released in late 2020.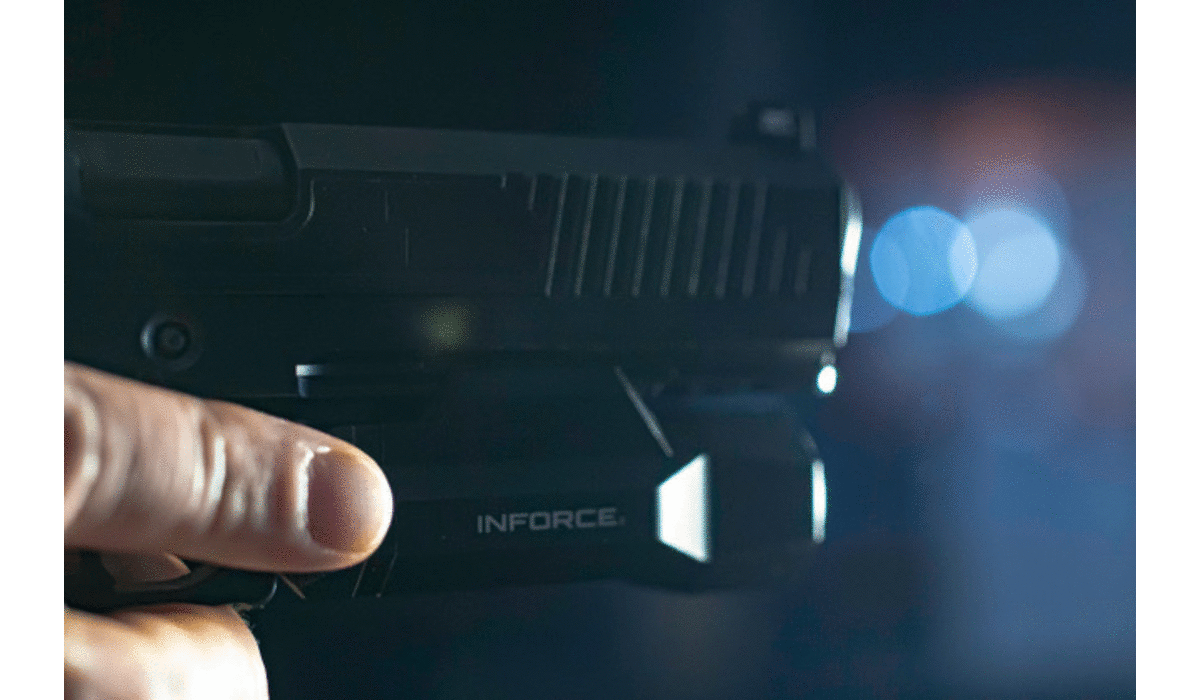 Specifications for the Inforce Wild2 Light
HIGH OUTPUT: 1000 Lumens
PEAK BEAM INTENSITY: 25,000 candela
DISTANCE: 1036 feet/316meters
HIGH RUNTIME: 1.5 hours
BATTERIES: Two 123A included
WEIGHT WITH BATTERIES: 4.7 oz/135 g
LENGTH: 3.5 in/8.9 cm
BEZEL DIAMETER: 1.1 In/2.8cm
SWITCHING: Ambidextrous paddles
FUNCTIONS: Constant/Momentary/Strobe
LOCKOUT SYSTEM: Paddle Activated
MOUNTING: 1913 or Glock universal rail
CONSTRUCTION: 6061-T6 aluminum
FINISH: MIL-SPEC hard anodize
WATERPROOF: Up to 66 feet/20 meters
The Wild2 has 3 functions: Constant, Momentary, and Strobe. All are activated by pressing laterally on either the left or right aluminum paddle switches. This manner of activation coincides with natural finger movement. Keep an eye on the Inforce website for the availability of the Wild1 coming soon! For detailed information about the Wild series, Inforce's new aluminum Weapon Integrated Lighting Devices, visit inforce-mil.com.