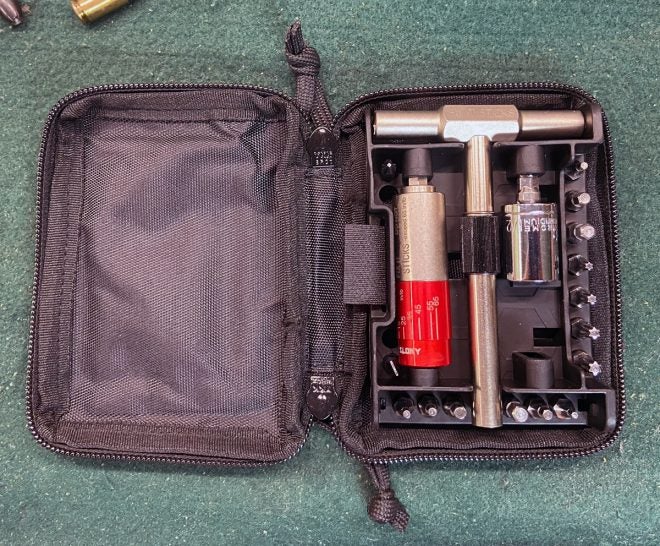 The tool kit comes in a handy little zipper case.
(Photo © Russ Chastain)
Way back in 2016, I ran across a handy-dandy little tool kit called "Fix It Sticks" and told y'all about it. The brand has grown over the past few years, and I was able to get my hands on their Torque Driver Kit for some test and review, so let's get to it.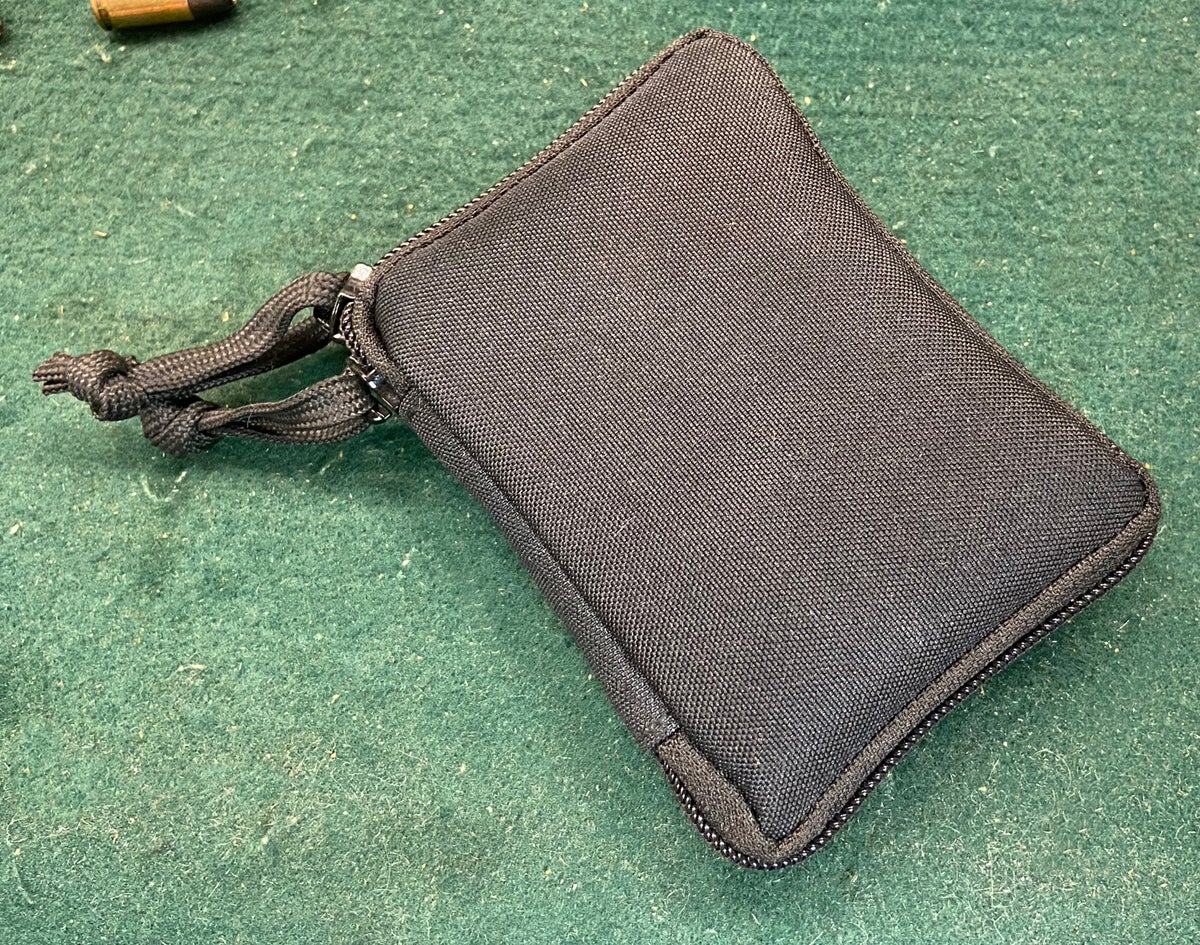 First, some specs on the kit:
3-way T-Handle wrench with knurled black spinner
Torque Driver which requires no presetting (15-65 inch lbs)
Includes 1/2″ Socket with 1/4″ bit adapter
Includes 15 bits (1 P1 Philips, 1 flat blade marked "5", 4 Torx (T10,T15,T20,T25), 5 standard hex (5/64,3/32,1/8,5/32,3/16), and 4 metric hex (2.5mm,3mm,4mm,5mm).
Can be used with any 1/4″ drive hex bits
Black zippered case with Molded Holder
Weight: 12.9 ounces / 0.81 pound
Dimensions of closed case: 3.5″x5″x1-1/4″ thick
Made in Taiwan
MSRP for the kit: $112 (torque driver alone MSRP $60)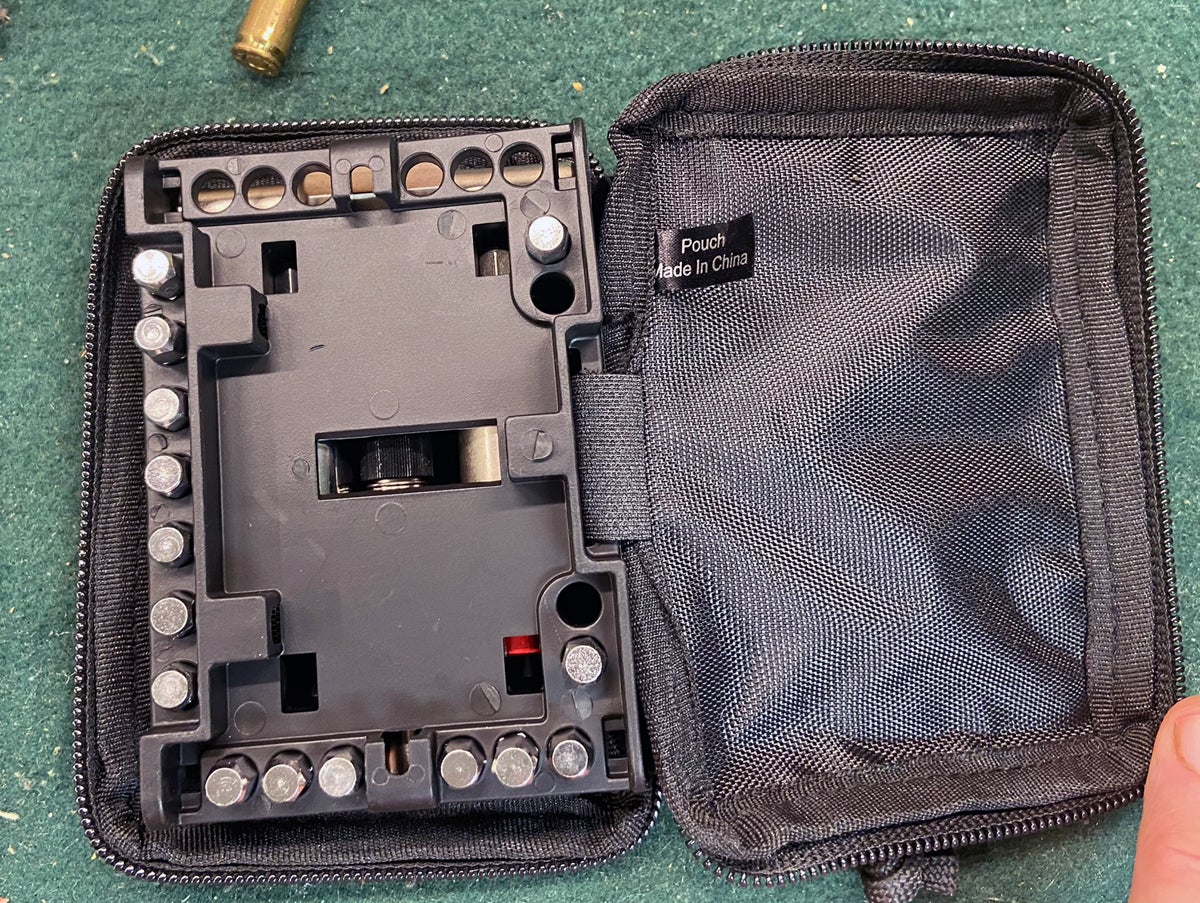 It's a simple tool, which often means the best kind of tool. The T handle has a black knurled spinner you can hold while using the T wrench with any 1/4″-hex-drive bits, including those in the kit. The handle has 3 female hex receivers, so you can use a bit in the end of the long leg for fast turning, or place a bit in one of the short legs to apply more "oomph."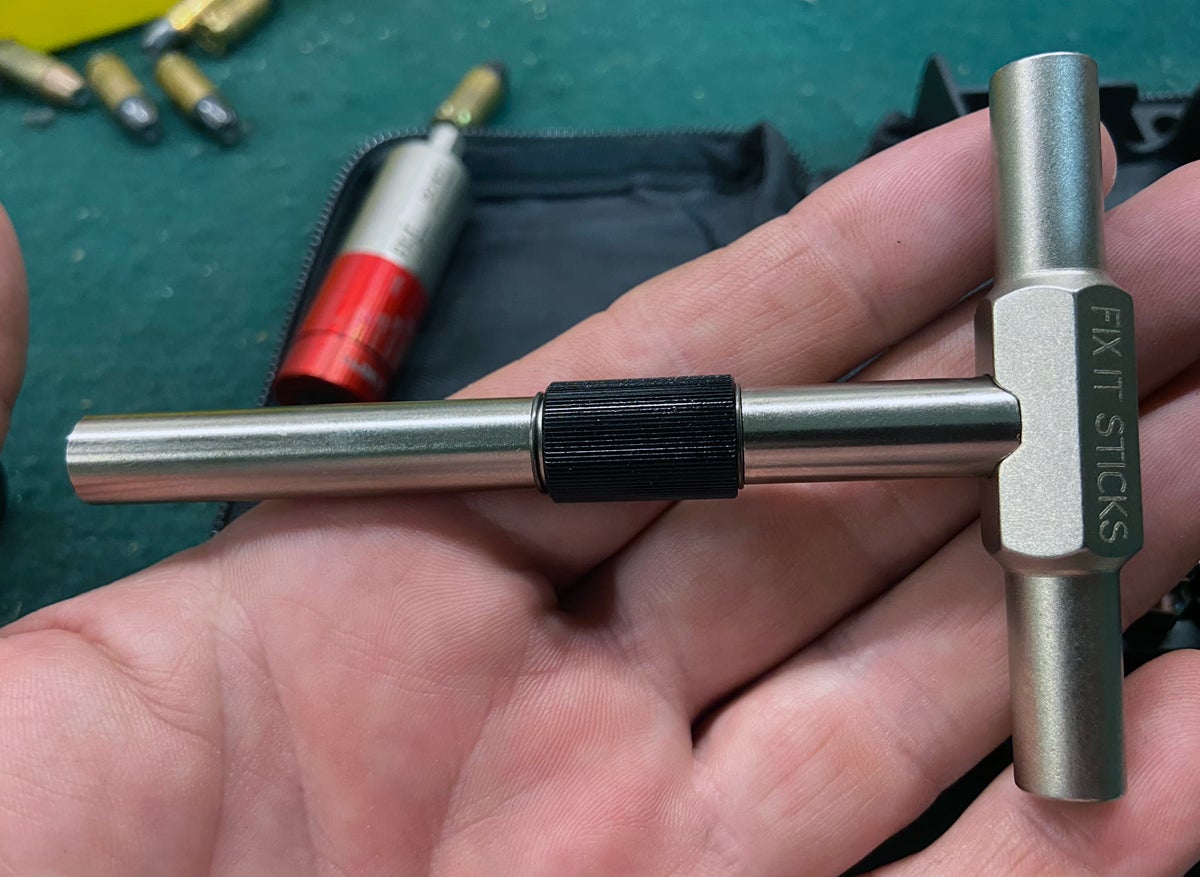 The torque driver itself is also simple; you don't set anything, just slip a bit into its red end, slip the T handle onto the hex extension on the other end, and tighten your fastener until the line on the bit end aligns with your desired torque value, in inch-pounds. There will be no click; you just stop when you get there, like the beam-style torque wrenches I use when I rebuild engines.
You do not need to pre-set the driver, so don't try to twist to adjust, and never use it to loosen fasteners or turn it counter-clockwise. While we're on the subject, never exceed 65 inch-pounds with the Fix It Sticks Torque Driver. As I said, it's nice and simple. Just tighten to the value you need, and you're done.
Here is a short video explaining how to use the tool, and what not to do:
I used this driver to install the Bushnell Nitro scope onto my Henry Long Ranger in 6.5 Creedmoor. I tightened the scope bases to 25 inch-pounds, which worked fine, but the hex bit from the Fix It Sticks kit was less than ideal. The bit was a loose fit in the hex screw heads. But worse than that, the bit is plated rather than made 100% of tool steel, and the plating began to flake off the bit. That's pretty lame in a kit that retails for north of $100.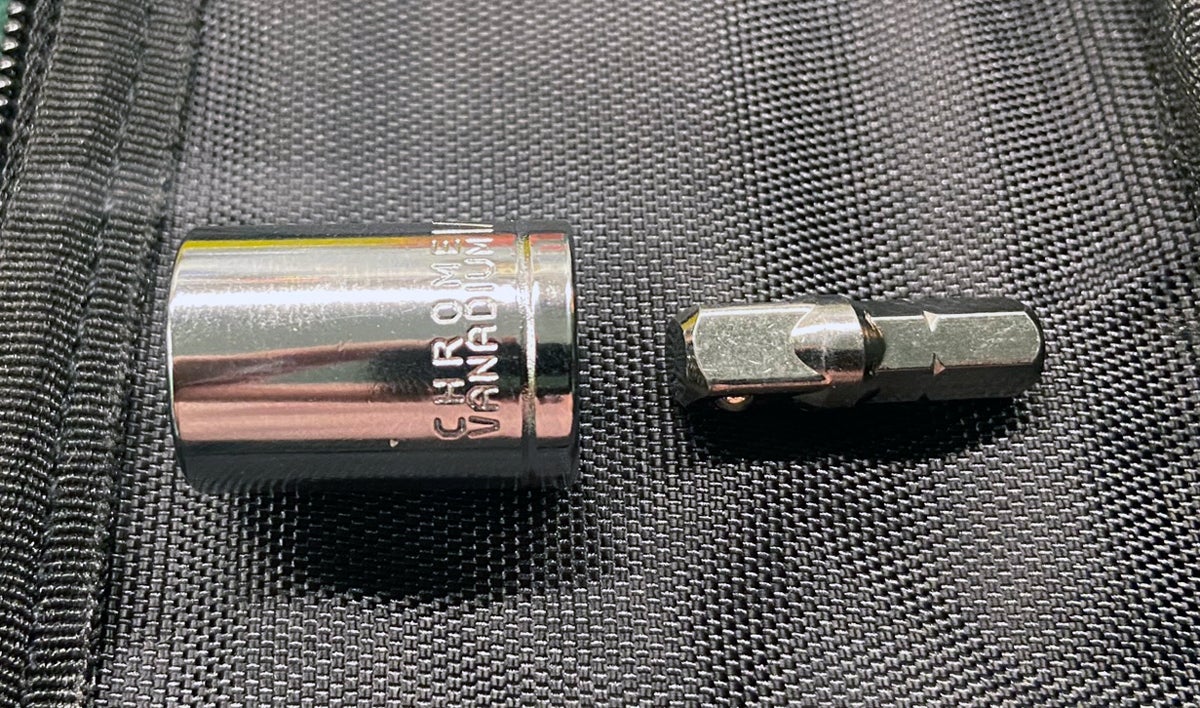 An adapter is included to allow the use of 1/4″ drive sockets; that's a nice touch. One socket is included, it's 1/2″ and marked with no brand.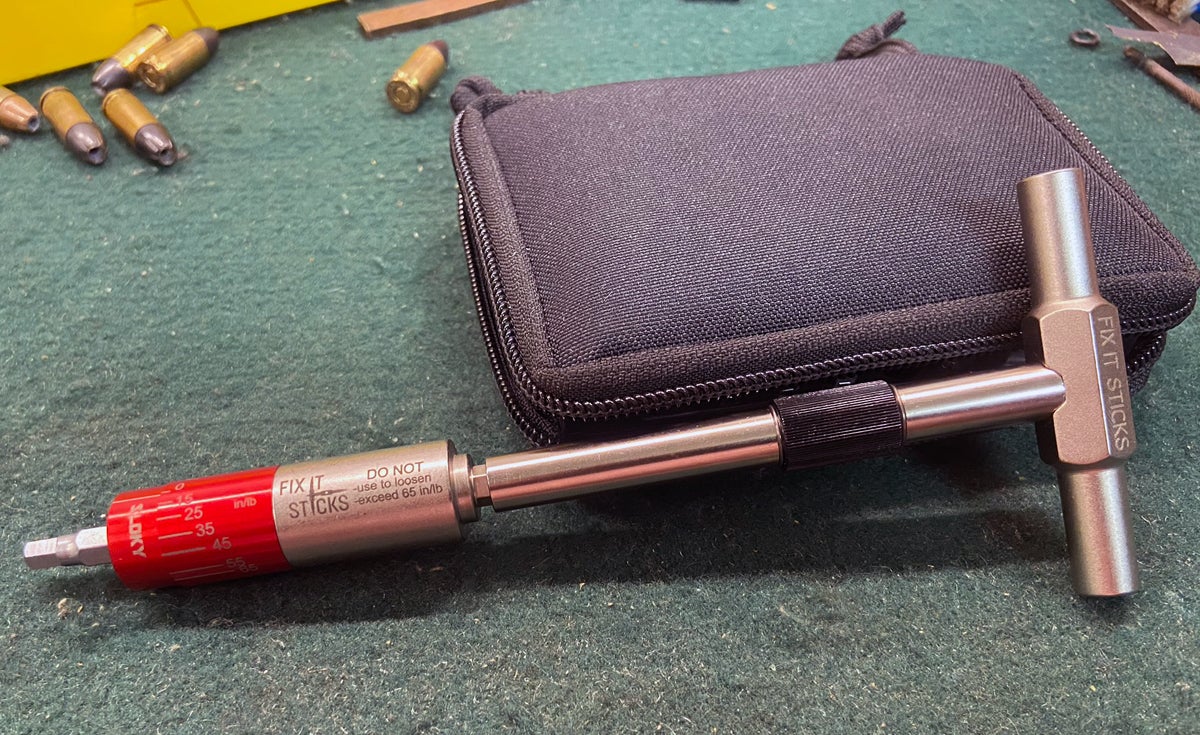 Other than the bits being plated and therefore fairly useless, I have no complaints about this little tool kit. If you are simply looking for the torque driver function, I suggest you purchase that separately because I don't judge the case, T-handle, and bits to be worth the extra $52. Chances are good you've already got one or more hex bit drivers anyhow, and you can use the Torque Driver in those — albeit without the extra leverage of a T-shaped handle.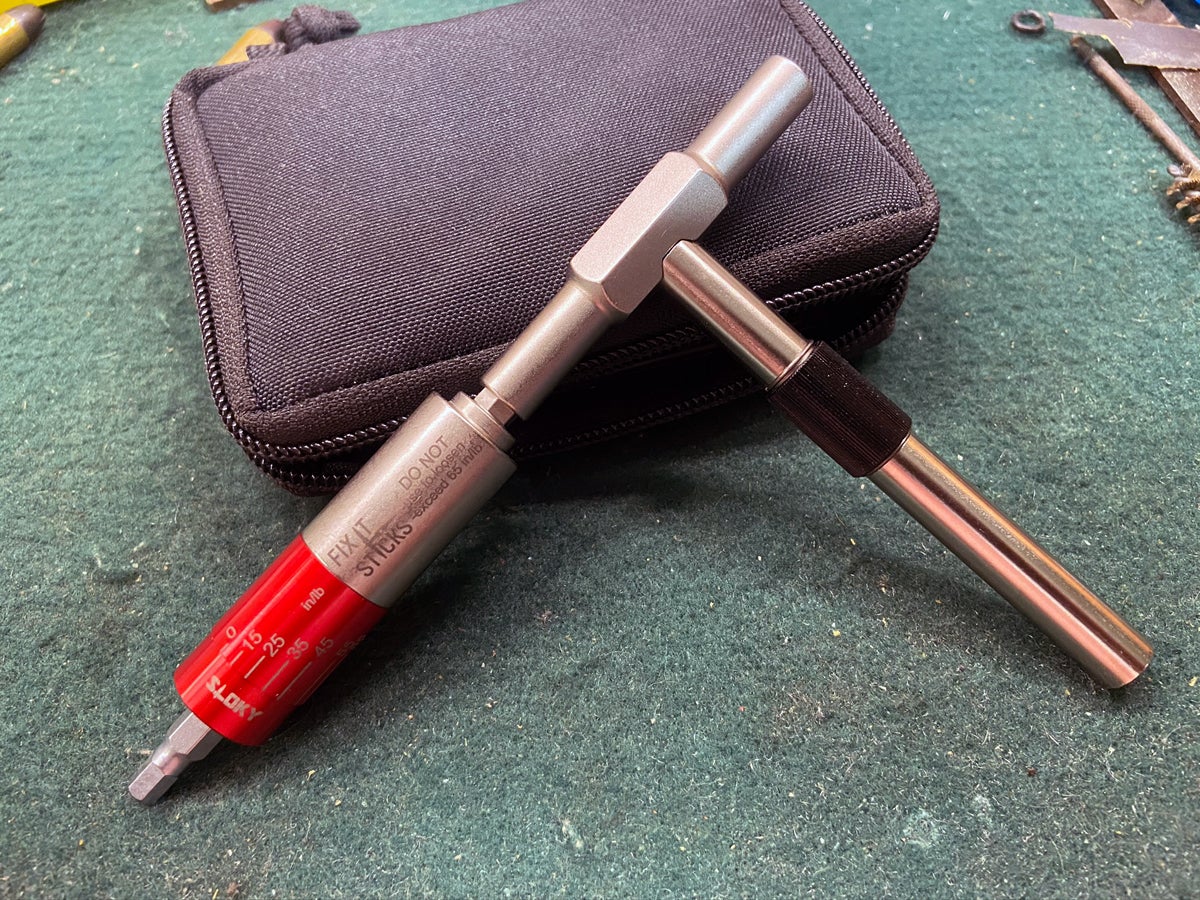 This is a nice little torque driver, and I trust its accuracy more than other small torque drivers I've tried. If the quality of the bits was up there with the rest of the tooling, I wouldn't hesitate to recommend it even at the relatively high price… but I have a problem with plated bits. The plating invariably comes off, and when that happens you have an even looser fit than before.
My recommendation based on this experience: Buy the Fix-It-Sticks driver rather than the kit.