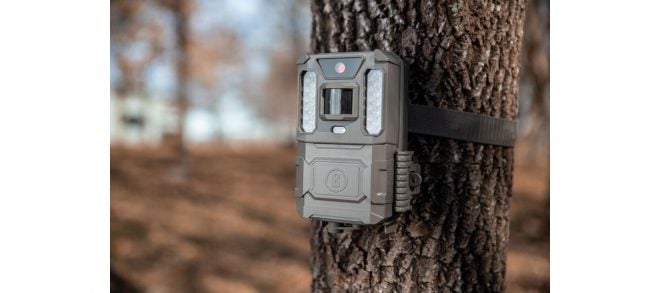 (Image: Bushnell/Vista)
Bushnell's new recently-announced Prime Low Glow trail camera looks to be a pretty good setup that won't break the bank. And one cool idea is the retail bundle that comes with batteries and an SD card. Like many newer cameras, they say the batteries can last up to one year.
Here's the press release:
Bushnell® Shipping New Prime Low Glow Trail Camera

Prime Low Glow Built for Reliable Performance at Affordable Price

OVERLAND PARK, Kan. Bushnell®, an industry leader in performance optics, announces the new Prime Low Glow, a trail camera for hunters seeking a reliable and affordable tool to keep a watchful eye on their favorite outdoor spots.

Built with the renowned quality of all Bushnell trail cameras, the Prime Low Glow features a straightforward setup and easy-to-navigate menu. Thirty-six low glow LEDs provide consistent illumination, with 24 megapixels of resolution for crystal-clear images no matter the time of day.

Adjustable settings allow the Prime Low Glow to capture one to three images per trigger, or anywhere from five to 60 seconds of video at a time. Hunters can adjust the trigger interval anywhere from one second to 60 minutes to help capture that perfect shot. The 24-megapixel resolution and automatic day/night sensor ensure crisp, vivid images, time after time.

Other features that contribute to the performance and exceptional value of the Prime Low Glow:

80-foot flash range
0.3-second trigger speed
1-second recovery rate
1080p at 30 fps video with audio
32 GB of storage capacity
Removable battery tray
Two-year limited warranty
Color: Brown
MSRP: $119.99
Bundle MSRP: $129.99 (includes 8 GB SD card and 6 AA batteries)

For more information, visit https://www.bushnell.com/trail-cameras/shop-all-trail-cameras/prime-low-glow-trail-camera/P2244690.html.