"Yukon Men" Dog Teams Have no Food; You Can Help
Russ Chastain 10.08.20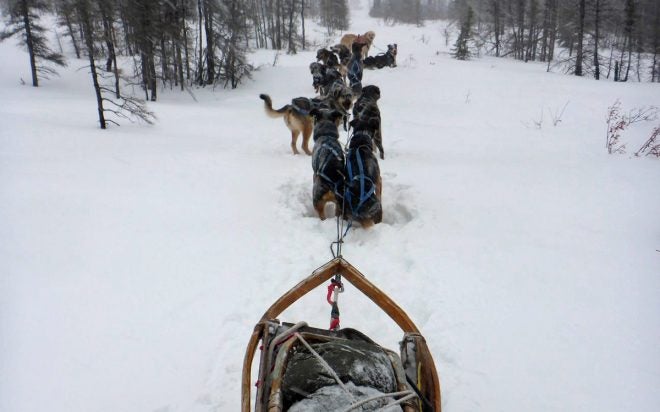 (Image: Stan Zuray)
If you watched the video I posted here recently showing Stan Zuray of Yukon Men taking a pickup truck down the Yukon River on a log raft, you probably noticed him mentioning that his sled dogs have no food for the coming winter. This is more than just a casual comment, as many Alaskans have no food for their sled dogs this year due to a disastrous fishing season.
Many Alaskans catch and preserve chum salmon in the fall and use it to fuel their dog teams — which are vital forms of transportation — through the long winter. But this fall's run of chum salmon was the lowest on record, leading the Fish and Game folks to close fishing for it entirely.
This has left many mushers in a bind; folks who use their dog teams to run traplines, go hunting and fishing,  and to haul necessities such as food, water, and firewood.
Musher Pat Moore who was also popular on the Yukon Men TV show has reportedly said he's bought thousands of pounds of meat & dry dog food and has gone around his home village of Tanana asking for freezer-burned meat, but that still won't be enough.
"I've got it figured that we've got enough food to maybe last us until December, and then we're out of money and we're out of food," Moore said.
It's more than simple transportation for many Alaskans, who have been passing down the dog-sled tradition for generations.
Anthony Shewfelt is a musher in Fort Yukon. He's been running his dog team since he was 12 years old. He passed the tradition on to his daughter when she was 12 to teach her dedication and responsibility. If mushers on the river can't feed their dogs, he's worried the tradition will disappear as people try to sell off or cull their animals.

"To me, it's like passing on a tradition, a healthy tradition because a lot of the Native traditions are dying off, like the language for instance," Shewfelt said. "So if we don't have fish to feed our dogs, that's another tradition that's going to go away."
Pat Moore's daughter Courtney Agnes was also on the Yukon Men TV show and recently posted a link to a GoFundMe fundraiser where folks can contribute to a fund to help purchase food to feed dogs teams this winter.
Here's what fundraiser organizer Stephanie Quinn-Davidson says on that page, which was created yesterday:
A few weeks ago, I put out a request on social media for assistance for Yukon River dog mushers , due to extremely poor salmon runs this summer. I tagged several large dog food companies in my post and thankfully (!), one of them, Purina, has generously responded with a donation of nearly 35,000 lbs of kibble! (THANK YOU, PURINA!!!)

I am now seeking financial assistance to help us ship that kibble out to the mushers in the villages that need it most. Purina is generously taking care of transport to Fairbanks, Alaska, but we need to secure funds to ship the food out to rural communities hundreds of miles away and off the road system. Freight to our rural communities is usually done by small planes (our communities only have gravel landing strips – so large cargo planes cannot land there) and can be very expensive. To ship 35,000 lbs of kibble out will likely cost between $7,000 and $12,000, depending on what kind of freight service we are able to secure.

Additionally, while Purina's donation is very much appreciated, it won't last through the whole winter for all the dog teams in need. So I am seeking additional financial support which I will use to purchase dog food locally in bulk and ship out to the villages to make sure we get these dog teams through the cold Alaska winters.

If you're able to chip in $5 or $500, every little bit helps. The poor salmon runs hit our communities unexpectedly and these dogs are part of peoples' traditional way of life… and part of their families.

Any questions? Feel free to contact me via Twitter @salmonstephak
Want to help Stan and other Yukon River dog mushers feed their animals so they don't have to sell them or put them down? Head on over to the GoFundMe page and chip in. At the time of this writing, they've raised $1,548 of their $10,000 goal.