Review of Earth Edge Mossy Oak Eco-Friendly Cushions
Russ Chastain 10.12.20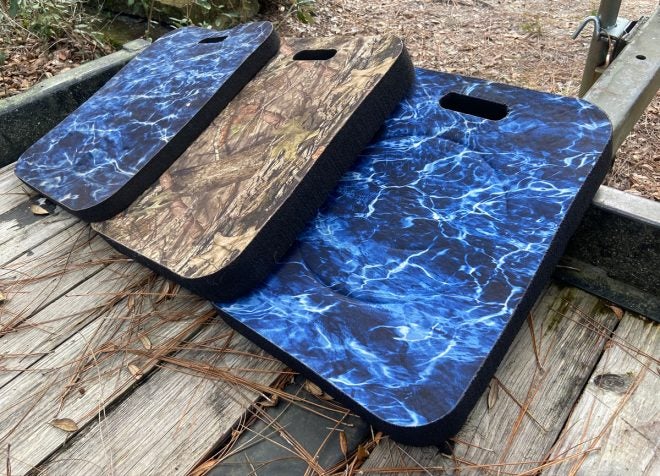 Three Earth Edge cushions with Mossy Oak camouflage.
(Photo © Russ Chastain)
Last year I told y'all about Earth Edge and their eco-friendly foam cushions, which were newly-available in two Mossy Oak camo patterns. Well, I've been enjoying some of these "comfort pads" for several months now, and it's time to review them here for you.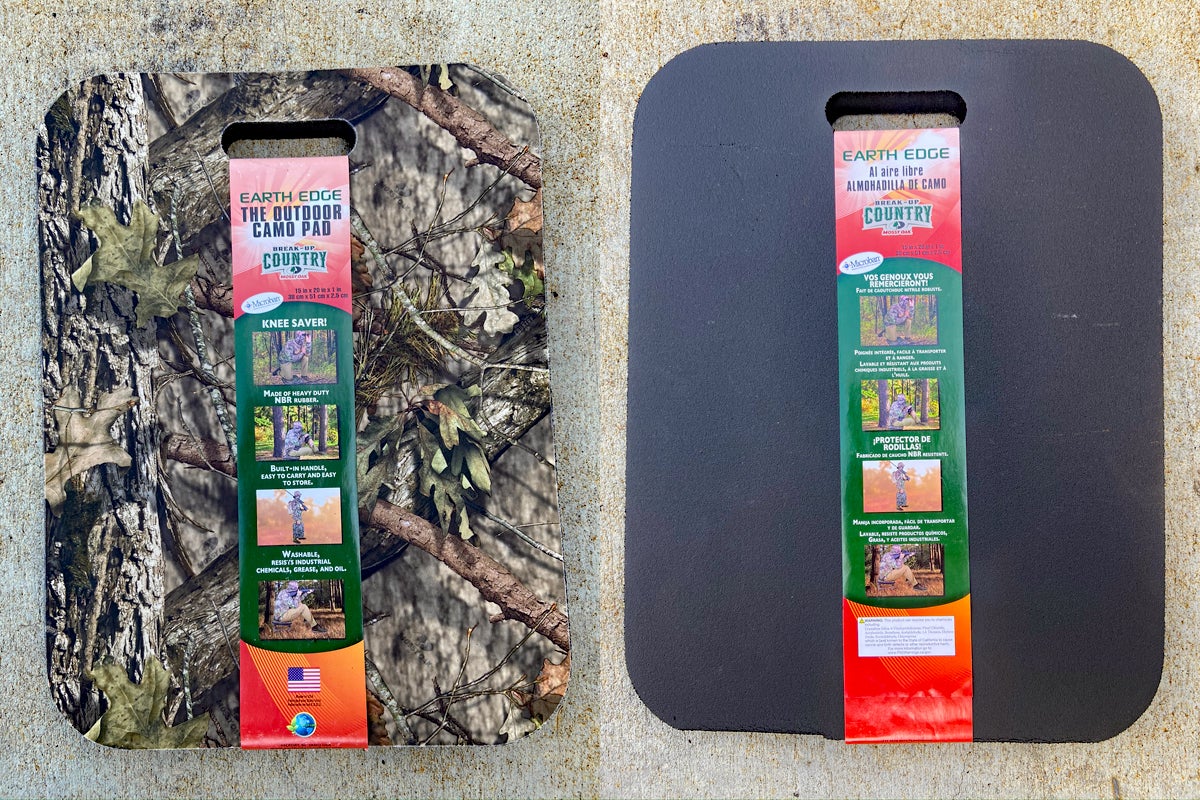 While driving the aisles of a tractor show in early 2019, I purchased a black foam cushion much like the Earth Edge pads, and I loved it so much I vowed to get another one. Along came Earth Edge, and my wish came true. One difference I've noticed between my no-name cushion and the Earth Edge Comfort Pad is the Earth Edge is a little more "mooshy." For example: when you pinch it, it will return to shape more slowly than the no-name cushion. Is that good or bad? You be the judge.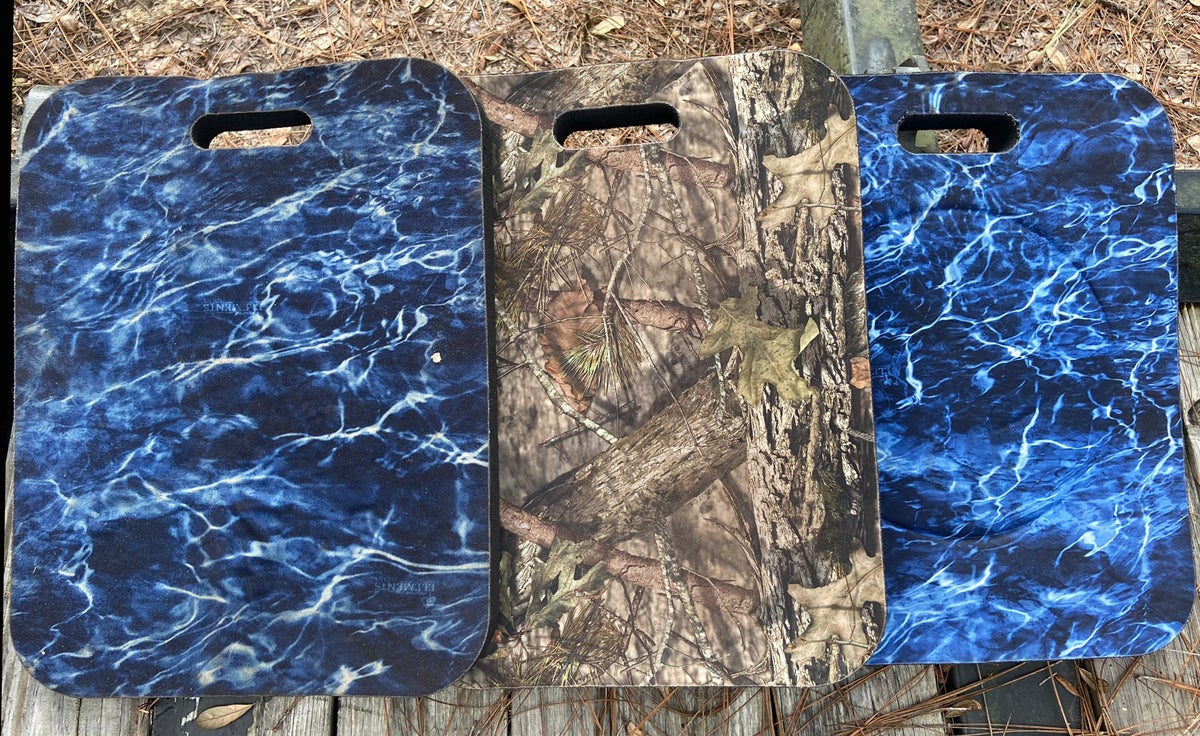 Here are some specs for Earth Edge pads:
15″ x 20″ in size (available in 1″ or 2″ thickness)
Cut-out carry handle
Made of NBR rubber (contains up to 20% internally recycled material)
Impregnated with Microban to avoid mold and mildew
Negligible volatile organic compounds (VOCs)
Washable, resists industrial chemicals, grease and oil
Floats
Available in Mossy Oak Break-Up Country or Mossy Oak Elements Agua
Made in the USA
Break-Up Country- 15″x20″x1″ – MSRP $19.99
Break-Up Country- 15″x20″x2″ – MSRP $34.99
Elements Agua – 15″x20″x1″ – MSRP $19.99
Elements Agua – 15″x20″x2″ – MSRP $34.99
I need to talk about size for a sec. In measuring my Earth Edge cushions I've found them to be 1/4″ thicker than specified, so the 1″ is 1-1/4″ and the 2″ measures 2-1/4″. In addition, I find the length and width to measure 1/8″ to 1/2″ shorter than the 15″ x 20″ specified size.
Thickness is where it's at, and the extra cushioning is a nice bonus.

Early on, I put one of the slimmer Earth Edge pads to work in my shop, where I do mechanical work on tractors and the like. I keep it on my short rolling stool to help my bony butt, and also use it as a kneeling pad when I have to get on my knees on that hard concrete floor. This is a huge help for creaky knees.
I gave an identical Earth Edge pad to a friend who does his own mechanical work in his garage, and after he tried it he thanked me profusely. It really is a great help on hard surfaces, and I've used one of the thicker Earth Edge pads when crawling around doing landscaping work around my house, reconfiguring planters and securing weed barrier and such. It makes a big difference to how long I can stand to do the work, and how my knees feel afterward.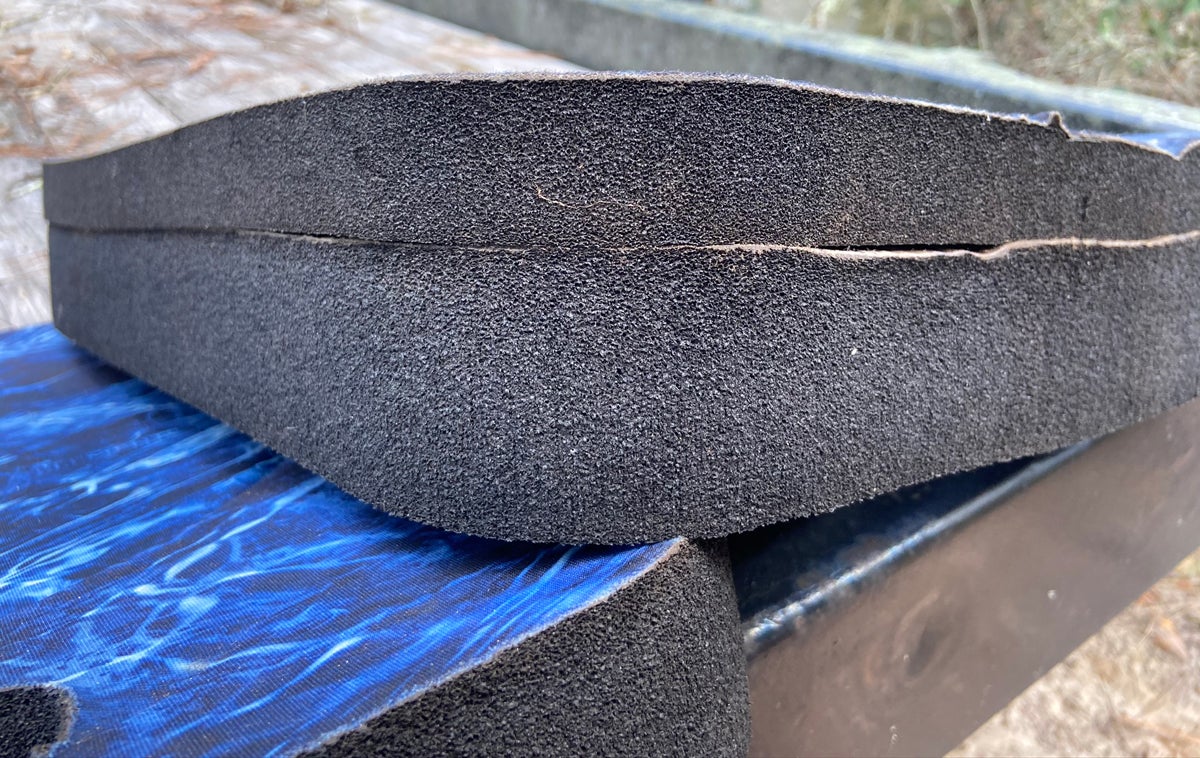 The cushion material has a lot of give and seems pretty tough, but the camo fabric cover does show some wear after less than a year in my shop. The fabric itself isn't torn or worn through, but it's begun to come unglued from the cushion itself.
I use the one in my shop often, and I don't baby it; it gets grabbed with hands that may be dirty, greasy, oily, and tossed onto a floor in about the same condition. I mean, I avoid laying it directly in oil or grease but it gets some rough handling. And unfortunately, that's starting to show.

If you look at the right view of the image above, you can see the fabric "bagging" or lifting up in areas that are not near the edge of the cushion. It's easiest to see to the right of the handle, and of course the fabric is also lifting at the edges of the handle.
When I lifted the edge of the fabric, it easily raised as high as the left-hand photo with almost no resistance, and the adhesive is quite tacky. So if this fabric comes all the way off, one side of the cushion will be a sticky mess.
That's the one bummer I found after spending almost a year with some of these cushions, and the cushions themselves are still doing fine. To order your own, look around online. I've seen them on Amazon and eBay.
Happy hunting!