Zeroing my Savage Sierra Rifle with Sierra GameChanger 308 Ammo
Russ Chastain 10.19.20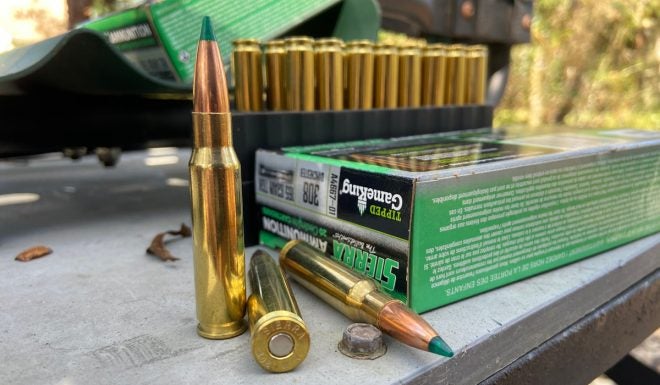 Sierra GameChanger 308 Win hunting ammo with 165-grain TGK bullets.
(Photo © Russ Chastain)
At the 2020 SHOT Show I had the good fortune to speak with a PR rep for Sierra, the legendary bullet-making company which brought out its own line of loaded ammo in 2019. I wrote up a post about their new 2020 offerings, and managed to get my hands on some ammo as well. The first rifle I tried the Sierra GameChanger ammo in was, appropriately enough, a Savage Sierra Model 10 bolt-action rifle, which I've described as my favorite all-around hunting rifle.
Sierra's reputation is pretty much stellar when it comes to bullets. They are simply one of the best in terms of quality and consistency, and their loaded ammunition reflects this also. Their commitment is evident in the headstamp; instead of using brass made by anyone else, each cartridge case is clearly marked SIERRA.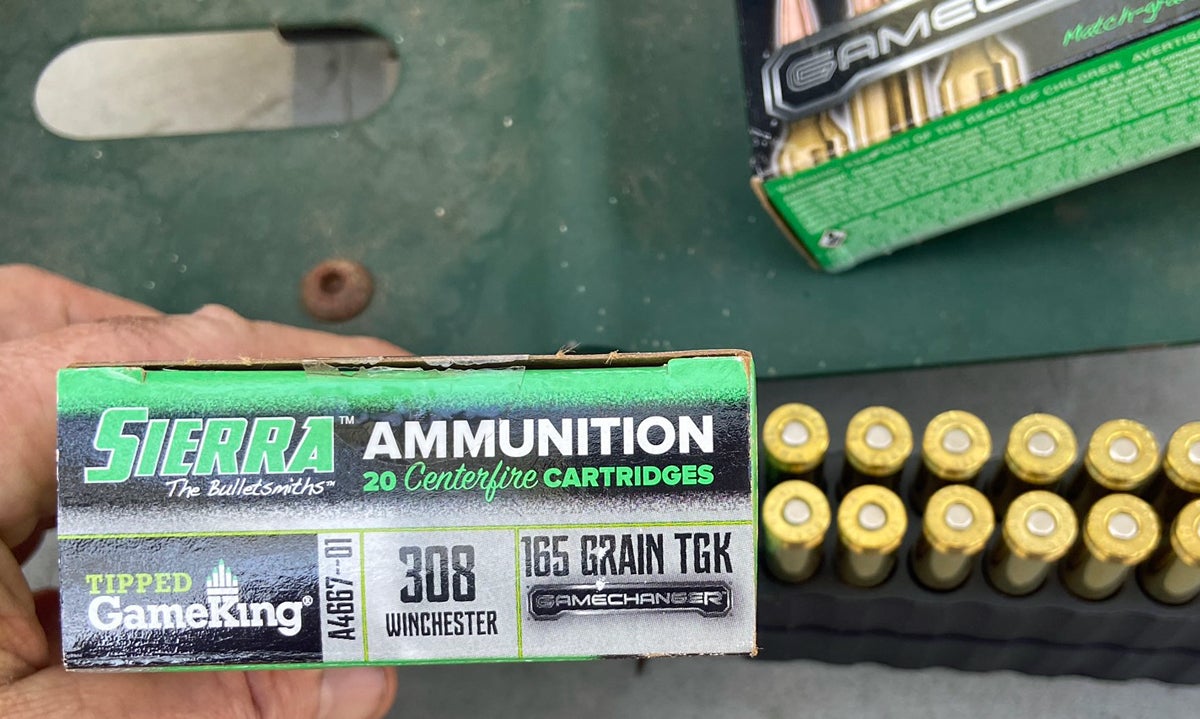 The load I had on hand was GameChanger A4667–01, which features a 165-grain Sierra Tipped GameKing (TGK) bullet with an advertised muzzle velocity of 2680 fps.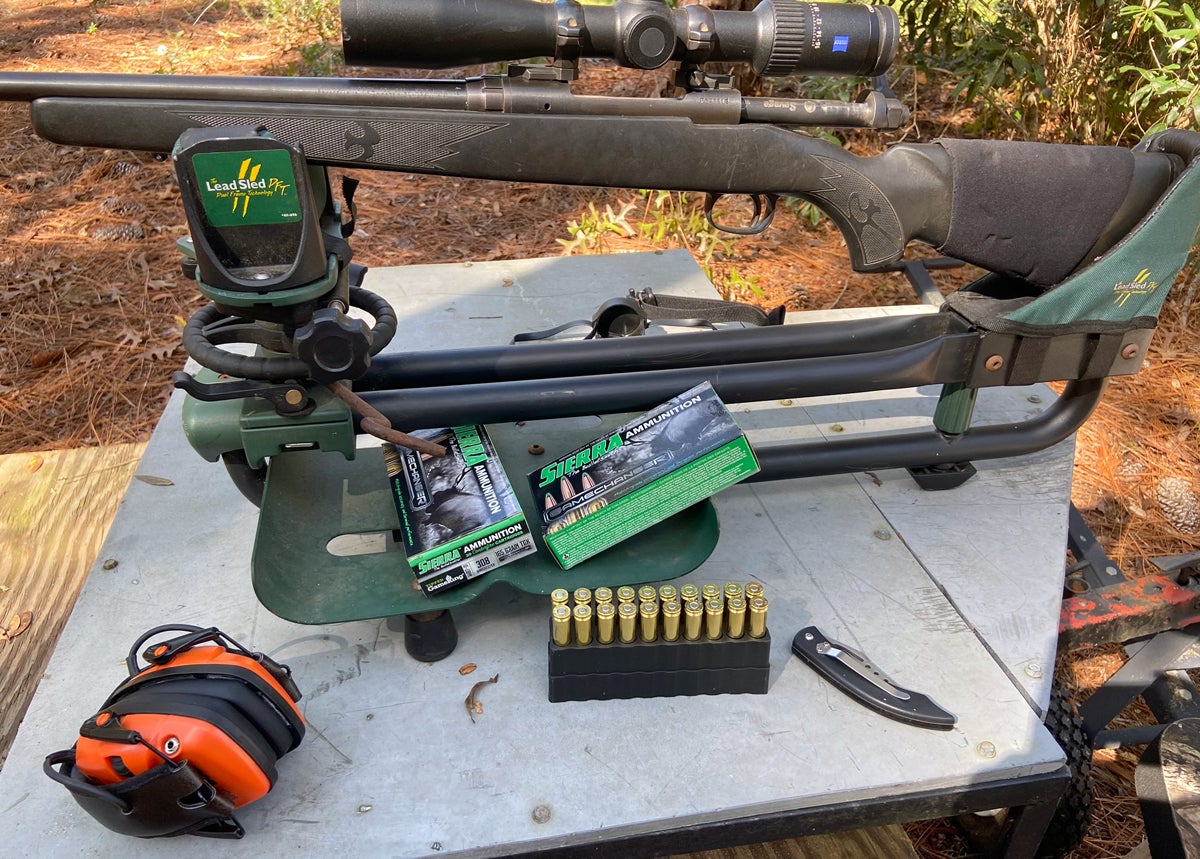 When you cram a given factory load into a given rifle, you have no real idea what to expect. No matter how much quality goes into the cartridge, it just might not perform well in your particular rifle. But I was certainly surprised when I fired at an 8.5″x11″ target stapled to a slightly-larger box and missed the whole thing at 100 yards! Last time I used this rifle, it was doing quite well with Winchester Deer Season XP 150-grain ammo.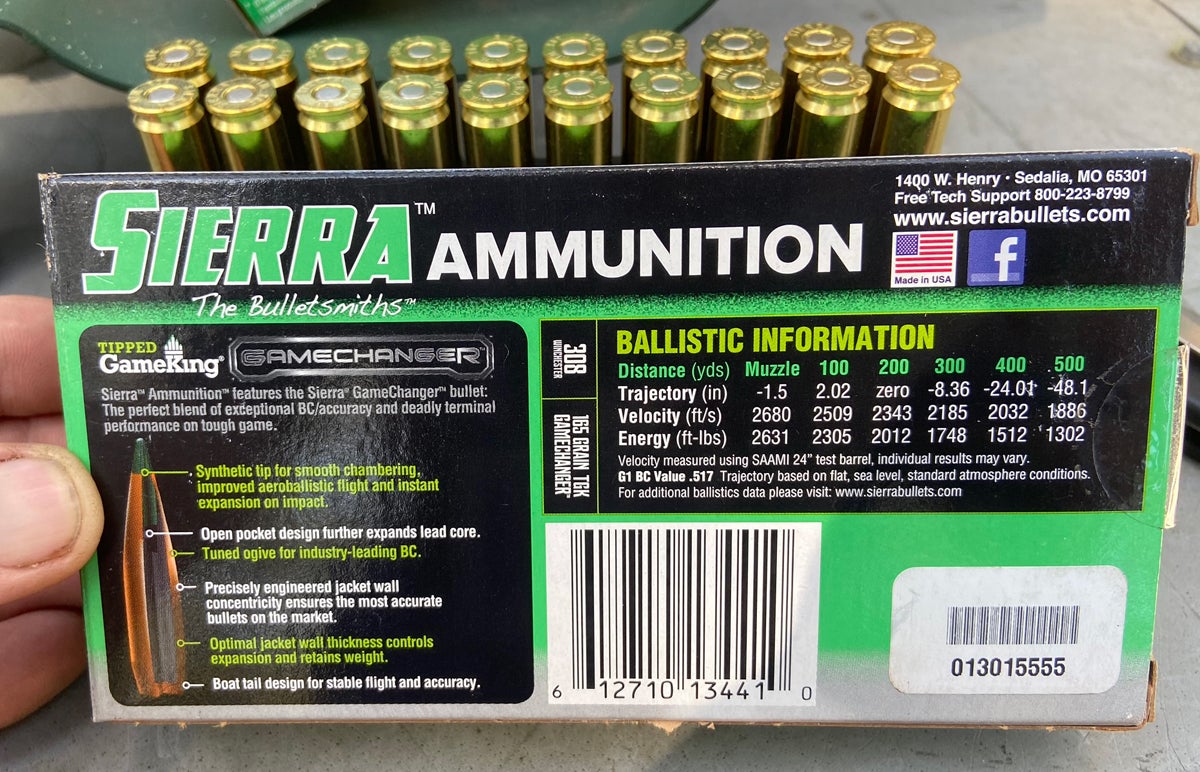 I moved closer and at 45 yards I fired a pair of shots which touched one another, but they hit 3 inches to the right! That's quite a difference, but with a group that tight I wasn't ready to complain, so I adjusted the scope and fired another pair, which again were close enough to touch. I moved back out to 100 yards again, and fired another pair. These hit quite close to the previous 45-yard pair, 5/8″ apart. No complaints about that group size!
Another adjustment and I fired a pair 7/8″ apart, then backed out to 150 yards (the longest range available) and fired another couple. Once again, elevation didn't change much despite the increased distance to the target, and the center of the group remained to the left of the target's center. A spread of 1.5″ between the bullets means it's right at minute-of-angle (MOA), and that ain't bad out of my old 20″-barrel production Savage.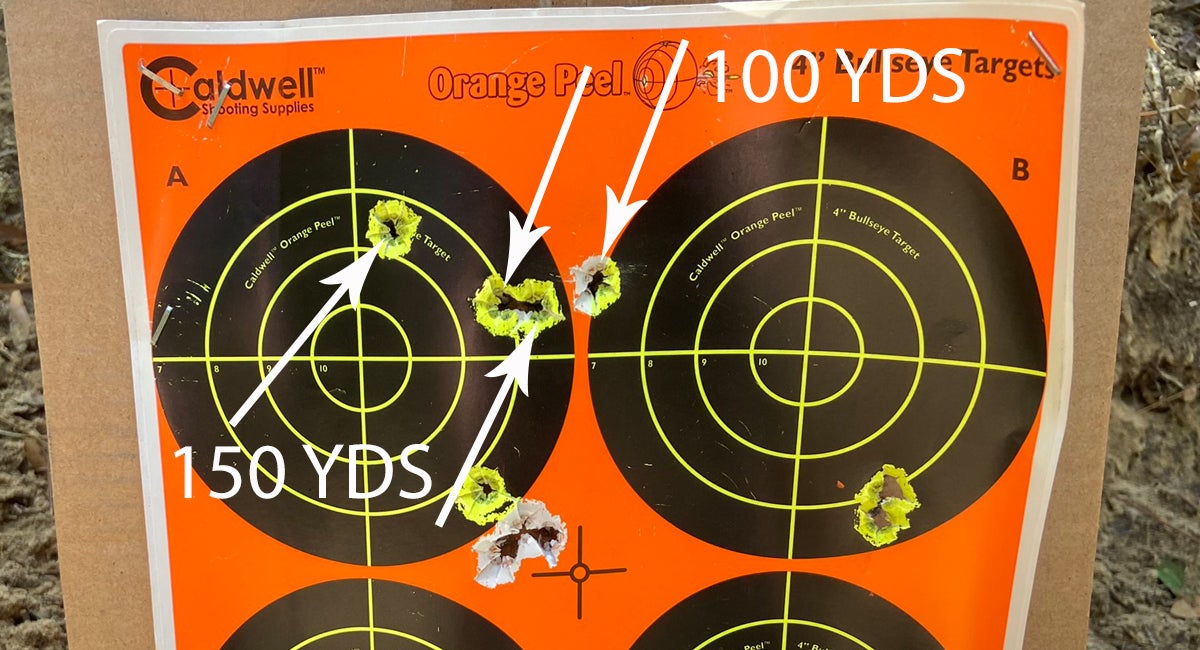 I adjusted the scope 3 clicks to the right and put up a new target. Aiming at the center, my first shot was too high and right to suit me. The second shot was not as high, but was still 1-7/8″ to the right. A third shot matched that one's elevation, but hit a good 1-1/4″ left. It was time to knock off and shoot again later; I suspect a hot barrel was contributing to my lack of accuracy, combined with the hot weather itself, which had me somewhat fatigued.
A few hours later, I headed back out with the last two shells in that box of ammo, and once again settled in at 150 yards. I was cool, I was calm, and I hadn't been hiking downrange & back. Remembering what my father taught me so many years ago, I settled behind the rifle and steadied my breathing, took a deep breath and let half of it out, then paused and squeezed the trigger.
Then I did it again.
My first shot was 2″ high and about 5/16″ left; the second was barely higher & less than 1-1/4″ right. Two inches high was my goal, and with only 1-9/16″ between the hits (just 1/16″ more than MOA), I was satisfied. And after adjusting the scope left one click I was ready to hit the woods in search of a whitetail to slay.
I am definitely impressed with Sierra GameChanger ammunition, and although it is priced above my usual ammo (average about $40 a box), the quality definitely shows in this 165-grain 308 load and I'm really looking forward to dropping some deer with Sierra ammo in my old faithful Sierra model rifle this season. It might just be a match made in Heaven.