Black Collar Arms Ushers in New-Era Bolt Guns, Scope Mounts
Eve Flanigan 10.23.20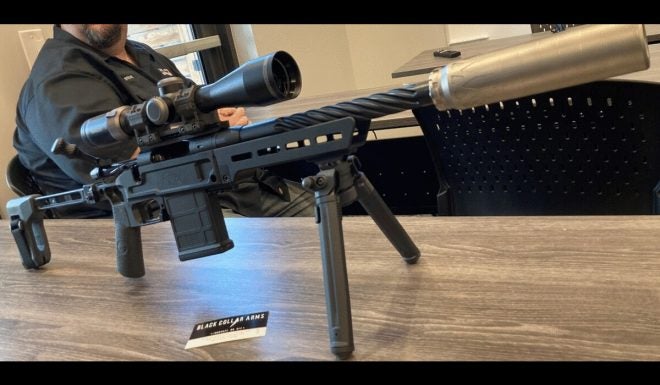 At the recent Blue August Gun and Outdoor Writers' Conference, hosted in Dallas this year, I had the chance to meet Jeremy S., a man who wears many hats in the gun industry, including inventor, manufacturer, reviewer, and writer. It's safe to say he's a ballistic renaissance man. His mind has hatched a number of innovative ideas that have come to life as products of the company he co-owns, Black Collar Arms. At the conference, I had the chance to check out a few of the goods. Here are highlights.
A home-built or factory-built bolt action pistol
AR builds are so 2010. What's really different is building your own bolt gun. With the "Pork Sword," Black Collar Arms slides in a little double entendre with a serious rifle. The Pork Sword is a chassis based on the Remington 700 platform, made of 7075 aluminum. It weighs a feather-light 13.6 ounces.
This simple bit of metal forms the basis of the custom "modular and minimalist" bolt gun of anyone's dreams who wishes to pursue it. It's available in left- or right-handed configuration and in a number of custom finishes. The engraved Pork Sword logo is optional.
These are great quality components. Buyers can expect the 6.5 Creedmoor chambering to be "quarter MOA" accurate, and others "at least half MOA, if not better," according to Jeremy. Though Black Collar Arms is a premium brand, many new shooters have been drawn to make one of these pistols their first firearm, thanks in large part to a combination of location in a receptive market and an utterly hip approach to advertising.
The chassis starts at $299.99. Two eight-inch forend types are available. Choose a Black Collar Arms barreled action, or add your own. Braces are also available. The process is promised to be much easier than building an AR. Want to get straight to shooting? Order a complete gun. The dealer grade Pork Sword pistol is $2,599. Or spec one out with your choice of 23 chamberings and 17 other options.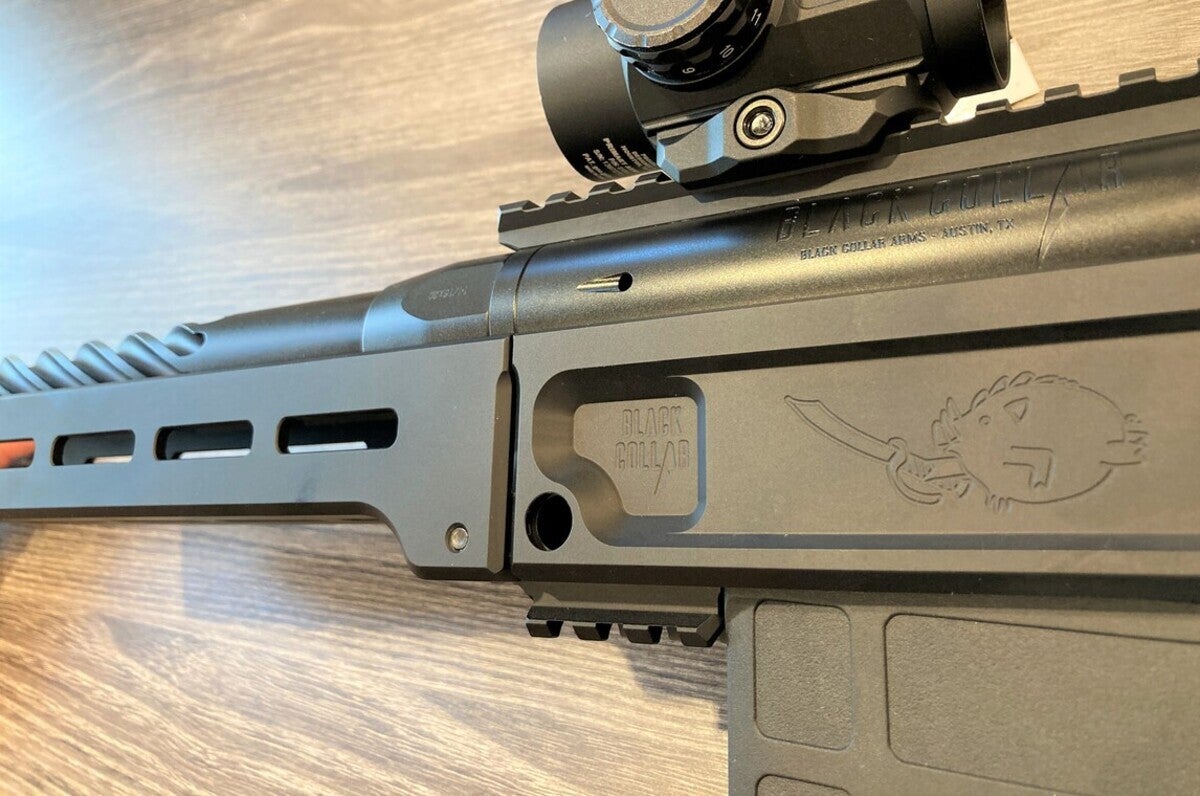 The coolest 22LR
Another star of the Black Collar Arms lineup at the conference was a little 22LR "pistol," with a short, threaded barrel and suppressor, set up on a bipod and a scope. Everyone in the place seemed to fall in love with this one. Jeremy described it as an economical, easy pick for practicing technique for ELR matches, and it was easy to see why. Silky-smooth bolt operation, a reliably feeding magazine, perfectly adjustable stock, and bipod attachment made this little rifle a recoil-free pleasure. It was superbly accurate with our approximate 20-yard target placement. Most people who shot this rifle remarked on its near-silent operation. With the suppressor and subsonic ammo, it's actually louder in dry fire than it is in actual fire! This one isn't in the catalog yet.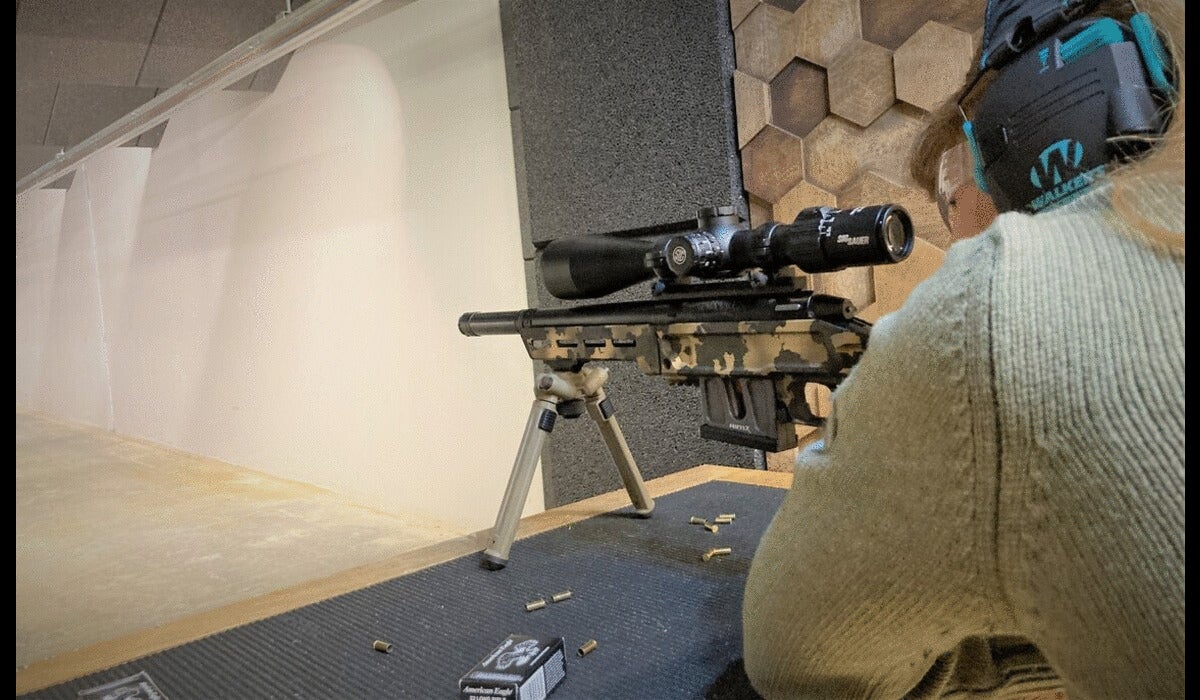 The "Dalton" of scope mounts
I've decided that if a bolt gun can be called Pork Sword, I can call a scope mount Dalton–at least in this article. Fans of the movie "Roadhouse" will know the reference. A supremely tough and attractive character needs a product namesake. There's perhaps no product that meets that description better than the Black Collar Arms Forged Carbon Fiber One-Piece Scope Mount (see, isn't "Dalton" easier?) Who knew that carbon fiber, a material associated with luxury, could be crafted to look like a marble sculpture—and still withstand a beating so hard that the scope is literally bent, while the mount stays solid? This thing is stronger than aluminum, and lighter than titanium (5.2 ounces). With a buyer's choice of finish, this mount's appearance can be customized to your liking. It's not cheap at $399.99, but for a mount that will be around for the next Ice Age, why not splurge and get yourself something that's remarkably attractive and tough?
Going big
The gun industry is in a boom, and Black Collar Arms is riding a tall wave. Their sub-MOA bolt rifle/pistols are selling like hotcakes in central Texas. But I look for this company to hit the big time and stay around. They fill a niche most people didn't realize even exists. Who else has a bolt-operated, super-accurate, futuristic, rifle-platform pistol or a carbon fiber scope mount? These products are attractive to both look at and use, and the modular components can be changed over time. The guns can be assets for competitive target shooters practicing for matches, hunters who want a backpack-ready but serious rifle, and hobbyists who enjoy having a gun that's like no other.