Extant Labs Synthetic CLP/Lubes: a Serious Gun Maintenance Upgrade
Eve Flanigan 11.11.20

Recently I had the chance to test some new gun cleaning products. While that may not sound exciting, it's worth noting that technology and innovation are finally trickling into the realm of how we clean and lubricate guns. It's something we can all benefit from. At the Lucid Optics Ballistic Summit this fall, I was introduced to Extant Labs' products, which I'd never before seen. These formulas are outstanding in both performance and user-friendly packaging.
New Chemicals from Extant Labs
CLP (cleaner, lubricant, and protectant) products have a bad rap in many circles. The most common complaint is that some become gummy or flaky instead offering lubricity in below-freezing temperatures, or simply evaporate in very hot environments. Not so with Echo Two-Five E-CLP. It removes carbon and even old CLP with remarkable speed. According to the product label, it contains "thousands of microscopic, non-metallic ball bearings" to facilitate smooth operation.
Those with competition or other tight-tolerance guns might like Alpha Sauce, a synthetic lubricant that also contains microscopic ball bearings to keep those finely-machined guns running well. Both Alpha Sauce and Echo Two-Five CLP are packaged in two-ounce bottles with needle-nose type applicator lids. "Shake Well" appears on the instructions for each, kind of unusual for gun maintenance products. They're $13.99 each.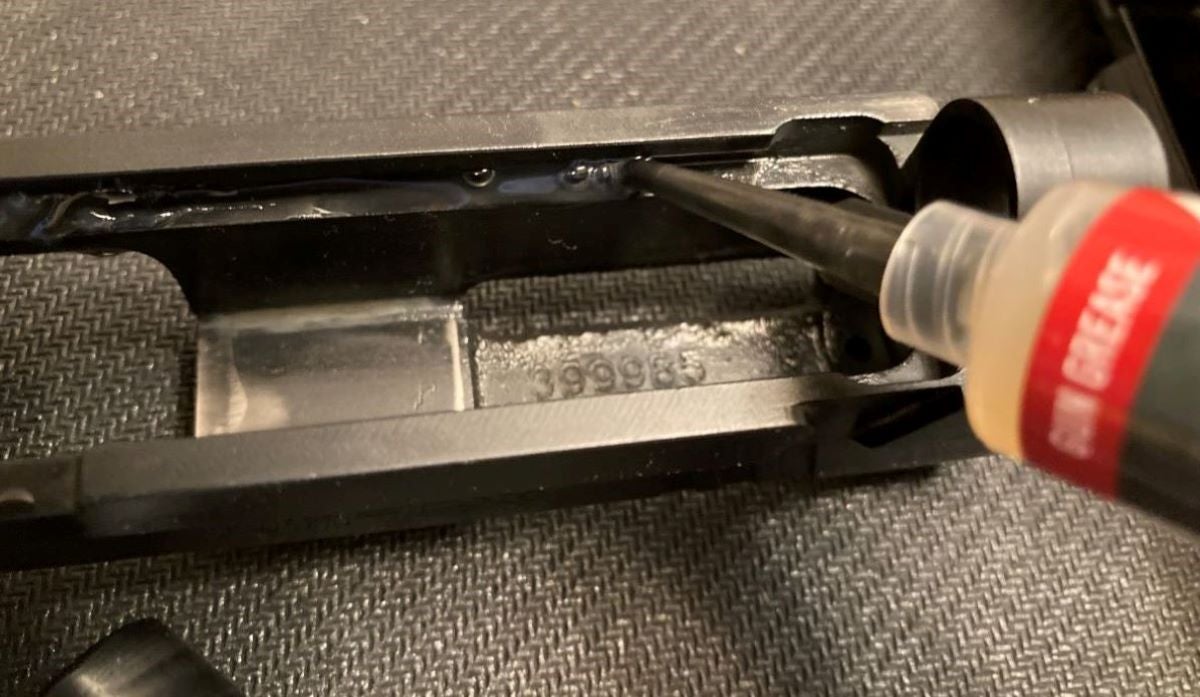 Another product was provided as a set inside a leak-proof, resealable sleeve that works well in a range bag. The Echo Combo is a gun grease and oil set, with a syringe delivery system. The products in this set are Echo Gel gun grease and Echo Two-Five gun oil. Guns used heavily, especially with suppressors, can benefit from lubricant that stands up to high temperatures. These products are a bit more viscous than the first two mentioned. The 10-milliliter syringe delivery system allows for precise application to high-friction surfaces like the rails in a pistol slide. The Echo Combo set is sold for $14.99.
I don't use a suppressor with my own guns, but I have thus far found Extant Labs' products to stand up well to repeated firing in dusty conditions. The guns that ride in my car have been exposed to both freezing temps and at least 90°F in storage. So far, there's no sign of chalky residue as I've experienced with some CLP products. Unlike with fossil fuel-based cleaners, it's okay to use a lubricant like Alpha Sauce or Echo Two-Five CLP inside the barrel. It protects against corrosion while reducing friction. Just apply sparingly.
In the realm of motor vehicle maintenance, the value of synthetic lubricants and detergents has been established for over 20 years. It's about time gun maintenance enjoyed the same benefits. Extant Labs has made that possible and the intelligent, compact packaging for these products makes it easy to perform maintenance anywhere your range gear goes.
For people who have a gun business, there's more. Any of these products are offered straight from Extant Labs with custom labeling to allow your company to offer the best in gun care while building brand recognition. Extant Labs also makes blade, bicycle, and fishing gear lubes. Individual gun owners can order direct. Military/law enforcement discounts are available for individuals who confirm their status.