CCI Releases Maxi-Mag Clean-22 Segmented Hollow Point 22 WMR
Adam Scepaniak 11.12.20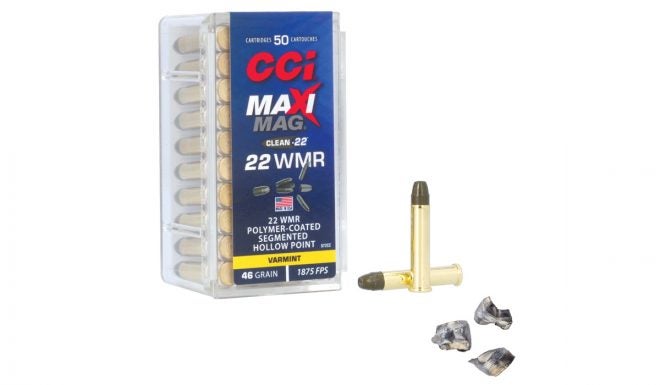 CCI has taken all of the clean properties from their Clean-22 line of rimfire ammunition and applied it to a Maxi-Mag Segmented Hollow Point in .22 W.M.R. (22 Winchester Magnum Rimfire aka 22 Magnum) to the delight of rimfire plinksters, hunters, and recreational shooters. All of the important properties and specifications for the Maxi-Mag Clean-22 Segmented Hollow Point 22 WMR can be read below as presented by CCI:
The industry's only segmenting hollow-point bullet in 22 WMR
Polymer bullet coating greatly reduces lead fouling in the barrel without leaving residue
Allows expansion at lower velocities than copper-jacketed bullets
Reduces the risk of penetration through the target and beyond
Optimized bullet geometry for improved accuracy
972CC | 22 WMR Maxi Mag Clean-22 SHP | 46 Grain | 50 Count | MSRP $18.99


As stated above, all of this NEW ammunition from CCI will come in standard 50-count packaging and will retail for a reasonable MSRP of $18.99 each. The 46 Grain projectile is an interesting grain weight choice, but if CCI has chosen that size it must pair ballistically well with their unique Segmented Hollow Point design. A final Press Release from CCI can be read below as well:
"LEWISTON, Idaho – The Clean-22 coating technology that made rimfire clean is now being used to extend the range and power of 22 WMR. New CCI Maxi-Mag Clean-22 Segmented Hollow Point (SHP) uses an exclusive polymer bullet coating to greatly reduce copper and lead fouling in the barrel—without leaving a residue. Shipments of this new product have begun to arrive at dealers.

The 46-grain SHP bullet splits into three equal-size pieces on impact, tripling the number of wound channels. The polymer bullet coating allows this separation at much lower velocities and longer distances than a conventional copper jacket. The bullet's overall geometry is optimized for accuracy, and dependable CCI priming and propellant provide flawless cycling through semi-automatics and all 22 WMR firearms."
As we begin to head into the winter months it can become an opportune time for many shooters to stalk the woods for squirrels, chipmunks, and other varmints. Whether you are looking to fill a crockpot or eliminate some pesky critters, would you give this load from CCI a shot? As always, let us know all of your thoughts in the Comments below! We always appreciate your feedback.