There's really only one thing that can equal getting the long skinny box under the tree if you are an outdoor enthusiast, and that is getting the massive heavy box that is as big as the tree. Yeah, I'm talking about gun safes. Who doesn't want a proper way to safely and securely store their firearms and valuables? And if you have filled your gun safe, then you need another one, right? Of course you do. If you're in the market this holiday season for a gun safe, whether it's for you, or as a special gift to a loved one, you're at the right place. We've rounded up the best Black Friday gun safe deals for you.
We've updated this story with the latest Cyber Monday sales on high-quality gun safes!
Cannon 40-Gun Safe – Tractor Supply $699!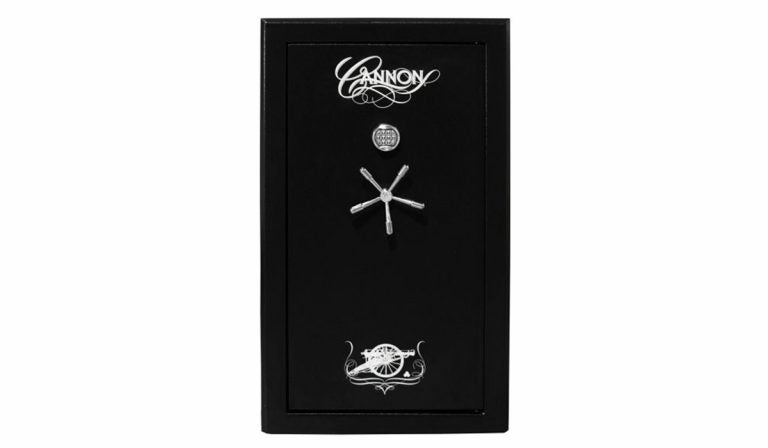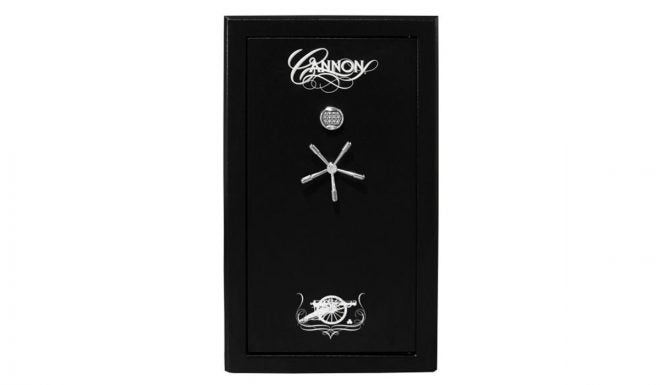 We like big safes and we cannot lie! And where do you get the best deals on gun safes this time of year? It sure seems like Tractor Supply Co. is the place to go. The Cannon TS5934-45 Safe provides maximum peace of mind for what matters most to you.
Fire rated for 45 minutes at 1200 degrees and made of solid steel, the TS5934-45 contains a customizable interior that can hold up to 40 long guns and any valuables you wish to secure. Equipped with 8 1.25 in. diameter locking bolts and a triple hard locking plate, the Cannon TS5934-45 was designed to prevent pry and drill attacks. Backed by Cannon's Lifetime Replacement Promise, you can rest assured that your firearms and valuables are protected. Regularly $799, you can get it now for $699.99
Check out this Black Friday Deal!
Cannon Safe Valley Forge Series 64-Gun Safe – Academy Sports $599!
Cannon Safes are among the best available. This massive 64-gun safe will hold all your firearms, plus a whole lot more, including your valuables and important paperwork. It is made of 14-gauge steel with Cannon's TRULock internal hinges for added security.
This safe is fire rated for 30 minutes, too. It has a digital lock with a classic spinning handle on the outside. The interior is upholstered and is set up to allow you to customize the space to your needs. These sweet safes normally run $1,000, but Academy has a black friday deal on these gun safes for just $599.99!
Check out this Black Friday Deal!
Cabela's Safes – Starting at $499
Cabela's always comes through with some stellar Black Friday Deals. This year they have multiple safes on sale that you should check into. They have safes ranging from 30-long gun safes, up to ones that hold 49. All are steel construction and fire rated. They also have some sweet small handgun safes, too. And if you're a Cabela's Club member, there's a lot of points up for grabs.
Check out this Black Friday Deal!
Stack On 22-Gun Convertible Safe – Tractor Supply Company $449!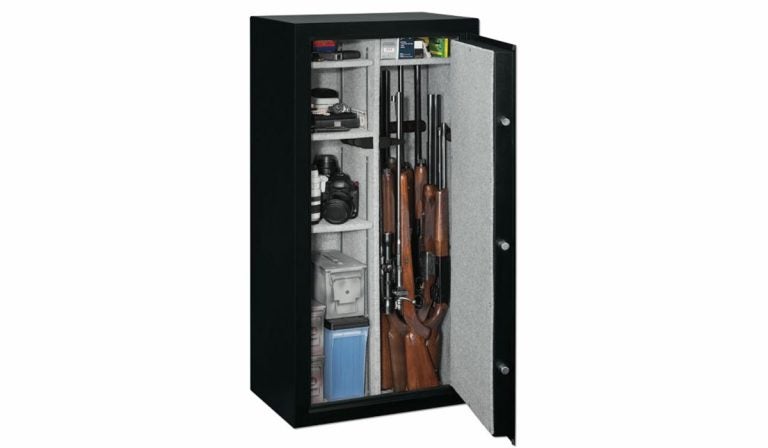 Tractor Supply Co. is at it again with the Stack-On SS-22-MB-E 22-Gun Convertible Safe with Electronic Lock is an ideal option for those seeking the security features of an electronic gun safe without the added expense of fire protection.
This heavy-gauge steel gun vault features a fully carpeted interior, patented molded barrel rest with scope standoff inserts, and an electronic lock. With a total of 6 locking points and a concealed door hinge, this gun safe cabinet provides a high level of theft protection
Check out this Black Friday Deal!
Sports Afield 18 Gun Safe – Sam's Club $349
This 18-gun safe will hold your important documents and valuables and has room for up to 18 long guns. It's fireproof too, with 45 minutes of fire protection up to 1,400 degrees Fahrenheit. It has a programmable electronic lock with Sports Afield's Easy Touch keypad. There are two backup keys, too. We've seen this same safe listed in other Black Friday ads, but this is the best deal by far. This safe will normally run you $699, so Sam's Club has a great Black Friday deal at just $349!
Check out this Black Friday Deal!
Remember to check back with us again. We'll continue to look for the best Black Friday Deals on gun safes and more.