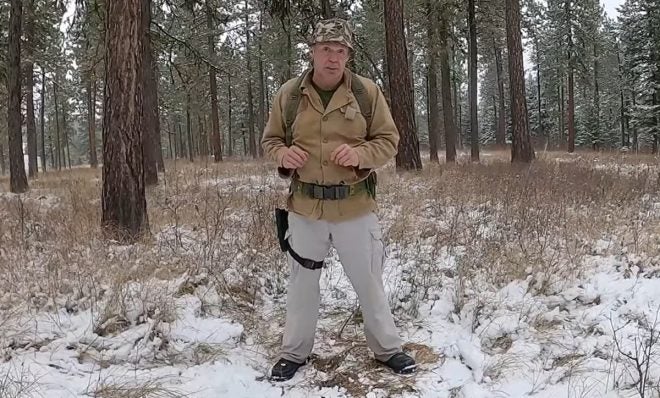 (Image: Screenshot from video)
With more and more new gun (and ammo) owners every day due to COVID-19 pandemic lockdown panic and political fearmongering leading to yet another round of ammo-hoarding by many Americans due to election uncertainty, it's become more and more difficult to find ammunition. So how do you train with your guns in such a time? Paul Harrell is here to tell ya.
This particular video is not aimed at new gun owners; it's meant for folks already familiar with their guns who just want to remain sharp and/or get a little better.
Here's his list:
1) Shoot less. You don't necessarily need to shoot your pistol or revolver empty during reloading drills.
2) Use guns which take ammo that's more commonly available and less expensive now. I expected him to refer to shotguns using bird shot, but instead he discusses shooting 22 LR rimfire ammo in lieu of centerfire ammo. And then he swaps over to an airgun, which he shoots many times before moving on.
3) Do some dry-fire training. He accompanies this with some advice on what types of firearms should or should not be dry fired. This includes the warning that it's never a good idea to dry fire a rimfire firearm.
4) Do drills which don't require you to fire. This includes practice drawing, presenting, and re-holstering your sidearm, as well as tactical mag change drills.
5) Make timely and correct ammunition choices. (Huh?) This means buying ammo when you have the chance — and not paying grossly-inflated prices just because of the shortage. It also means not falling into the "rare or uncommon caliber" mentality.
During this past point, Paul carries on at great length about who buys ammo for what and when, while encouraging everyone to buy a lot of ammo — always adding the caveat, "last year." Helpful? Not hardly.
Uncharacteristically, Paul really does limit himself to 5 points.
Hope you enjoy the video.