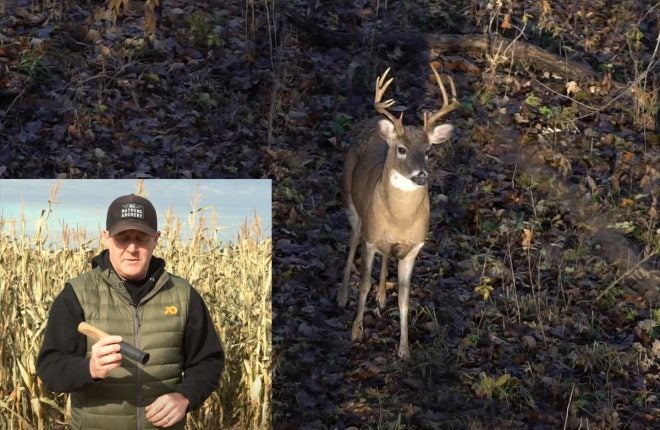 (Image: Screenshot from video)
In this video, Jeff Sturgis talks about deer calls and what you can get away with in a particular situation. The higher the pressure, the fewer types of calls you can get away with. But there's one sound that you can use almost anywhere without fear of spooking the critters too badly — provided you don't overdo it, of course.
In typical Jeff fashion, he beats around the bush a while before getting to the topic named in the video title. This is to be expected with him, but he does start the video with some grunting, which he says is "just a little hint."
Some of his advice includes:
If you rattle antlers, expect deer to circle downwind of the sound before coming in… so make sure you have excellent scent control or some feature that will discourage bucks from getting downwind of you (open field, steep dropoff, creek, neighborhood, etc).
Aggressive calling (snort wheeze, growl) usually doesn't work in areas with high hunting pressure and/or low deer population — and many great older bucks will shy way from such calls out of self-preservation.
Decoys can often spook deer rather than attracting them.
But you can get away with a lot when you use a grunt call. He also advises on when to grunt and when not to grunt (never, of course, when the buck has heard you and knows where the grunts are coming from).
He also says to be patient after you know the buck has heard the grunts. He may not come in right away, but may make a rub or work a scrape before coming. But he will often come your way to see what that grunting was all about.
He also says he likes a can bleat call, but I have seen too many negative reactions to those where I hunt, so I don't use bleats often anymore.
This is my 38th deer season, and my only go-to deer call is a grunt, which, like Jeff, I always take with me. It either works or it doesn't, and I've never seen it spook a deer yet.
Enjoy the video, and happy hunting.