Classic Blade: Uncle Kelly's Case Copperhead 6249 2-Blade Folder
Russ Chastain 11.23.20

One of my few keepsakes of Uncle Kelly.
(Photo © Russ Chastain)
More than 20 years ago, one of my uncles passed away. He was my father's youngest brother and although he was only in his 50s, his time had come to leave this earth. He left a very few items behind when he passed, and one of them was a Case two-blade folding knife, which my father gave to me. All I've ever known about it was that it was Uncle Kelly's knife — and that was enough. But I've lately begun to learn a little more about this fine old folder.
It's a 6249 Copperhead, and it has many miles on it. Pocket miles, that is. The bone scales are worn smooth and are even worn thinner than the bolsters, pins, and the Case medallion.
It's also been sharpened so much that the smaller blade's tip isn't fully protected when closed. I know I could remove some metal from the tang to allow the pen blade to close farther, but I don't wanna. This is one reason I haven't carried it in a while.
The "6" in the number 6249 indicates that the bone handles were originally "jigged," which means a series of small divots were milled into their surface to enhance the grip. These are entirely worn off of my Copperhead. The "2" is the number of blades, and the "49" is Case's pattern number.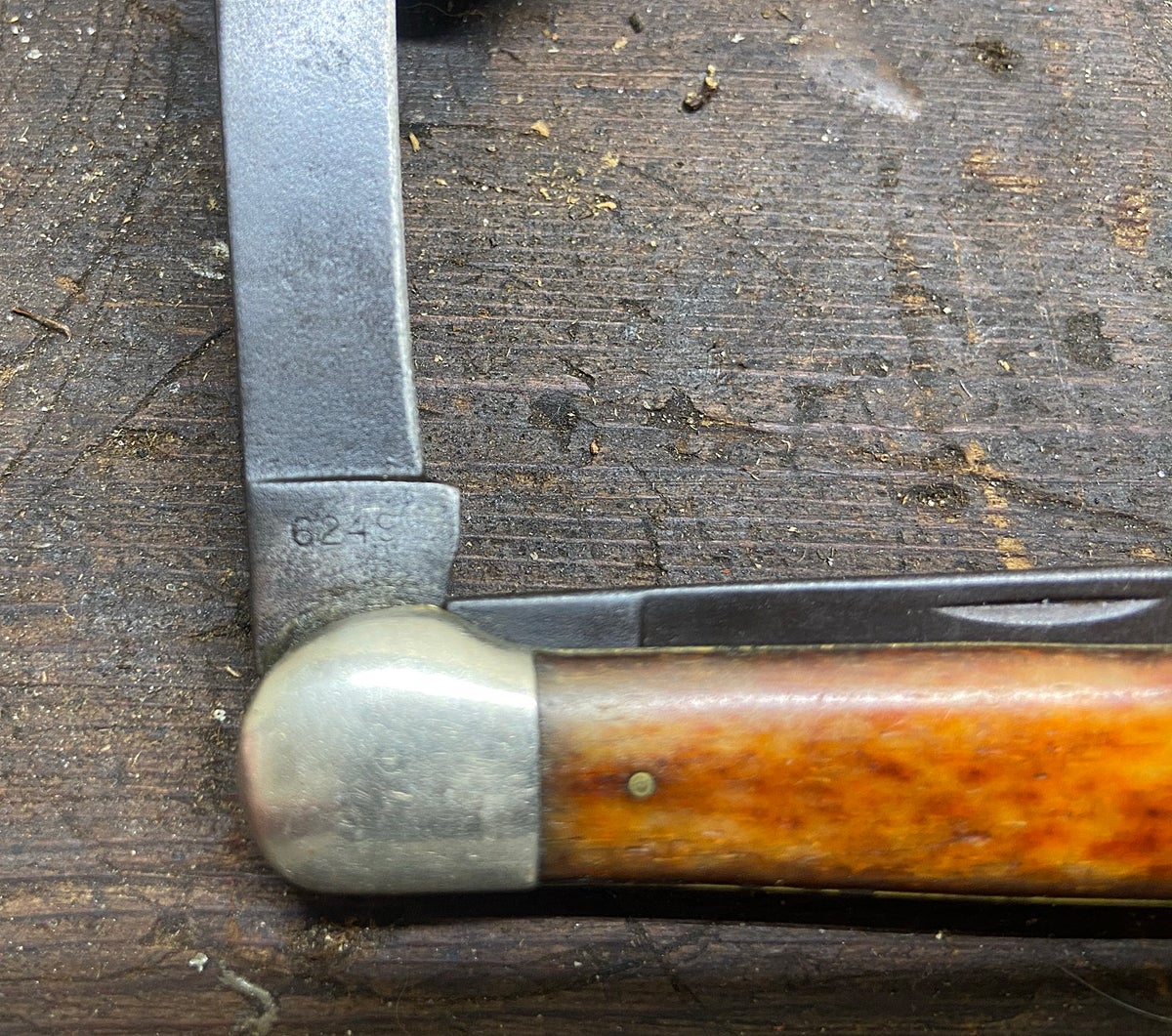 Because my knife lacks any dots on the tang, it was made prior to 1970 (which is when they began using a dot system to date their knives). A visit to this Pattern Stamps page indicates a manufacture date of 1965-1969 for this style of tang stamp.
My knife weighs 2.75 ounces and has a closed length of 3-15/16″ with a 2-7/8″ clip blade and a 2″ pen blade.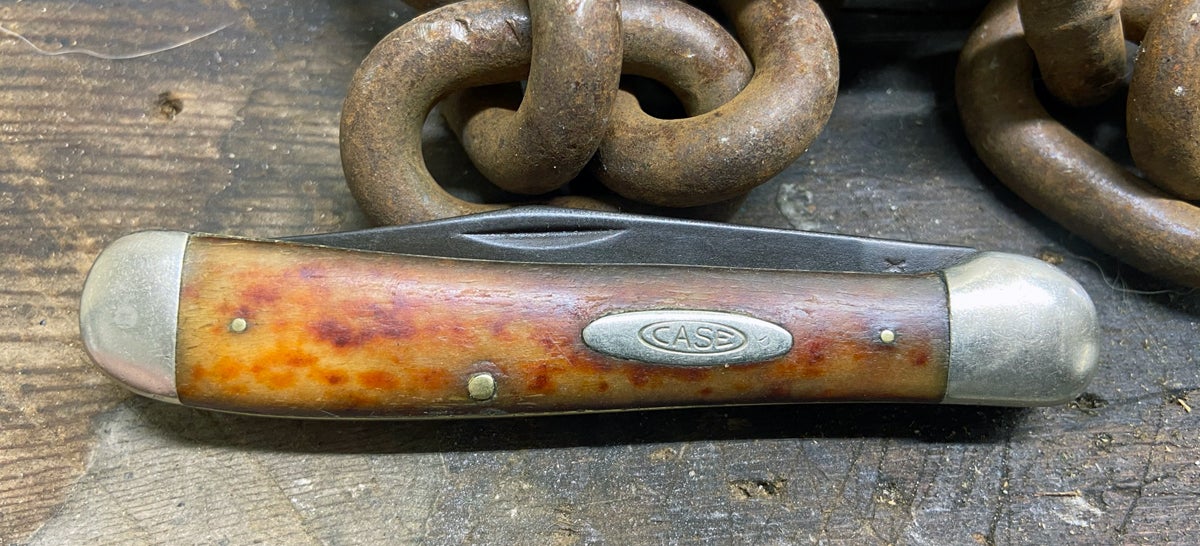 I don't see a Copperhead listed on Case's website among current products; instead there's a "Mini Copperhead" but it features a different blade style for the long blade, and the blades open from opposite ends of the knife. I definitely prefer mine.
The pocket wear I mentioned before is difficult to show in photos, but you can definitely tell the red bone is worn lower than the metal bits.
Pins, bolsters, and Case medallion are all "proud" of the bone, thanks to 30+ years of riding in my uncle's pocket.
After I got this knife, I carried it every day in his memory. When I used it a few years later to dress out a buck deer I'd shot, I retired it from EDC except for special occasions.
The tip of the clip blade is bent; this is how the knife came to me and this is how it remains. I don't wish to alter the knife from the way it was when Uncle Kelly carried it — and I most definitely do not wish to break off the tip, which could easily happen if I tried to straighten it.
This style of knife is collectible, and I see one of this same vintage listed on eBay for more than $200, but there's no way I'd sell this one. It's worth far more because it helps me fondly remember one of my favorite humans.
The springs are in excellent shape and this old folder operates nice and smoothly, and it's still shaving-sharp.
I hope you enjoyed this little trip down memory lane with me and Uncle Kelly's knife. Knowing me, I'll probably start carrying it again now that I've got it freshly oiled and honed.