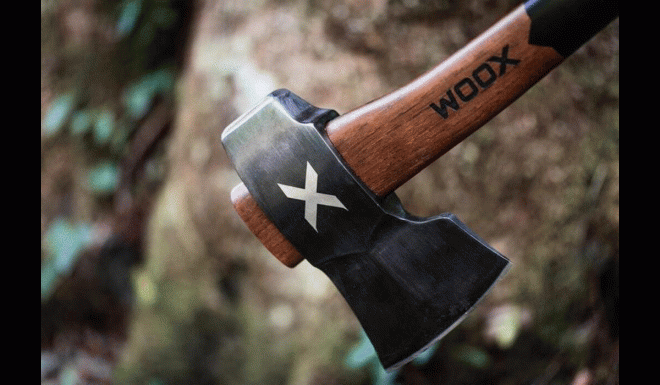 To an outdoorsman a good camp knife and a hearty camp axe is a must. To me a camp axe vs. an axe is comparable to a carbine vs. a rifle: a more compact (but capable) version of its full-size brother. I carry a camp axe in all of my vehicles as they are easily stored and will fit almost anywhere. They are incredibly useful for a wide variety of chores in and around the outdoors.
Recently WOOX based in Hickory, North Carolina debuted a new design of what I consider a camp axe that certainly piqued my interest. According to the company website, they "offer high quality products at a competitive price, while leading the way for environmentally conscious businesses." As to the company's new FORTE axe, the following press release from the Woox company describes this innovative design.
WOOX continues to set new standards in outdoor gear with the introduction of the new FORTE axe. Following the success of the AX1, WOOX have continued their pursuit of developing the best quality outdoor gear with the new FORTE axe. Combining classical American and Italian axe designs, the WOOX FORTE is another great example of "old world" craftsmanship meeting the modern age of high-performance gear.

The new FORTE Axe from Woox

The American hickory handle adds strength and durability, while the anti-slip coating offers a superior grip in any condition. Each head on the FORTE axe is individually hammered into shape, hand finished and made of tempered carbon steel (c60/1060). With a length of 22 inches and a weight of only three pounds, the FORTE axe can easily be packed into the backcountry for your next great adventure.

The WOOX FORTE axe is designed and made in both Italy and Hickory, North Carolina. Available in time for the holidays, the FORTE has a retail price of just $169.00.

The FORTE Axe is compact and ideal for transport in the backcountry

About WOOX: A new outdoor gear company, WOOX prides itself on delivering best craftsmanship at a competitive price. WOOX manufactures high-performance rifle stocks and chassis, as well as outdoor gear such as knives and axes. By circumventing traditional channels, making their gear in-house in Italy and engaging with customers directly, WOOX can deliver higher-quality, higher-performance and better-looking products at a fraction of the traditional craftsmanship price. WOOX is a division of Minelli Group with its North American headquarters situated in Hickory, North Carolina. All WOOX products are developed in the USA and manufactured in Italy. Find out more at https://wooxstore.com/.