Hunt Confidently – NEW Federal Premium Swift Scirocco II Ammunition
Adam Scepaniak 11.27.20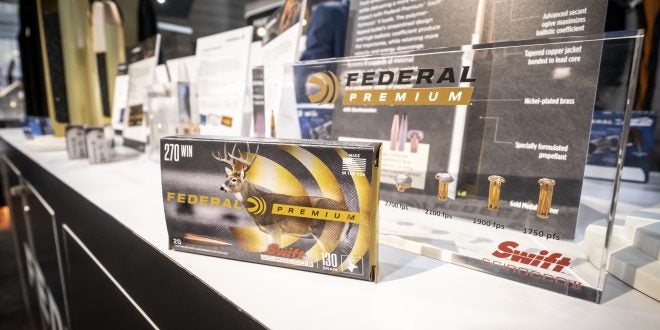 Hunting season might be winding down for many of us throughout the United States, but as traditional seasons come to a close many "Bonus" or "Lottery" seasons open up as well. Whether it is western big-game hunts or simply harvesting a bonus whitetail doe to more amply fill your freezer, many people are out still trying to fill tags. If you happen to be pursuing game with a rifle you might want to take a look at some new ammunition that was released by Federal Premium featuring a Swift Scirocco II bullet. All of the specifications are listed below as presented by Federal Premium:
Proprietary polymer tip improves ballistics and initiates low-velocity expansion
Advanced secant ogive maximizes ballistic coefficient
Tapered copper jacket bonded to lead core
High weight retention at close range
Expands reliably at low velocity for long-range terminal effect
Right now, Federal Premium is offering this new ammunition in 9 different, popular hunting cartridges. With the data that is listed below, you can see that many of these loads coming out of Anoka, Minnesota have above-average ballistic coefficients (BC) meaning you are getting the truest and most accurate flight possible. Also, they have some additional velocity behind them for anyone who may be looking to take some long pokes at game from valley-to-valley or ridge-to-ridge. All of those 9 current offerings are listed below:
243 Win 90 Grain Scirocco II | 3,100 FPS | 0.419 BC | P243SS1 | MSRP $54.99
6.5 Creedmoor 130 Grain Scirocco II | 2,800 FPS | 0.571 BC | P65CRDSS1 | MSRP $55.99
270 Win 130 Grain Scirocco II | 3,060 FPS | 0.450 BC | P270SS1 | MSRP $55.99
270 WSM 130 Grain Scirocco II | 3,280 FPS | 0.450 BC | P270WSMSS1 | MSRP $65.99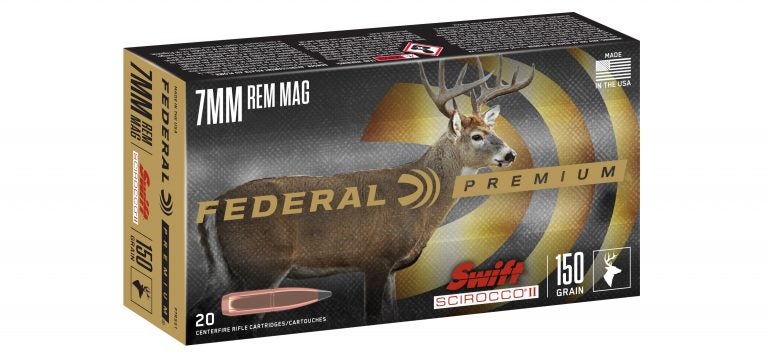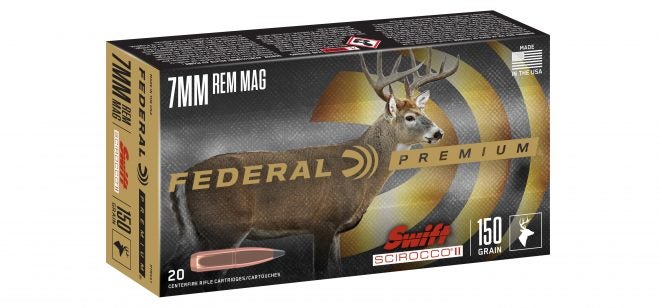 7mm Rem Mag 150 Grain Scirocco II | 3,035 FPS | 0.525 BC | P7RSS1 | MSRP $56.99
.308 Win 165 Grain Scirocco II | 2,880 FPS | 0.470 BC | P308SS1 | MSRP $53.99
.30-06 Sprg 165 Grain Scirocco II | 3,000 FPS | 0.470 BC | P3006SS1 | MSRP $57.99
.300 Win Mag 180 Grain Scirocco II | 2,960 FPS | 0.520 BC | P300WSS1 | MSRP $61.99
.300 WSM 180 Grain Scirocco II | 2,960 FPS | 0.520 BC | P300WSMSS1 | MSRP $56.99
All of this new Swift Scirocco II ammunition from Federal Premium comes in standard 20-count boxes. The 6.5 Creedmoor round is the most efficient of the bunch which should not come as much of a surprise, but many of the specialty cartridges chambered above are still popular for western big-game hunting in many circles. A final explanation of what this new ammunition is all about can be read below directly from Federal Premium:
"ANOKA, Minnesota – November 24, 2020 – Federal Premium releases its new Swift Scirocco II centerfire hunting loads lineup. The new bullet promises to push effective range to new extremes while delivering a more lethal blow on impact. Shipments of this product have been arriving at dealers nationwide.

"We are happy to have partnered with Swift to load this fantastic long-range hunting bullet. Swift is known for bonded-core hunting bullets and is one of several Swift bullets that we load into our Federal Premium lineup," said Federal's Centerfire Rifle Product Manager Eric Miller. "The Swift Scirocco II produces excellent upsets at various distances and is an all-around, good choice for medium and big-game hunting."

The Swift Scirocco II bullet's streamlined design and high ballistic coefficient produce flat trajectories, while retaining more velocity and energy downrange. Aided by its proprietary polymer tip, the Scirocco II expands at minimal velocities yet offers high weight retention at close range thanks to its bonded copper jacket."
Even if you do not make it out for some big-game hunting yet this year a lot of this new ammunition could be a phenomenal Christmas gift for a hunting buddy in your life. I am personally interested in seeing how the 6.5 Creedmoor ammo could perform on eliminating some coyotes that are troubling my deer herd, but what do you guys and gals think? Is this something you would be willing to purchase and shoot through one of your rifles? As always, let us know all of your thoughts in the Comments below! We always appreciate your feedback.