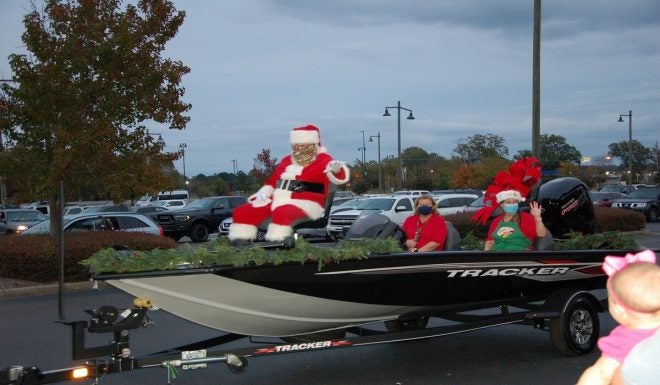 The sand is dropping down the vial quickly now. Black Friday is gone, but there is still time to pick up some last-minute stocking stuffers for outdoor enthusiasts that can really add some value to outdoor experiences. By now you should have already hidden away that big ticket item you plan for Santa to deliver on Christmas morning, but as the stockings are hung, think now about some smaller, useful items.
Every person that loves the outdoors can always use a good pocketknife or clip on blade that is handy to grab for endless tasks when camping, fishing, hunting, hiking or trekking around in the woods. Look no further than Kershaw, or Gerber for high quality and reasonable prices. Pick a model that is bright in color so it can be found if dropped on the ground.
Small ticket items are great like a roll of orange trail marking tape to trail in or out or mark a special location in the woods or a hunting area. A box of waterproof matches always comes in handy for setting a campfire blaze. A length of parachute cord always comes in handy and has a thousand and one uses. Small bungee straps hold items down tight on packs, ATVs, or other sources. Get several in different colors.
If the stocking is big enough, you can slip a Yeti cup or tumbler down into the bottom. Fill the vessel with a favorite candy, snack, coffee, or hot chocolate mix. A bundle of lens cleaning tissues or a cleaning cloth is always useful for cleaning eyeglasses, or all types of field optics including riflescopes. Throw in tubes of lip balm, hand sanitizer, tough hand cream, or breath freshener. A pack of wet wipes are a welcome freshener on a warmer day on the trail or in the hunting blind. Same for a package of insect repellant wipes.
A couple boxes of .22 long rifle cartridges are always welcome as is any ammo these days. Likewise a neoprene ammo carrier is handy to tote a few extra rounds on a pants belt or on the stock of the hunting rifle. A small waist pack is a cool idea to carry a few small items afield.
Everybody can use a quality flashlight because outdoors there are dozens of uses for one. The ones with a carry pouch or pocket clip are really useful. Of course a good stocking stuffer also includes a supply of AA or AAA batteries. Everybody can use those.
The possibilities for compact stocking stuffers for outdoor enthusiasts is endless. Just shop around a well-supplied outdoor store and you'll be set to go.