Is Vinegar the Best Rust Remover? Let's Find Out.
Russ Chastain 12.08.20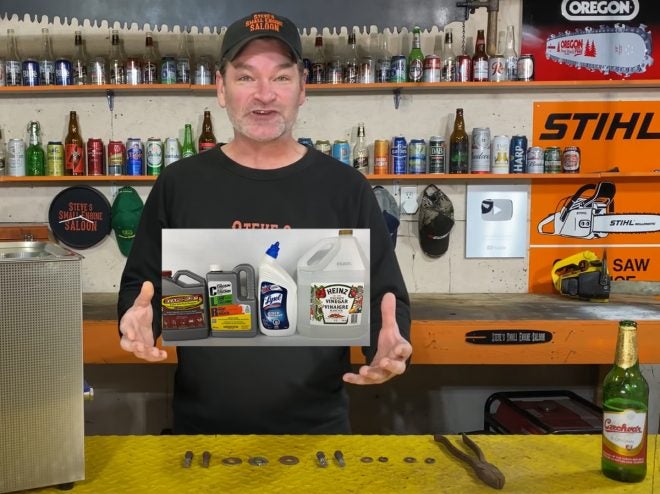 (Image: Screenshot from best rust remover video)
Rust removal is something most folks have to deal with at some point in time, and our pal Steve recently got a new ultrasonic cleaner and decided to do some experiments to discover the best rust remover to use with it. He compiled a really long list of things to try, and here they are:
Water
OxiClean
Muriatic acid
Battery acid
Acetone
Acetone mixed with ATF
ATF
Methyl hydrate
Ethanol
Coca-Cola
White vinegar
White vinegar mixed with salt
CLR
Carpet shampoo
Paint thinner
Degreaser
Evaporust
TSP (trisodium phophate)
Borax
Dawn dish soap
Simple Green
Drain opener (like Drano or Liquid Plumb'r)
Toilet bowl cleaner
Gasoline
Hydrogen peroxide
WD-40
Diesel fuel
Brake fluid
Bleach
Lemon juice
Orange juice
Ammonia
Before telling viewers the list above, Steve asks viewers to post their guesses in the comments about which one is the best rust remover according to his tests… and he adds this:
"I'll tell ya right now: You're all wrong!"
Steve doesn't fill his ultrasonic cleaner with every one of these substances — he'd have to be filthy rich! Instead, he places a rusty object in a ziploc bag with some of the liquid to be tested, and puts the bag into the cleaner, which is filled with water. The bag floats up top and the ultrasonic waves do their work right through the bag.
Each substance was tried for ten minutes, because who wants to wait hours when they could wait minutes? He tells us the vast majority of the things he tried did pretty much nothing to remove rust in those ten minutes. So c'mon Steve, stop teasing us. What's the best rust remover?
Here are his top 4:
Evaporust
CLR
Toilet bowl cleaner
White vinegar
I have used Evaporust before, and it's pretty great for removing rust — and no ultrasonic cleaner is required. It's also environmentally friendly and can be reused many times — but it's expensive.
Also, be aware that any time you use rust remover on gun parts, you will also remove the bluing (because bluing is a form of rust).
I have also used white vinegar to remove rust, most notably from inside gas tanks. It too works well, but may take quite a while when used on its own (without an ultrasonic cleaner). It's cheap and reusable, but you must remember to neutralize the acid once the rust is gone (baking soda works well for this).
Back to the video: Steve's winner is Lysol Power toilet bowl cleaner!
No kidding. Out of all those things he tested, toilet cleaner won the day. Who knew?
I might have to try it on some old tractor parts now. In the meantime, enjoy the video.