The TMB-S (Tuner Muzzle Brake – Standard) Available for Pre-Order Soon!
Luke Cuenco 12.15.20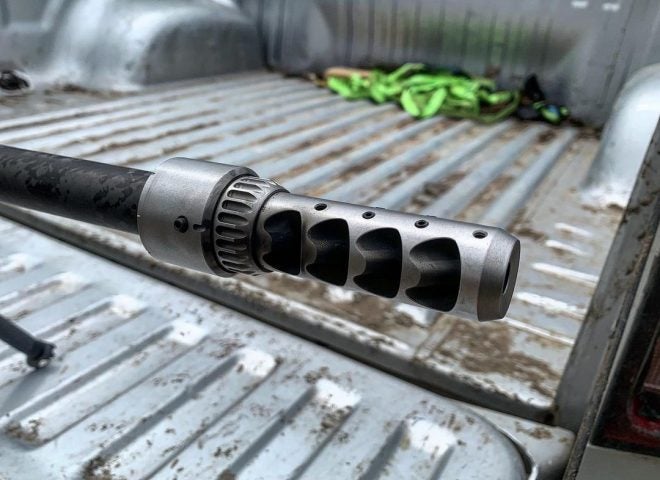 BJ and his company Without Warning are focused on improving and simplifying the precision rifle experience. His Australian based company have recently come out with a brand new invention that combines both a muzzle brake and a harmonic barrel tuner dubbed the TMB-S. The TMB-S, is designed to integrate both a self-timing muzzle brake and a locking harmonic barrel tuner onto one device eliminating the need for multiple devices as well as simplifying the load development process.
The TMB-S (Tuner Muzzle Brake – Standard) Available for Pre-Order Soon!
Simpler and easier load development, more accurate factory ammunition, and the ability to tune the accuracy of your rifle (should your groups open up due to round count or drastically different weather), while offering class-leading recoil and muzzle rise reduction are the reasons the tmb (tuner muzzle brake) was created.

We're not interested in producing products for the sake of wanting to exist within the industry, nor are we arrogant enough to believe slapping our logo on the same old product everyone else is making is going to make us successful in one of the most over-saturated segments of the firearms industry.


What we are interested in is innovating and creating new products that fill gaps in the market that competitors, professionals, and enthusiasts want.

Our first patent-pending device combines a class-leading self-timing muzzle brake and a locking 4oz harmonic barrel tuner into the one convenient and compact device. The tmb (tuner muzzle brake) and it's locking barrel tuner allows you to tune the harmonic vibrations of you barrel to align with your ammo, rather than the other way round. Which is a new concept for the modern precision rifleman but one that needs to be experienced to be appreciated.

Check out the soft launch video for a quick rundown on the tmb (tuner muzzle brake) and what you can expect when we launch this unique product and open pre-orders.
BJ's entire ethos for designing the TMB-S was to simplify the tuning process for a competition rifle. While BJ has always liked the concept of barrel tuners, he always believed that there were too many compromises that needed to be made in order to integrate one and run it during a precision rifle competition. This might not be something well suited for other purposes like hunting, but what do you think? Would you deploy this on one of your rifles? As always, let us know all of your thoughts in the Comments below! We always appreciate your feedback.
According to BJ, the TMB-S will soon be available for preorder on his website, strikewithoutwarning.com. No mention of price or availability has been made yet or how precision rifle shooters outside of Australia will be able to get their hands on the TMB-S.