Curious Relics #002: FN 1900 Part II – The First Pistol With a Slide!
Sam.S 12.16.20

Welcome to our recurring series of "Curios Relics." Here, we want to share all of our experiences, knowledge, misadventures, and passion for older firearms that one might categorize as a Curio & Relic  – any firearm that is at least 50 years old according to the ATF. Hopefully along the way you can garner a greater appreciation for older firearms like we do, and simultaneously you can teach us things as well through sharing your own expertise and thoughts in the Comments. Understanding the firearms of old, their importance, and their development which lead to many of the arms we now cherish today is incredibly fascinating and we hope you enjoy what we have to share, too!
Welcome back everyone to Part II of the FN 1900! Last time we covered a condensed history, notable design features, variants, and specifications. When I have a chance I will come back and link to Part I here if you are just tuning in.
Dating: FN 1900
Correctly identifying the date of manufacture for these guns is a very difficult thing mostly filled with conjecture. The FN 1900's production ended at the outbreak of World War I in 1914, but production had already slowed due to FN introducing the FN Model 1910 in 1912 which is the gun that would end up being used to assassinate Archduke Franz Ferdinand of Austria. Roughly 725,000 FN 1900's were made and they started with serial number one. As far as conjecture goes I have guessed that my personal 1900 may actually be from between 1906 and 1907. The ways I came to this conclusion are as follows:
Guns made prior to 1905 had the old school black grips with a small pistol and even smaller FN logo unless someone made a special request or swapped them out later on. Mine has the standard 1900 logo.
Guns with "

FABRIQUE NATIONALE HERSTAL LIEGE (BROWNING'S PATENT)" or "FABRIQUE-NATIONALE HERSTAL LIEGE (BROWNING'S PATENT)" on the left side of the slide are prior to 1907. My personal one has "FABRIQUE-NATIONALE HERSTAL-BELGIQUE (BROWNING'S PATENT)"

Guns with "

FABRIQUE-NATIONALE- D'ARMESdeGUERRE. HERSTAL-BELGIQUE" came after 1907. Mine is similar, but the main thing to me is that after 1907 the "(BROWNING'S PATENT)" was moved to the reinforcement above the trigger guard and mine is still on the slide.
Range Time: FN 1900
Range time with this gun is always a joy! After you get past the irrational fear of a 115-year-old gun blowing up in your hand you start to really take it all in and realize why this thing was such a big deal. It was concealable, consistent, and safe! The .32 ACP cartridge barely makes an attempt to recoil in this 1lb 5oz gun and it creates a very comfortable ease-of-use. If it jams you can lock the slide back by pushing the safety lever to point up and you can remove the magazine to clear any malfunction. I have never done any sort of target shooting with mine since the bore is very frosted and used up. When I tried this time I actually was surprised at the consistency of the point of impact considering the condition of the bore. My results aiming at the bottom right bullseye at 10 yards are in the photo below.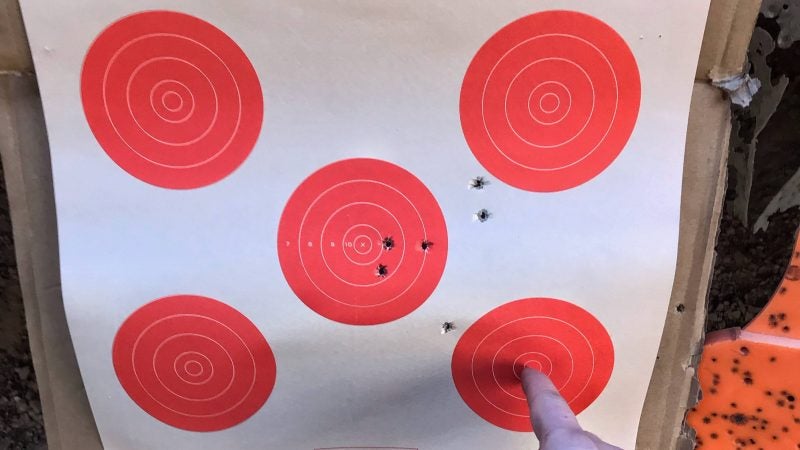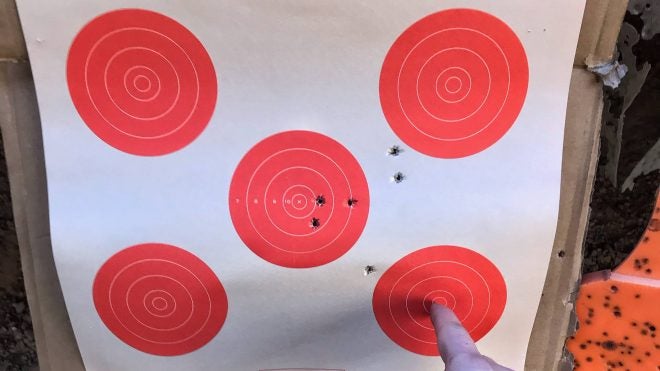 Aftermarket Information: FN 1900
If you or someone you know owns one of these beautiful chunks of history it is helpful and mindful to contemplate the maintenance of it. Guns get old and worn out and are sometimes in need of repair or refurbishment. Nothing lasts forever as they say and it is especially true to firearms. As far as aftermarket options for parts for the 1900 some places to check would be gunpartscorp.com otherwise known as Numrich. Currently, they have a few remaining parts here and there but it is something. eBay holds some luck as always as well as overpriced parts lots on gun auction websites. Aftermarket grips are still made for these guns, but usually will require proper fitting to an individual gun. The long and the short are that parts are limited so take care, but most importantly practice proper firearm maintenance and enjoy what you have cause it will not be here forever.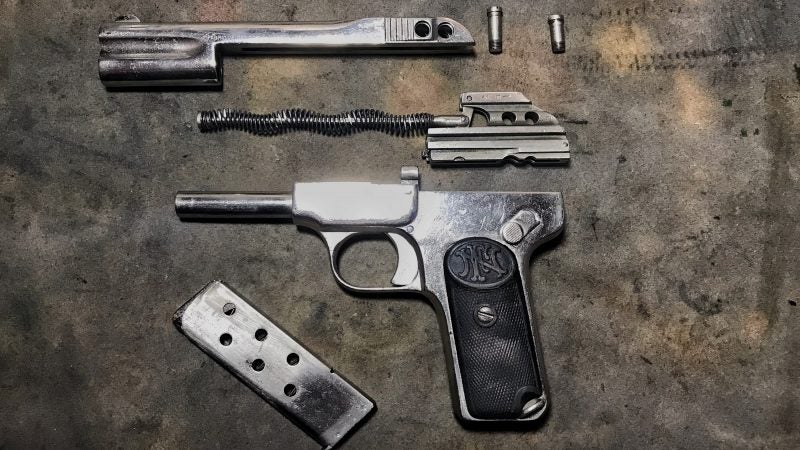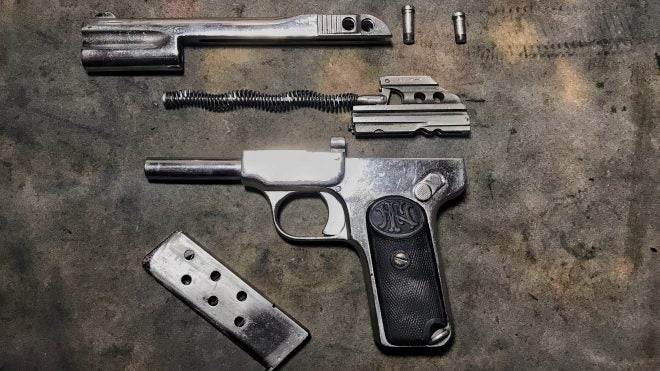 Final Thoughts: FN 1900
The FN 1900 commenced a carry gun craze across the globe. Manufacturers raced to make their own pocket guns for the public as well as some completely ripping off its design. Suddenly the average man or woman was able to carry a small moderately powerful handgun and conceal it on them and depend on it should any potential danger arise. The lineage of this gun is unfairly forgotten. It interjected features we take for granted in our modern world. Things as simple as a slide, cocking indicator, box magazine, and overall modern footprint of what a handgun looks like.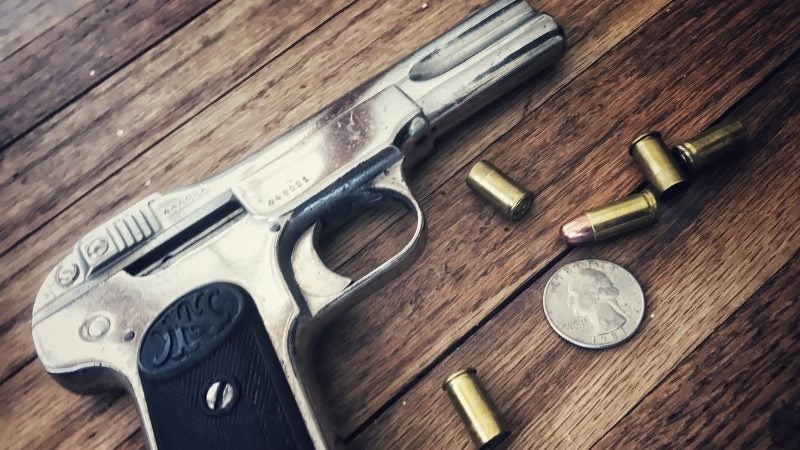 In closing, I hope our Curious Relics segment informed as well as entertained. This all was written in hopes of continued firearm appreciation and preservation. We did not just realize how guns were supposed to look and function. It was a long and tedious process that has shaped the world we live in. So I put it to you! Is there a firearm out there that you feel does not get much notoriety? Do you think you would carry this gun if you lived back in the day? What should our next Curious Relics topic cover? As always, let us know all of your thoughts in the Comments below! We always appreciate your feedback.