Cobalt Kinetics: This Gun Maker is on a Growth Curve
Eve Flanigan 12.23.20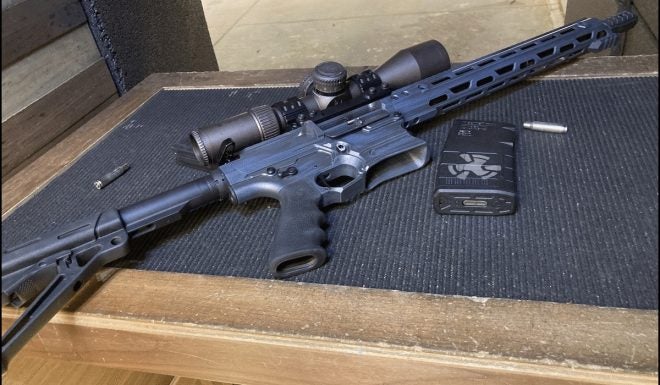 Cobalt Kinetics of St. George, Utah is known for top-shelf competition rifles. In October 2019, I had the chance to meet the new owners: one a former SWAT officer and military veteran, and the other a seasoned marketer in the gun industry. At that time, I learned that the company had begun to spread its wings beyond a narrow focus of competition rifles. Here is a glimpse of what they have to offer!
Cobalt Kinetics – BAMF AR is still the Flagship
Cobalt Kinetics' flagship product, yesterday and today, is built on an AR15 platform and called BAMF (figure out that NSFW acronym on your own). Every one of its full-length, "pistol," and short-barreled rifle interpretations cuts a striking, futuristic profile that sets it apart from other ARs even from across the room. On closer inspection, this high-tech rifle still delivers on the promise of increased speed and accuracy.
The receiver is remarkably light because it's made from billet aluminum. Picatinny rail on the top and bottom of the front of the handguard exceeds the length of the handguard on the sides. This allows for easy light and iron sight attachment. The slight flare on the muzzle end allows for attachment of a suppressor. It also lends an aggressive look.
The mag well is sculpted upward in the center for fast feeding and manipulations. There's a built-in brass deflector to keep teammates and left-handed shooters comfortable. Bright, standout colors are a norm for Cobalt Kinetics' finishing touches and are made more striking by the buffer tube being a contrasting color.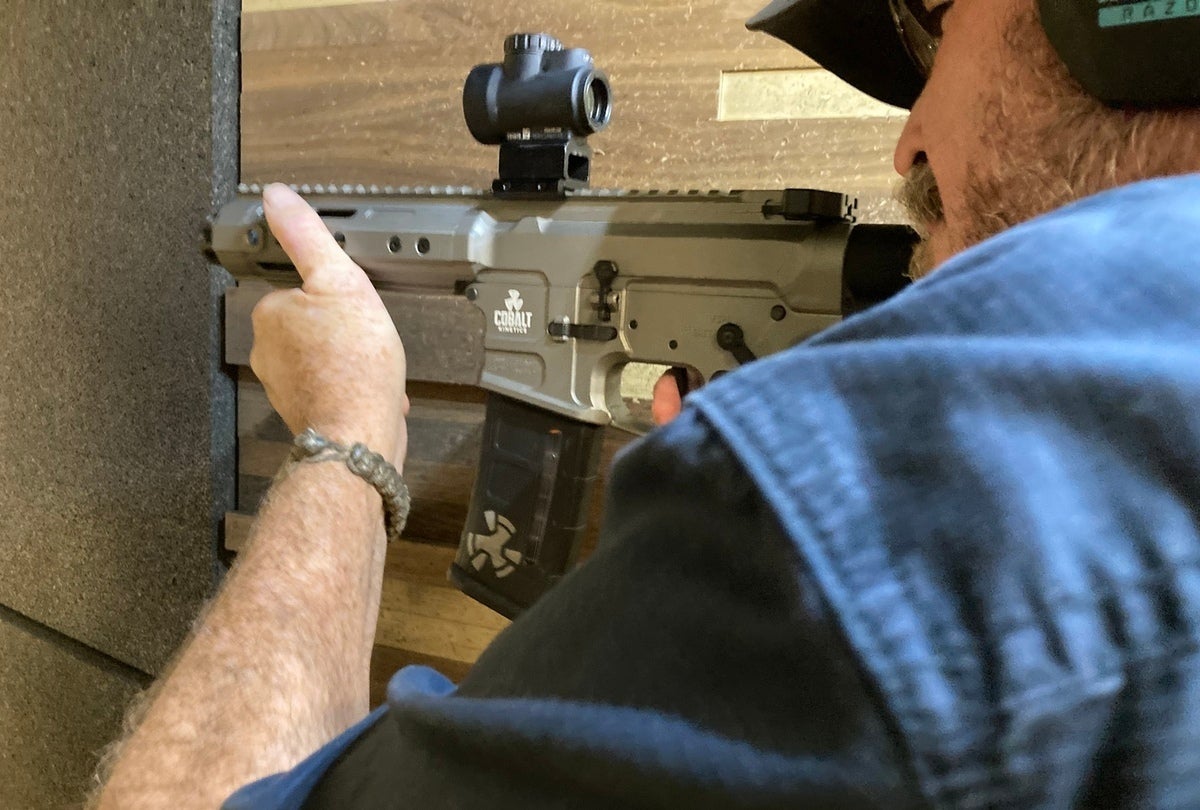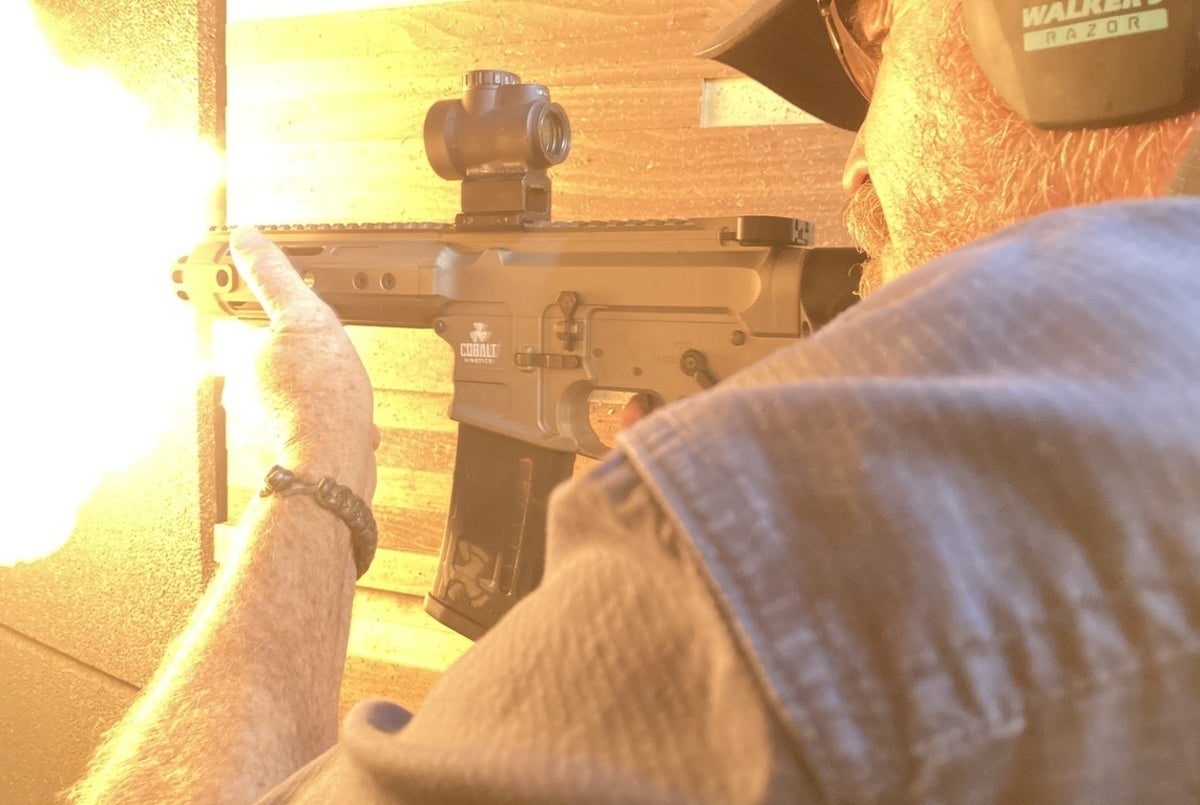 The buffer tube itself is a Cobalt Kinetics innovation, currently pending patent approval. Their Pro Buffer System is made with shock-absorbing polymers, four springs, and a flat interface with the bolt carrier group. The receiver extension is coated with a hard polymer film. The effect is dramatically reduced recoil. In combination with the adjustable gas block every BAMF has the system is reliable with a range of ammunition and when using a suppressor. Prices begin in the mid-$2,000 range depending on options.
Cobalt Kinetics – Bigger, But Quieter
Speaking of suppressors, Cobalt Kinetics will soon roll out a new reverse-baffle suppressor line. While we didn't get to test those at the Blue August Gun & Outdoor Writers' Conference where I met the BAMF rifles, there is no doubt that they'll be both stylish and premium quality, as is the CK way.
Cobalt Kinetics – On the Drawing Board
Rifles specialized for law enforcement officers, with an emphasis on the precision marksman role, is the current area of expansion for Cobalt Kinetics. I predict new interpretations of the BAMF in muted colors, with room for both sling and bipod attachments, and probably more elaborate stocks to facilitate prone shooting. The base price will be approximately the same as the BAMF line.
Cobalt Kinetics – Moving with the BAMF and Other Weapons
Not only is Cobalt Kinetics growing their product line, their property and services are expanding also. Their new, 500-acre training facility near St. George is on its way to becoming a draw for law enforcement and competitive shooters in the region. Corporate responsibility and support of law enforcement both rank high at Cobalt Kinetics. The new training center is the best reflection of that. CK reps are proud of their support, with both gear and on-site training, of operators with the Underground Railroad organization working to combat child trafficking.