NEW North Dakota Bighorn Ram State Record Harvested
Adam Scepaniak 12.30.20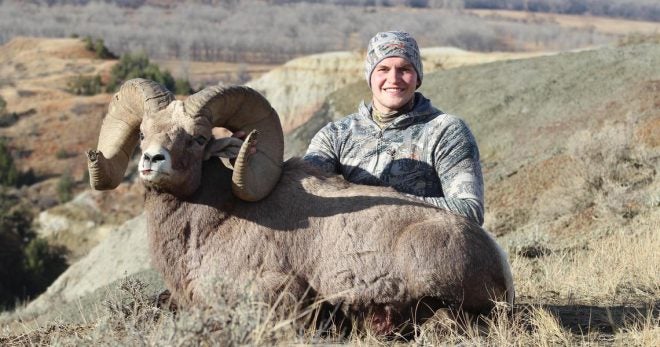 Bighorn ram tags in North Dakota are as rare as hen's teeth, so when people get drawn for them they try to make the most of that valuable opportunity. For the 2020 hunting season, there were 17,000 applicants with only 5 tags given out for a 0.02% chance of being drawn. A very young Grafton, ND hunter – 22 year old David Suda – took that once-in-a-lifetime opportunity and made it count by harvesting what should be a NEW North Dakota Bighorn Ram State Record.
If you could attempt to put a value on one of those nearly impossible to acquire tags the figure that comes to mind would be $83,000! The Midwest Chapter of Wild Sheep Foundation was able to auction off an additional 6th tag for charity and that is the price it fetched at auction. This only speaks to the rarity of these tags and to what lengths some people are willing to go to get one.
The monster bighorn ram that David Suda harvested occurred on the morning of October 30th and scored a kingly 190″ besting the previous state record of 179″ total. The North Dakota Game and Fish Department gave the official Green Score measurement, but there is still a mandatory 60-day "drying period" that must occur before the State Record is official. The ND Game and Fish Department aged the bighorn ram shot by David Suda as being 7 years old. Since 1975, there has been a total of 256 bighorn rams harvested in North Dakota through the management of the Game and Fish Department with a 99% success rate for hunters who draw a tag.
As if harvesting a North Dakota State Record Bighorn Ram was not enough for David Suda, he also had drawn a mule deer tag this year, and that animal was no slouch either. The mule deer Suda harvested was 170″ and is a wall-hanger as well! In a normal hunting season, that mule deer would be the highlight of the year for anyone, but when you punch your bighorn ram tag and it turns out to be a State Record, that mule deer will simply pale in comparison. Congratulations to David Suda on the 2 tremendous animals taken! If you have ever had the opportunity to hunt ram or mule deer out in North Dakota let us know your thoughts below! We always appreciate your feedback.