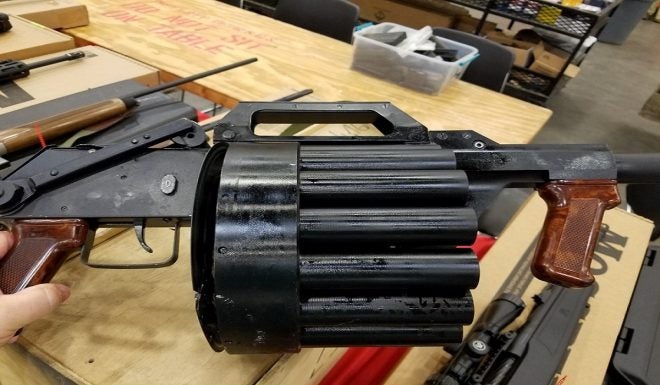 Under the categories of super-unique and highly unusual is the Polish RGA-86 smoke grenade launcher. The RGA is a rotary magazine shotgun-type launch vehicle used to disperse security smoke flares or other projectiles. To see one is to see one of the more rare and curious "firearms" to reach our shores.
Developed by the Wojskowa Akademia Techniczna in Poland by a team of engineers and weapons specialists, the RGA was manufactured from 1983 until 1986. Complete information on the RGA-86 is difficult to come by as one might imagine. Running a scan across the internet does not yield a whole lot in terms of its intended purpose and likely customer or user base.
Though only in production three years, one has to assume the firearm or grenade launcher was developed perhaps for law enforcement, foreign police agencies, and maybe for some military uses as well. Its projectiles seemed to be limited to smoke canisters. Again, if one assumes, it could have been used to disburse tear gas, but there is no mention of any explosive devices being launched by the RGA-86.
In Poland this device was classified as a shotgun. Its weight tips scales at 13.67 pounds. The one I was able to pick up and handle seemed quite heavy, but balanced front to rear. There is a rear grip and a forward vertical hand grip (AK-47 style). It has a heavy grab handle on top not unlike the original upper grab handles on M16s. The overall length of the launcher is 27.6 inches with the stock extended and 22.8 inches with the stock folded. The barrel is 8.9 inches in length.
The rotary magazine holds 30 rounds of 26.7 mm "shells." The rotary magazine is loaded via a door that opens on the side of the magazine as it is turned from one cylinder chamber to the next. The door then latches down. The action of the shotgun is double action only after the side mounted charging handle is cocked.
The rate of fire for the RGA-86 is 30 rounds per minute with an effective range of 100 meters. The muzzle velocity of the shells is listed at 459 feet per second. Everyone asks if flare shells can be bought, and the answer is yes. In my research I found a source for the RGA-86 weapon and shells. Shells come in 10 round packs of red, blue, or green color for $35.99. This certainly would be cool for the 4th of July or a business/agency in need of dispersing colored smoke.