NEW Federal Premium Gold Medal Sierra Tipped MatchKing 224 Valkyrie
Adam Scepaniak 01.06.21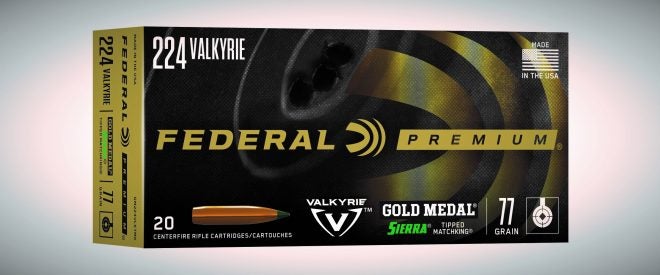 When it comes to long-range .22 caliber rifle cartridges the typical podium finishers are always .223 Remington and .22-250 Remington. A new player to the game recently has been the Valkyrie round introduced by Federal Premium in the past couple years. Federal Premium has given Valkyrie owners something new to gush over with their Gold Medal Sierra Tipped Matchking 224 Valkyrie ammunition. The Sierra Tipped Matchking is easily Sierra's best projectile and now it will be unleashed via the Valkyrie courtesy of Federal Premium. All of the specifications for this new ammunition can be read below as presented by Federal:
Acetal resin tip maximizes ballistic coefficient and improves feeding
Less wind drift and drop
World-class long-range accuracy
Gold Medal match primer
New 77-grain 224 Valkyrie

224 Valkyrie 77 Grain Sierra Tipped MatchKing | GM224VLKTMK
This new offering of Valkyrie ammunition comes in standard 20-count packaging with a factory MSRP of $36.99 each. With the Valkyrie being out on the market for a few years now there are quite a few offerings of boutique bolt-action and modern sporting rifles for shooters to choose from. Federal Premium gives a further explanation of their ammunition and what it offers to current and potential shooters in the Press Release statement below:
"Watch your name climb the leaderboard with the new Gold Medal® Sierra® Tipped MatchKing®. The bullet is built like the original MatchKing, with a streamlined profile, optimized boat-tail and concentric jacket, but its polymer tip reduces drag, boosts ballistic coefficient and improves feeding in magazine-fed firearms. Now available in 77-grain 224 Valkyrie."
I am not one of the new, cool firearm owners who has a .224 Valkyrie in my safe, but the cartridge is definitely intriguing with its long bullet profile and fast velocity. For everyone in the reading audience, do you own a Valkyrie rifle? Would you be willing to feed your firearm with some of this ammunition? As always, let us know all of your thoughts in the Comments below! We always appreciate your feedback.