TrueTimber Neck Gaiters Cover Your Face (and Neck) in Style
Russ Chastain 01.08.21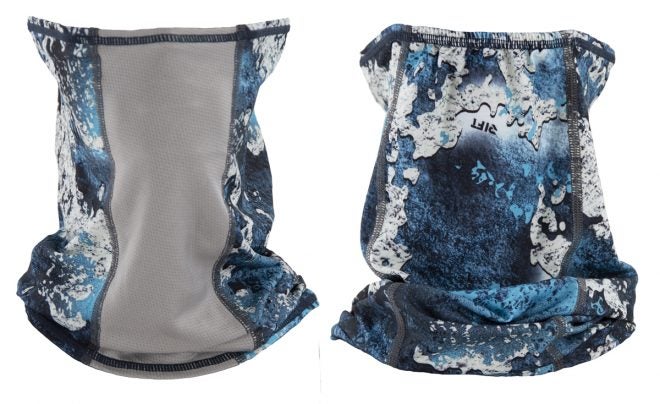 TrueTimber Neck Gaiters come in a variety of colors; Rift/Drizzle shown here (Image © TrueTimber)
TrueTimber has become a major mover in the camo world and they're wasting no time in 2021, announcing the availability of some cool-looking neck gaiters designed for fishermen. These poly/Spandex gaiters are designed to protect one's face and neck while fishing, but of course they could be used in any number of applications, from mowing or bushhogging to simply walking into a local store without being hassled for having an uncovered face.
I added that last bit. TrueTimber doesn't market these as face covers, but if particle masks suffice I don't see why these shouldn't qualify.
Anyhow, they look pretty great from here and if you don't like camo, they have some solid color options as well. Here's the press release. I'm thinking of getting some of these to use while mowing or running a tractor here in the sunny South.
TrueTimber® Neck Gaiters Now Available in Multiple TrueTimber Camo Patterns

INMAN, S.C. – January 5, 2020 – TrueTimber has announced neck gaiters are now available for purchase from the TrueTimber online store. The new selection of neck gaiters is available in multiple TrueTimber camo patterns and color combinations including solid colors. Perfect for keeping the sun, wind, dust, and other light debris off the face and neck, TrueTimber neck gaiters are versatile and lightweight enough to be used for year-round protection.

"We have spent a lot of time developing and expanding our fishing line and we are thrilled about these neck gaiters," said TrueTimber CEO Rusty Sellars. "They are perfect for all kinds of outdoor adventures and give users a serious advantage against the elements. The lightweight construction and comfortable nature of these makes them a great addition to any fishing wardrobe."

TrueTimber Neck Gaiters

TrueTimber neck gaiters are constructed of a 90% polyester, 10% spandex blend making them very lightweight and comfortable with four-way stretch capabilities. Mesh over the nose and mouth increases breathability for even the hottest days. TrueTimber neck gaiters are available in eight color and camo combinations including TrueTimber Viper Urban, Rift, and Tundra camo patterns.

MSRP $14.99 (priced $12.99 at press time).

To learn more about the entire TrueTimber product line and see all available patterns, visit TrueTimber.com.

About TrueTimber

Founded in 2005, TrueTimber is based in Inman, South Carolina and is the most realistic, performance-driven camouflage brand in the industry. TrueTimber offers a wide variety of clothing items and accessories, featuring 27 distinct camo patterns that perfectly blend with their surroundings. The company spends countless hours researching, testing and seeking new technology to produce the most effective and lifelike camouflage patterns possible. TrueTimber products can be found in retailers across the United States and Canada, and it continues to be one of the fastest growing camouflage companies in the world. For more information about TrueTimber, visit TrueTimber.com.
Check 'em out. They look pretty tough from here.