The New Hornady 6mm ARC Should be Quite Versatile
Dr. John Woods 01.19.21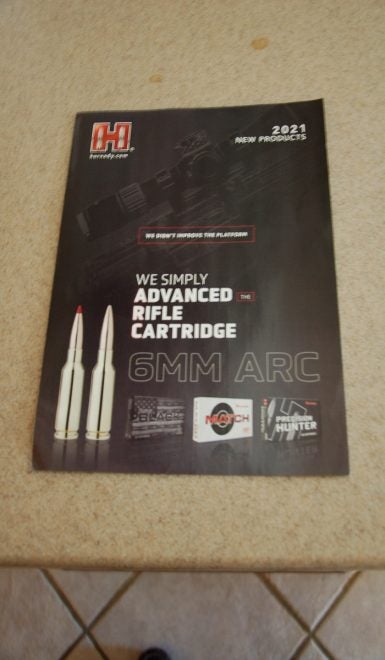 Normally this is the time of year when many firearms, shooting, and hunting product manufacturers begin to release information about their new products for the year. Usually this would have also been a big event at the annual SHOT Show held in Las Vegas, but that biggest such product show will not be held this year due to COVID-19 concerns… so the new Hornady 6mm ARC is being announced virtually rather than in person.
Because of this situation with the largest gun related trade show in the world, information is starting to filter out to fill in the gaps. Hornady Manufacturing Company is a huge maker and supplier of loaded ammunition, reloading equipment, bullets, and other loading components. Their product line is ever expanding as well to include gun security vaults and related products.
Their new 6mm ARC (Advanced Rifle Cartridge) has just been announced and it promises to be quite an exciting cartridge with applications for hunting, match shooting, and certainly for personal and property protection missions. It might also ultimately serve some roles for the military and law enforcement uses.
This proprietary Hornady ammunition will be loaded under three different brand names including their Match ammunition, Black ammunition, and the Precision Hunter names. Each offering will be loaded with different bullet types and weights focusing on the specific mission of each type of ammunition.
In appearance the new Hornady 6mm ARC looks much like the old and now quite passé 243 WSSM (Winchester Super Short Magnum) in that it has the short-fat cartridge case profile with a short neck. The 243 WSSM has more ump and uses heavier weight bullets. Still they have some similarities of sort.
The 6mm ARC is loaded with 108 grain ELD Match bullets, 105 grain BTHP bullets or the 103 grain ELD-X with muzzle velocities of 2750 to 2800 fps. These bullets have very high ballistic coefficients making them very efficient for all range performance and barrel life. They deliver excellent terminal performance for their intended missions.
Oh, did I mention the 6mm ARC was created for the AR-15 platform? The 6mm ARC was put through trials by a specialized group as part of the U.S. DoD for a multipurpose combat rifle program. "The 6mm ARC achieved results never before delivered from the AR-15 platform with the ultimate blend of system, weight, performance and shootability", reports Hornady.
The Hornady 6mm ARC is certainly going to be useful multi-tasking cartridge suitable for a wide range of targeting activities. It will make a whopper of a varmint rifle as well as hunting thin skinned game animals. Look for the 6mm ARC to be chambered for short or micro action bolt action rifles and ARs as well.