Browning's New X-Bolt Mountain Pro Bolt-Action Rifle
Russ Chastain 01.20.21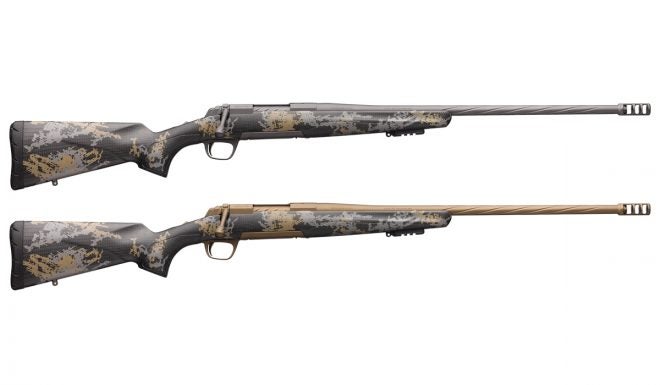 The Browning X-Bolt Mountain Pro in Tungsten Cerakote (top) and Burnt Bronze Cerakote. (Image © Browning)
Browning has just announced a new line of bolt action rifles, dubbed the X-Bolt Mountain Pro. As befits any rifle with "mountain" in its name, the X-Bolt Mountain Pro has been lightened up by the use of a carbon fiber stock which they say is a quarter-pound lighter than previous versions.
Also standard on the Browning X-Bolt Mountain Pro lineup is a new muzzle brake, which they've named the Browning Recoil Hawg. A thread protector is also included, should you wish to remove the brake from the muzzle; if so, simply screw on the thread protector so you don't booger up the threads while hunting on that mountain.
Unlike many "mountain" rifles, the X-Bolt Mountain Pro doesn't shorten the barrel to save you weight or to make the rifle more "handy" during those long hikes. They've clearly decided the advantage of higher velocity via a more complete powder burn is worth the tradeoff.
Two finish options are available, and both are Cerakote: "Burnt Bronze" or "Tungsten" are the two color options.
They say the Recoil Hawg muzzle brake reduced felt recoil up to 77%, depending on the cartridge… speaking of which, both versions of the X-Bolt Mountain Pro will be available in the following eleven (11) chamberings/barrel length configurations:
6.5 Creedmoor • 22″
6.5 PRC • 24″
6.8 WESTERN • 24″
300 WSM • 23″
30-06 Spfld • 22″
7mm Rem Mag • 26″
28 Nosler • 26″
300 Win Mag • 26″
30 Nosler • 26″
300 PRC • 26″
300 Rem UM • 26″
Browning X-Bolt Mountain Pro Features:
Carbon Fiber stock with camouflage accent graphics
¼ pound weight reduction over previous models
Cerakote Burnt Bronze or Tungsten finish on stainless steel barrel and action
Spiral fluted and lapped sporter contour barrel with threaded muzzle
Recoil Hawg muzzle brake and thread protector included
Spiral fluted bolt with rust-resistant Cerakote Burnt Bronze finish
Removeable Picatinny accessory rail (swivel studs included)
MSRP of these new rifles will range from $2,399.99 to $2,459.99.