New FN 509 Compact Hits the Concealed Carry Market
Terry Nelson 01.21.21

I must admit I do not own a FN (Fabrique National) firearm, but have shot many over the years and have never been disappointed. Now FN is introducing a brand-new carry pistol on the market, the FN 509 Compact in 9mm. The new pistol is definitely aimed at those folks wishing to carry concealed and ensures a discreet and high-capacity choice for everyday carry.
In a recent press release the company states the following:
"The  FN 509 Compact, is designed to meet the needs of today's concealed carry users and has been refined for deep concealment with low-profile rear blackout iron sights. A high-visibility front sight aids in low-light target acquisition. The snag-free sight set combined with the included 12-round and 15-round magazines, ensure a discreet and high-capacity choice for everyday carry. With two interchangeable backstraps and advanced grip texturing, users benefit from the proven ergonomics of the FN 509 family, in a more compact and concealable package. The FN 509 Compact model compliments the Compact MRD, equipped with our patented optics-mounting system, and offers users an all-new concealed carry option in the FN 509 family."
Specifications of the FN 509 Compact are:
CALIBER: 9mm
OPERATION: Double-action
MAG CAPACITY: 10 or 12/15 Rd.
WEIGHT: 25.5 oz.
BARREL LENGTH: 3.7″
OVERALL LENGTH: 6.8″
TWIST RATE: 1:10″ RH
HEIGHT: 5″ / 4.6″
WIDTH: 1.35″
TRIGGER PULL: 5.5 – 7.5 lb.
SIGHT RADIUS: 5.6″
FINISH: Black or Flat Dark Earth
MSRP: $679
Primary Features:
Full-sized performance in a concealed carry package
Low-profile, High-Viz front dot
Striker-fired autoloader
Double-action operation
Fully ambidextrous controls
Slide Features:
External extractor; loaded chamber indicator
Aggressive FN 509 slide serrations for improved manipulation
Barrell Features:
Cold hammer-forged stainless steel
Recessed target crown
Polished chamber and feed ramp
Frame Features:
Shortened grip for easier concealment
Enhanced grip textures which enables faster follow-up shots in all conditions
Interchangeable backstraps
MIL-STD-1913 accessory mounting rail
Improved flatter-faced trigger
Fully ambidextrous slide stop lever and magazine release
Magazine Features:
High visibility, low-friction follower; polymer base with black finish
Comes with one 12-round and one 15-round magazine or two 10-round magazines
Compatible with FN 509 17-round and 24-round magazines with appropriate magazine sleeves
The 509 FN Compact ships with the following items:
Two interchangeable backstraps
One 12-round and one 15-round magazine or two 10-round magazines
Owner's manual
Locking device
FN logo soft pistol case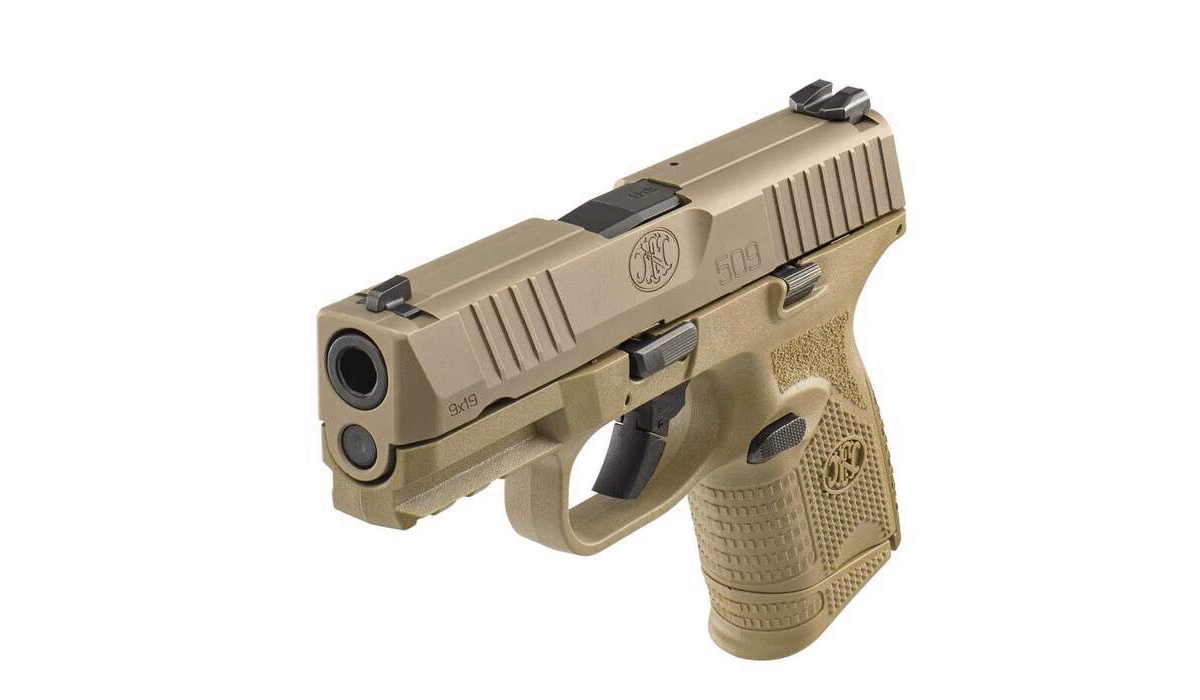 FN Herstal is the Defense & Security entity of Herstal Group that also includes a Hunting & Sports Shooting entity (Browning and Winchester Firearms' brand names) and operates globally. To learn more about the FN 509 Compact or other FN 509 pistols in the family, please visit www.fnamerica.com or find a retailer near you.