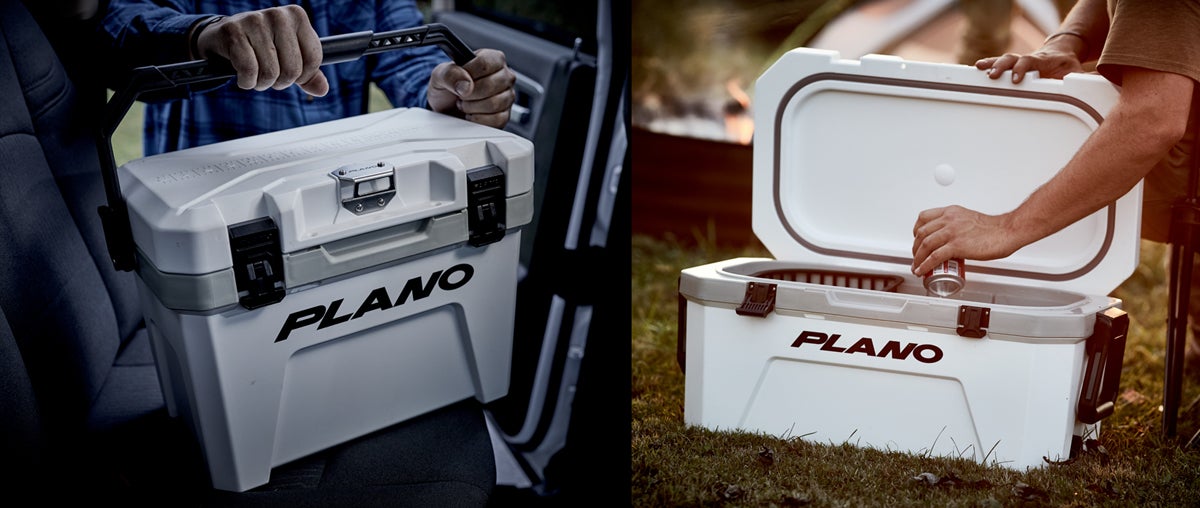 New Plano Frost Cooler line includes 14-quart (left) and 32-quart models. (Image © Plano)
Plano is bringing out a bunch of new products for 2021, including a line of heavy-duty coolers. The new Plano Frost coolers come in three sizes (14, 21, and 32 quarts) and are made using injection molding — which, of course, is what Plano has been doing for more than 70 years now.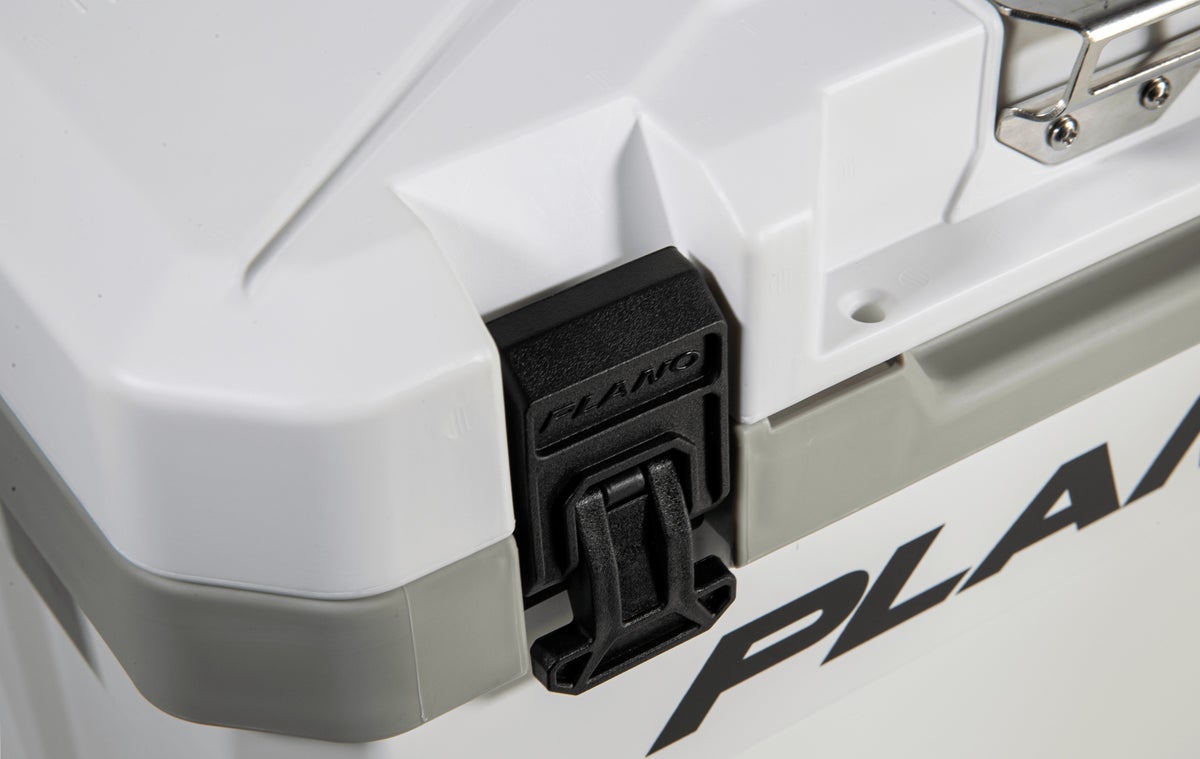 Plano Frost cooler latch. (Image © Plano)
At first glance, I like the look of the latches but can't say I'm a big fan of the end handles. The latches are more than just stretch-and-cram rubber thongs, and they're recessed to prevent them snagging on things and getting damaged. Conversely, the handles appear to stick out from the sides, which means they may well become hangup points.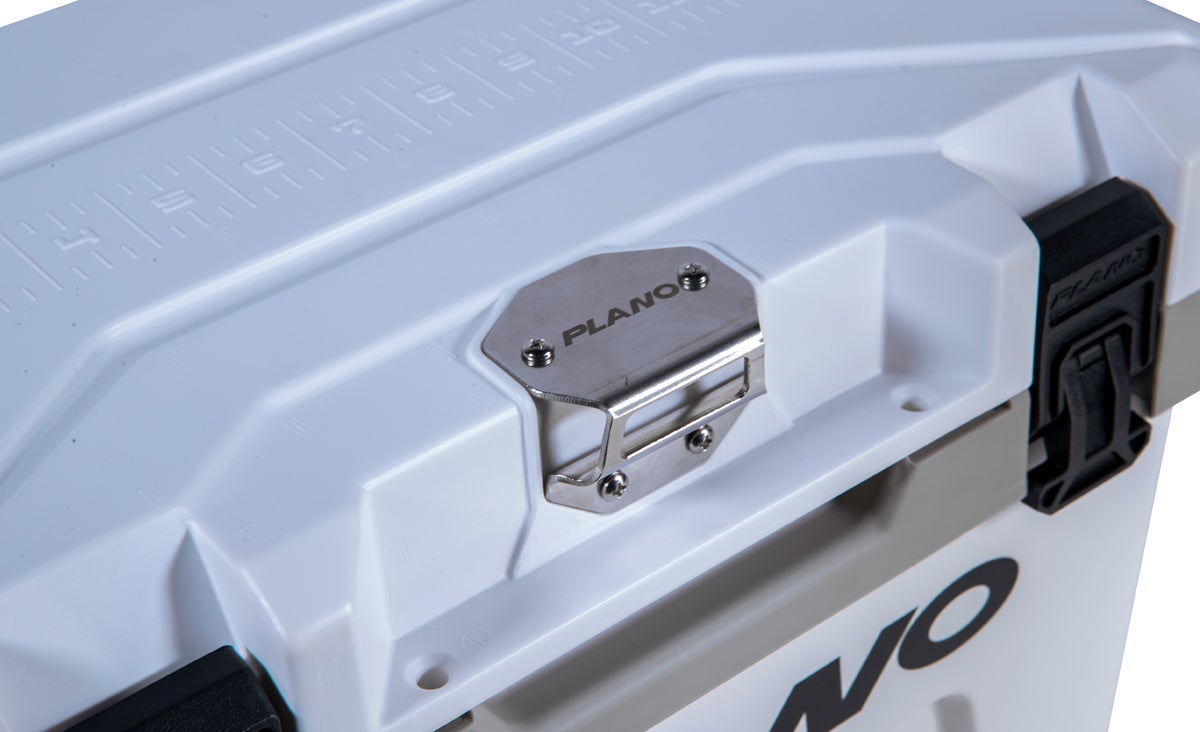 Plano Frost cooler bottle opener. (Image © Plano)
All models have a stainless steel bottle opener built into the lid, which is a wonderful thing in my opinion. Likewise, all three models come with a suspended basket to help you keep dry stuff up out of the ice melt. The only one with a drain, though, is the largest (32-quart) model.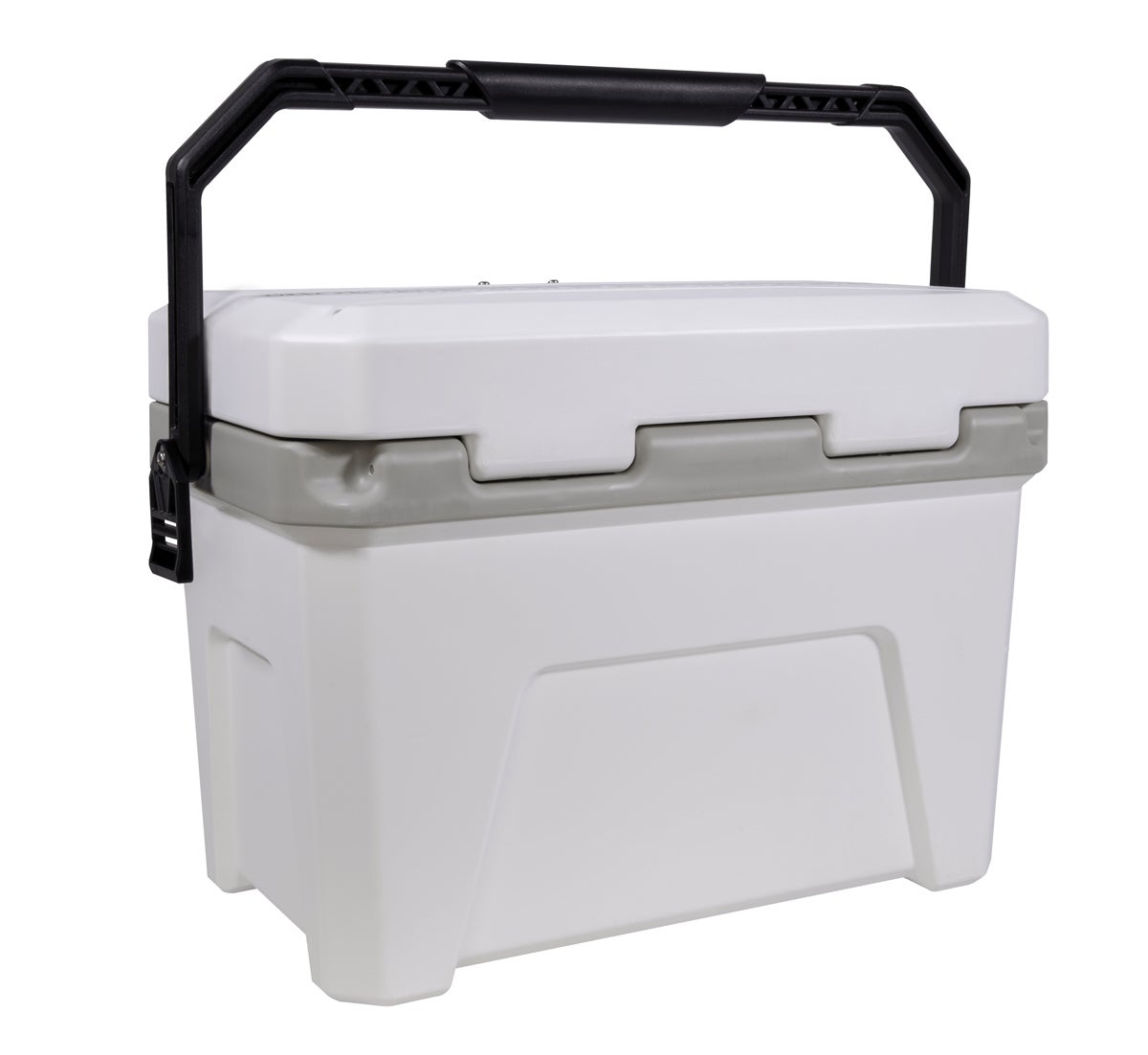 Plano Frost cooler hinge. (Image © Plano)
The hinge ought to last forever, since it's built into both the lid and the cooler body. The smallest model (14 quart) is pictured above.
Even the largest of these three models isn't huge; the smallest cooler I regularly rely on for hunting & camping trips is rated at 48 quarts, and once I pack in some beer & grub, things get crowded in a hurry. I'd consider these new coolers as more for smaller jobs, like a day trip in a fishing or pleasure boat or making sure you have a cool place to put your birds while dove hunting.
Here are details on the new Plano Frost coolers, which are slated to become available this month.
Plano's new Frost™ cooler is the newest addition to an excellent lineup of outdoor products for 2021. These shock resistant coolers come in 3 sizes: 14-quart, 21 quart, and 32-quart. Each is made from industrial strength injection molding and is something that Plano has been doing for 70 years. Plano's production history and experience are leaps and bounds above competitors.

All three sizes share the same construction and 1″ industrial rated foam insulation throughout. Just like the rifle and pistol cases Plano has integrated a Dri-Loc® seal to keep dirt and debris out while retaining liquids inside. The heavy-duty ergonomic handle integrates some easy-to-use tie down slots. Being shock and drop resistant pushes the new Frost™ cooler line to the top of the pack and removed all worry from movement and travel. PROTECT YOUR PASSION® with Plano's Frost™ cooler line.
Plano Frost 14 Quart Cooler
This personal-sized cooler keeps ice cold for days with a 14-quart capacity.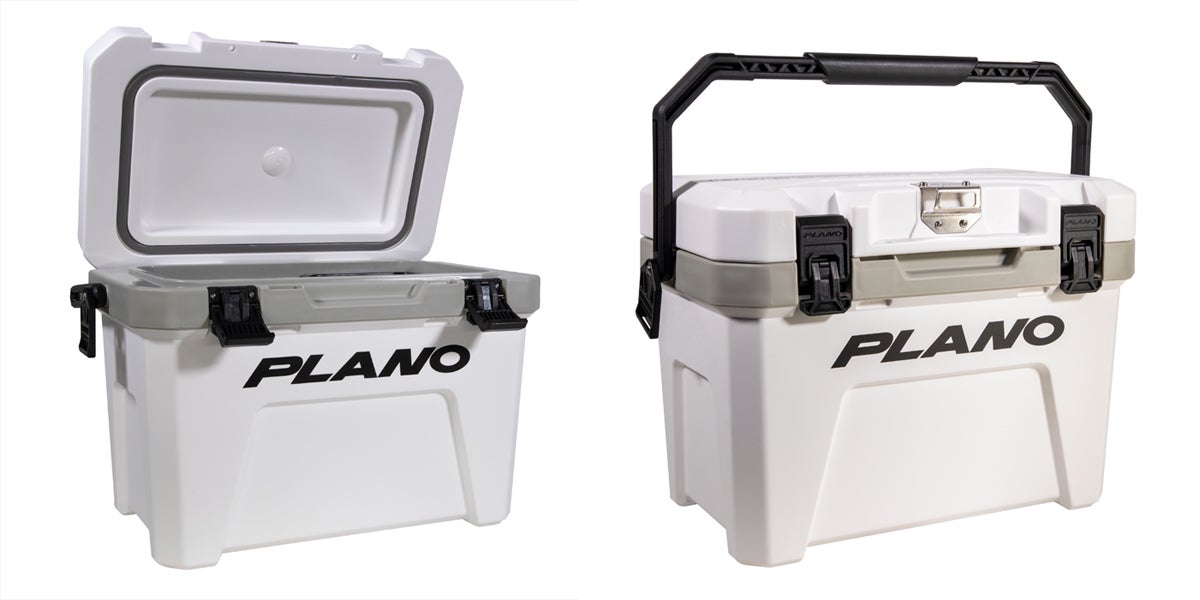 Plano Frost 14-quart cooler (Image © Plano)
14.5-quart capacity
Dual-stage molded latches
1″ commercial grade insulation
Continuous, airtight Dri-Loc® seal
Retains ice for up to 5 days
Includes removable dry basket and cutting board divider
Stainless steel bottle opener in lid
Integrated tie-down slots in handle
Rugged, industrial-strength construction
Shock- and drop-resistant for worry-free transit
Heavy-duty ergonomic carry handle
Includes: Hanging Basket
Interior dimensions 12.9″ x 6.91″ x 9.8″
Exterior dimensions 19.5″ x 11.5″ x 13″
Color: White/Gray
Weight: 8.41 pounds
MSRP $99.99
Plano Frost 21 Quart Cooler
This small cooler holds up to 21 quarts in airtight, shock-resistant protection.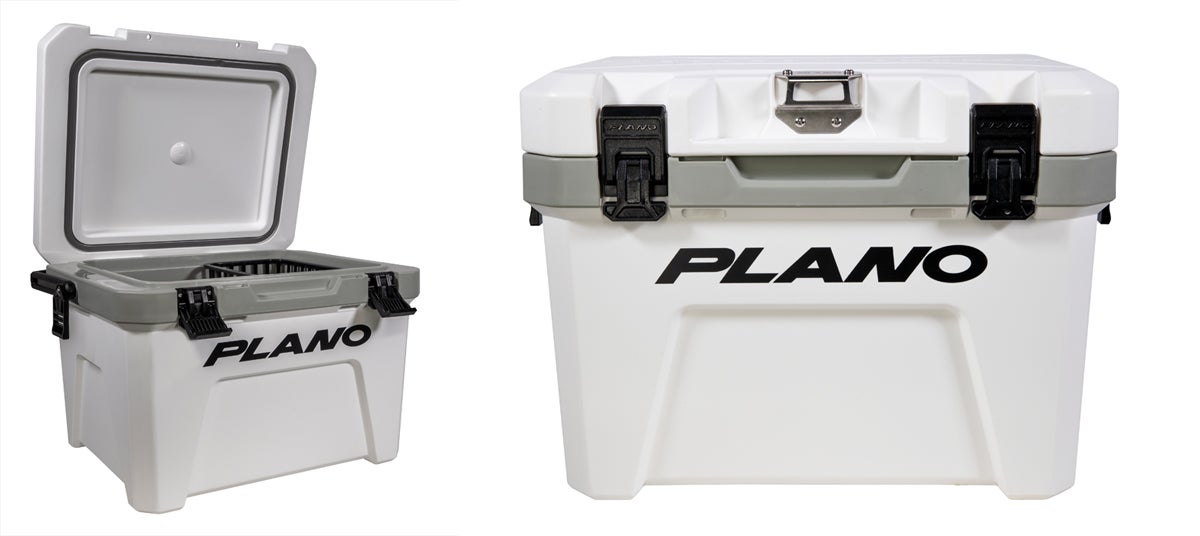 Plano Frost 21-quart cooler (Image © Plano)
21-quart capacity
Dual-stage molded latches
1″ commercial grade insulation
Continuous, airtight Dri-Loc® seal
Retains ice for up to 5 days
Includes removable dry basket and cutting board divider
Stainless steel bottle opener in lid
Integrated tie-down slots in handle
Rugged, industrial-strength construction
Shock- and drop-resistant for worry-free transit
Heavy-duty ergonomic carry handle
Hanging Basket
Interior dimensions 12.9″ x 10.14″ x 9.8″
Exterior dimensions 19.5″ x 15″ x 13″
Color: White/Gray
Weight: 8.72 pounds
MSRP $119.99
Plano Frost 32 Quart Cooler
This large 32-quart cooler includes a removable cutting board divider and built-in bottle opener. It is designed to hold ice for up to 5 days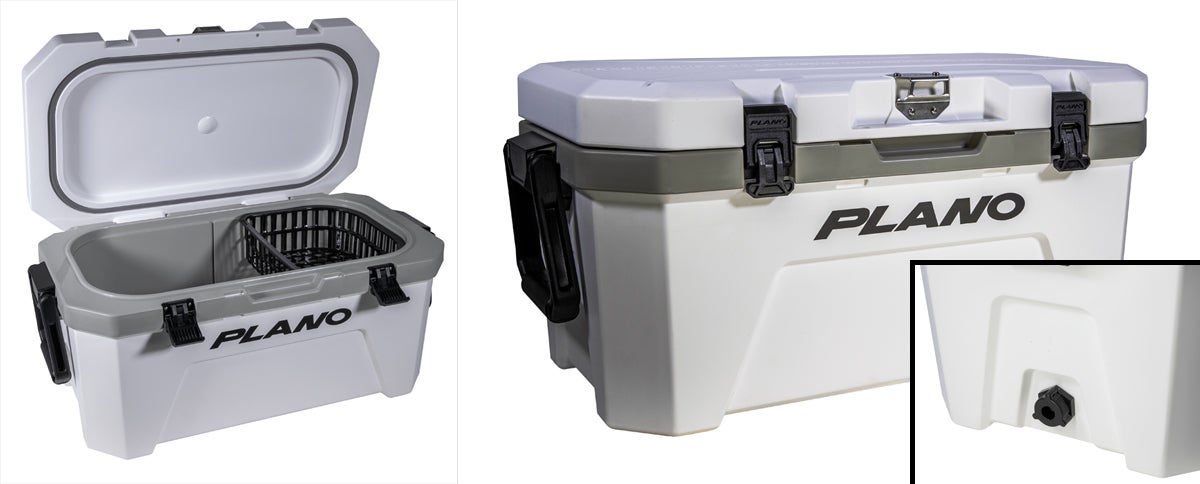 Plano Frost 32-quart cooler (Image © Plano)
32-quart capacity
Dual-stage molded latches
1″ commercial grade insulation
Continuous, airtight Dri-Loc® seal
Retains ice for up to 5 days
Includes removable dry basket and cutting board divider
Stainless steel bottle opener in lid
Integrated tie-down slots in handle
Rugged, industrial-strength construction
Shock- and drop-resistant for worry-free transit
Heavy-duty ergonomic carry handle
Twist drain in base for easy emptying
Hanging Basket
Cutting Board Divider
Interior dimensions 21.5″ x 11″ x 9.8″
Exterior dimensions 25.5″ x 14.5″ x 14.3″
Color: White/Gray
Weight: 11 pounds
MSRP $199.99
(I've inquired about the weights of these coolers because that can be an issue with today's heavy-duty coolers which often focus on "heavy," but so far my contacts haven't gotten back to me; I'll update this post when they do.)