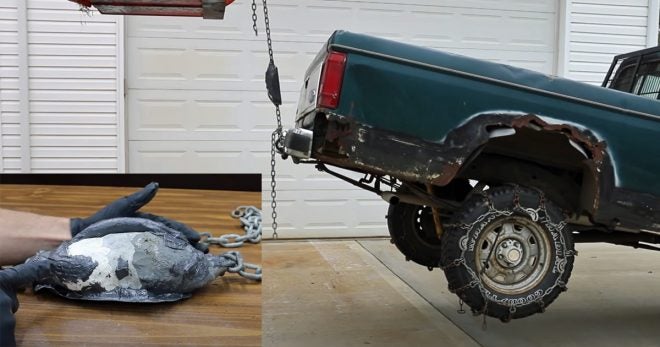 (Image: Screenshot from "best epoxy putty" video)
If there's one thing you can count on when it comes to outdoor gear, it's that things break and wear out. And if you're a mechanically-minded person who loves to fix things rather than scrapping them, you know there are times when you need a way to rebuild material and/or glue busted metal parts back together. Enter epoxy putty, that two-part adhesive designed to have more substance than the liquid stuff.
There are many such products on the market and I've used some of them with good success, and others not so much. Thankfully for us, our pal at Project Farm has spent the time and money to test a bunch of them and tell us what he found out.
In his search for the best epoxy putty, he tested these twelve:
PC-7 paste ($0.79 per ounce)
KBS Coatings NuMetal ($1.43 per ounce)
Oatey Fix-it Stick ($1.74 per ounce)
POR 15 Epoxy Putty ($2.02 per ounce)
J-B Weld SteelStik ($2.49 per ounce)
A+B ($2.59 per ounce)
EP-400 ($3.00 per ounce)
QuikSteel Metal Repair ($3.18 per ounce)
Gorilla Glue Epoxy Stick ($3.50 per ounce)
Loctite Repair Putty ($3.99 per ounce)
Pratley Steel Putty ($4.48 per ounce)
Oatey Pro Poxy 20 ($4.54 per ounce)
He comes up with a number of ways to test them:
Drill & tap and test pull-out strength (Winner: NuMetal)
Crush test to see which material resists deformation best (Winner: J-B Weld SteelStik)
Plug a hole in a pipe and see how much pressure it will hold (Winner: PC-7 paste)
He also uses some QuikSteel to repair a hole in an engine cylinder head to see how long it lasts, and then goes a little nuts using dang near all of his leftover epoxy putty to goober a chain together, which he then tries to break by picking up his truck repeatedly (he fails to break it).
The QuikSteel held up great on the engine, showing no signs of degrading after running for 30 minutes.
So which is the best epoxy putty? I guess that depends on what you need to do. For something you need to drill and tap, KBS NuMetal tested the best, followed by J-B Weld SteelStik and Pro Poxy 20. If you're fixing something that just might get crushed, J-B Weld SteelStik and PC-7 Paste run pretty close, followed by NuMetal. For the pressure-holding pipe, the PC-7 Paste did far better than its nearest competitors, which were J-B Weld SteelStik and QuikSteel.
Enjoy the video, and remember this when you need to fix something and ask yourself, "What is the best epoxy putty?"